by
posted on January 21, 2015
If you haven't heard of Syren shotguns, you're missing out. Other companies have been known to put "pink it and shrink it" to the test on women's guns, others have designed a gun or two specifically for women, but no company exists solely to provide guns to female shooters. Syren is that company. The newest division of Caesar Guerini and Fabarm, Syren has its line of pink-free shotguns on display in all their glory at the 2015 SHOT Show.
At the Syren booth, Caesar Guerini President Wesley Lang spoke to us about some of the major influences of the decision to make a company dedicated to women shooters, noting that his wife played a big role. Lang was attempting to build a gun for his wife, who had trouble with regular shotguns. He quickly realized that cutting the stock down does not a perfect fit make, and ended up having to start from the bottom up. On a larger scale, he realized many women must have a similar problem with firearm fit, and the Syren line fills that need.
You can expect a full review of some Syren shotguns in the near future, but until then it must be said that the light weight made it easy to get up to the shoulder fast, and the stock was perfect for cheek placement, making it that much quicker to align one's eye with the barrel. Another testament to the shootability and fit of the shotguns came from Pro-Staffer Christine Cunningham. She spent the year hunting upland game with the new Syren Elos Venti. The Elos Venti is a fast pointing shotgun that's light enough for a long day in the field. It's a beautifully engraved gun that performs just as well at the gun club, the clays course and on a hunt, according to Cunningham.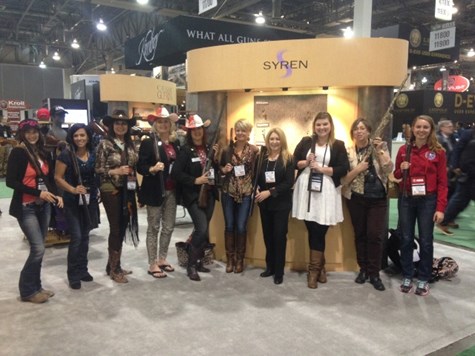 Syren Elos Venti Specs
20, 28 gauge
Tribore HP barrel
28" barrel length
5 INNER HP choke tubes
Titanium silver action finish
Turkish walnut stock
Triwood stock finish
13.875" length of pull
6 lbs. 10oz. weight
Integrale case
1630 bar proof test
5 year warranty
To see more shotguns from Syren, visit SyrenUSA.com.