by
posted on December 23, 2017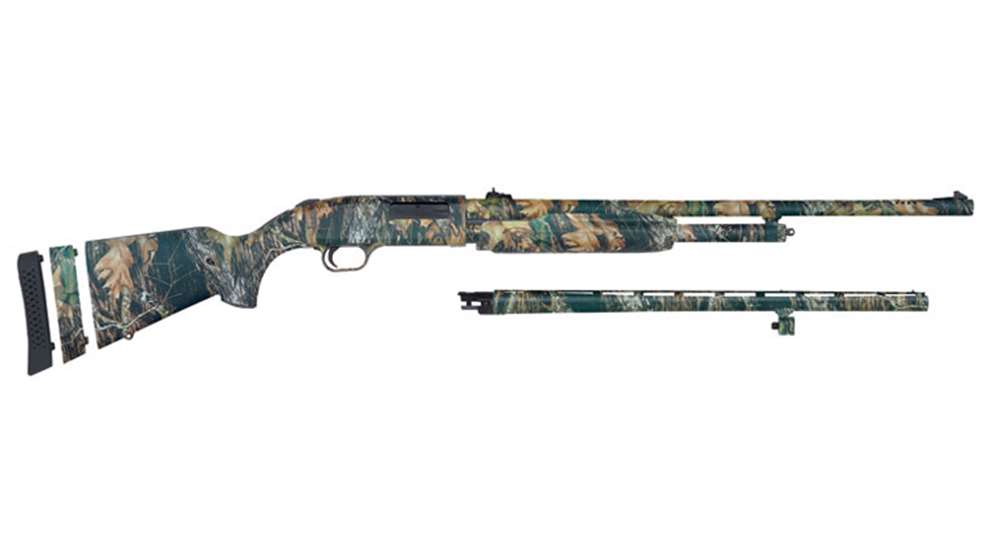 Fit is important with a shotgun…maybe more so than with any other firearm. This is partly because shotgun shooters focus on the target, while rifle shooters focus on the sight, so the shotgun needs to point naturally where the shooter is looking. It's also partly because shotguns can have rather intense recoil—and the best way to combat recoil is good fit. More and more firearms manufacturers are recognizing the need for shotguns sized to fit young or small-stature shooters. Here's a look at 10 top picks that should cover any shotgun pursuit…with prices that won't make your parents "choke."
Remington Model 870 Express Compact Camo
Built around Remington's new Adjustable Length of Pull System, which allows a 1-inch adjustment range in ¼- or ½-inch increments, this shotgun can be configured to fit almost any young shooter. And the shotgun will continue to fit them as they grow. It is built around the reliable 870 action just like Dad's shotgun and will accept the Rem-Choke system. The rugged synthetic stock is available in either a Realtree Hardwoods camo or a pink Mossy Oak finish. In this writer's estimation, Remington's Model 870 Express Compact Camo gets the "best over-all buy" award.
Barrel: 21 inches
Weight: 6 pounds
Length: 40½ inches
LOP: 13 inches
Gauge: 20
MSRP: $429
Remington Model 870 Compact Synthetic
This is a non-camo version of the Compact Camo Model 870 Express. It has all the same features, but comes with a black synthetic instead of a camouflaged stock. With a suggested retail of only $383, this shotgun is also a great buy.
Barrel: 21 inches
Weight: 6 pounds
Length: 40½ inches
LOP: 13 inches
Gauge: 20
MSRP: $383
Remington Model 870 Express Compact Jr.If you are very young or still waiting on that growth spurt, Remington's Model 870 Express Compact Jr. is a good option. It comes with an adjustable length of pull (LOP) that's a full inch shorter than the standard Compact 870. And, like all 870 Compact models, the Compact Jr. will also accept the Rem-Choke system.
Barrel: 18¾ inches
Weight: 5½ pounds
Length: 37¼ inches
LOP: 12 inches
Gauge: 20
MSRP: $383
Mossberg 500 Super Bantam TurkeyThis is one of Mossberg's 14 shotguns specifically designed for young or small-stature shooters. For more than a decade, the Mossberg 500 pump shotgun has served as one of the most practical starter shotguns ever. The Super Bantam features a standard 12-inch LOP, but comes with an innovative stock spacer and extra rubber recoil pad to bring the synthetic stock to 13 inches overall. When the shooter is ready for a grown-up gun, just turn in the certificate that comes in the box and receive 50 percent off the price of the full-size stock. The Mossberg 500 Super Bantam Turkey comes with an Xtra-Full choke and fiber optic sights. It's field-ready to help a young shooter bag his or her first gobbler.
Barrel: 22 inches
Weight: 6 pounds
Length: 40¾ inches
LOP: 12 to 13 inches
Gauge: 20
MSRP: $435
Mossberg 500 Super Bantam Field/Deer ComboNot all shotguns are used for small game and birds. Local laws restrict some deer hunters to slug guns, and Mossberg has not forgotten that kids might want to slug-gun hunt with their parents. Mossberg's 500 Super Bantam Field/Deer combo will let you do that. Even cooler, the shotgun comes with an extra barrel so you can switch off and go after squirrels, turkey and upland birds too. As with all Super Bantam models, the Field/Deer Combo comes with an adjustable LOP and 50-percent-off certificate for a full-size stock.
Barrel: 22 to 24 inches
Weight: 6 pounds
Length: 40¾ Inches
LOP: 12 to 13 Inches
Gauge: 20
MSRP: $484
Mossberg 510 MiniThe Mossberg 510 Mini is a shotgun designed for the smallest youth shooters. It weighs in at a remarkably light 5 pounds and has an overall length of less than 3 feet. It also has an incredibly short LOP that is adjustable between 10½ and 11½ inches. It is available in either .410 or 20 gauge. A fixed-modified or an Accuset choke is an option, as is the choice between a black synthetic or camo stock. For this writer, the Mossberg 510 Mini earns the "best buy" award for very small shooters.
Barrel: 18½ inches
Weight: 5 pounds
Length: 34¾ inches
LOP: 10½ to 11½-inches
Gauge: .410 & 20
MSRP: $375
H&R Pardner Pump CompactSized for mid- to larger-sized youths, the H&R Pardner Pump Compact shotgun is the most affordable, youth-sized, pump-action shotgun available. It is available with either a synthetic or walnut stock, comes with a screw-in modified choke tube; the receiver is even drilled and tapped for scope mounts.
Barrel: 21 inches
Weight: 6½ pounds
Length: 40 inches
LOP: 13 Inches
Gauge: 20
MSRP: $233
H&R Topper Jr.This full-choke .410 or modified-choke 20 gauge, single-shot shotgun is a scaled-down version of H&R original Topper Shotgun. It comes with a rugged black synthetic stock and a thick recoil pad to help young shooters deal with recoil. With a suggested retail price of less than $170.00, the H&R Topper offers a lot of bang for the buck. A Classic version with an American black walnut stock and blued-steel finish is also available.
Barrel: 22 inches
Weight: 5 to 6 pounds
Length: 36 inches
LOP: 12½ inches
Gauge: .410 & 20
MSRP: $169
H&R Pardner CompactAvailable in both .410 and 20 gauge, the H&R Pardner Compact is the least expensive youth-sized shotgun you will find anywhere. It is a great starter gun that is not muzzle-heavy, which makes it easier for kids with limited arm strength to shoot. The .410 version comes with a fixed full choke and the 20 gauge has a fixed modified choke.
Barrel: 22 inches
Weight: 5½ pounds
Length: 36 inches
LOP: 12½ inches
Gauge: .410 & 20
MSRP: $159
H&R Ultra Slug Hunter CompactThis affordable, break-action, single-shot slug gun from H&R is only 36 inches long and has a 13 1/8 inch LOP. It's also a tad heavier than some other youth-sized shotguns, which can help tame the recoil of hot-rod 20-gauge slugs. For kids hunting from a blind or anywhere they can get a good rest, the H&R Ultra Slug Hunter Compact is the most affordable and compact slug-gun option you will find.
Barrel: 22 inches
Weight: 7 pounds
Length: 36 inches
LOP: 13 1/8 inches
Gauge: 20
MSRP: $288
Once you've got that perfect scattergun, it's time to start thinking of how you'll take care of it—and how you'll make it your own.

Easy as Pie
Whether you've grown a bit since you took your new shotgun home, or whether your shoulder needs a little bit of relief, the easy answer is to add a recoil pad to your stock. Make installation a cinch with the Pachmayr Decelerator Slip-On Recoil Pad. It's every bit as simple as it sounds—just select one of the three sizes (they fit most commercially available stocks) and slip it on. It's available in black or brown to match your gun stock, and you can plan on it adding three-quarters of an inch to your length of pull. Best of all, it's offered at a very wallet-friendly $14.98. Contact Pachmayr.
Saving Face
Ever come home from a long day of shooting trap with a bruise flowering on your cheek? Although many of us wear them like badges of honor, sometimes you just feel like saving face. Enter the Beretta Gel-Tek Cheek Protector. It's a pad that sticks right on the comb with no special installation involved, protecting your cheek while also raising the comb a bit. The pad is clear, so you can see the stock right through it—letting the natural beauty of your gun shine through. You can move it from gun to gun, if you wish, without worry of damage to your stock. If it loses a little stickiness, just wash it with hand soap and let it dry, and the stickiness will come right back. Contact BerettaUSA.
Snug as a Bug
What good is your new shotgun if you can't take it to the fields and the range with you? Keep your purchase safe from the lumps and bumps with a nice carry case, like Cabela's Snugfit Shotgun Case. It's got a sturdy, water-resistant exterior, but (as with so many things), the best part is on the inside. The thick foam padding conforms to the shape of your firearm to keep it steady and protected. Contact Cabela's.
Gather No Rust
If you take good care of it, your new shotgun can be part of your outdoor adventures for years and years. Make sure to clean it regularly, and when you're ready to put it away, pop a Remington MoistureGuard Gun Plug into the chamber! It protects all metals from rust and corrosion, so even if some moisture gets into your gun safe, your scattergun will stay nice and dry. There's no smell or residue to clean up. In addition to sizes for the two most common gauges in shotguns, it's also available for centerfire rifles and even pistols. For store locations, contact Remington.