by
posted on April 2, 2019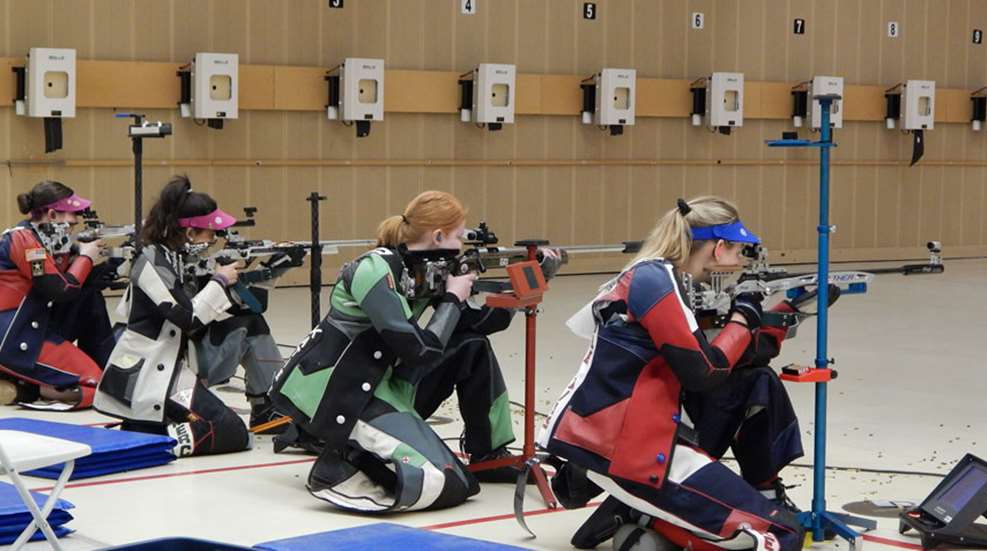 Rifle competitor Katie Zaun hails from Buffalo, North Dakota, which is near Fargo. Having recently returned from the ISSF World Cup in New Delhi, India, this 15-year-old Junior Olympic shooter talked to us about competing, excelling and what the future holds for her and the sports that she loves.
NRA Family: When people ask you what you do, what do you say? Elevator speech length.  
Katie Zaun: I say I'm a competitive rifle shooter and I shoot a fancy .22 that is precision and an air rifle that is .17 caliber, and that we shoot at targets.
NRA Family: What's your history in the shooting sports and how did you get to where you are today? 
Katie Zaun: My dad saw an ad in our school newsletter about the BB Gun Club, and my brother started before me and of course, I wanted to do what he did all the time, and so I picked up the BB gun and started and the rest is history. We start at age 8 and the coach, Dan Gertz, looks at our scores and sees if we are strong enough for air rifle. Then, we shoot air rifle, and then he sees if we are strong enough to move up to smallbore. Mr. Gertz is a very good coach.
NRA Family: Since you live in North Dakota, do you shoot indoors?
Katie Zaun: Yes, we practice indoors. In the town of Buffalo, we shoot as a team for air rifle at the Community Center, and since we live on a farm, my dad has a shop and we practice smallbore or air rifle in the shop. We usually only have one outdoor match, which is fine with me, because it can get windy up here. My air rifle is a Feinwerkbau. My smallbore is a Stiller.
NRA Family: Do you get comments about your red hair, and maybe people saying … "well I can see why you act in such a way because of your hair?"
Katie Zaun: My mom is 100 percent Norwegian, and my dad is a mixture of everything, and so I got my red hair from my grandma on my mom's side. My mom tells me I get my feistiness from my red hair. In the shooting sports, I have had people tell me that they recognize me because of my red hair. I'm almost the only one who has red hair on the line, so it's easy to do.
NRA Family: So, since you have Norwegian in your blood, do you eat lefsa?
Katie Zaun: I love lefsa … the only other Norwegian dish we eat is kumla. We usually do that around Christmas time, and it's one of my favorite things. It's a potato dumpling, and you can soak it in beer or water, and serve it over butter, ham, onions and carrots.
NRA Family: So, do you like lutefisk [a gelatinous whitefish that has been soaked in lye]?
Katie Zaun: No, not for me.
NRA Family: Do you consider yourself to be an ambassador for the shooting sports? Why?
Katie Zaun: Yes. The ambassador part is so cool to me, that we can have an opportunity to encourage the sport. I definitely try to put my best face on when I'm out and about in the shooting world. Sometimes, I can definitely be super encouraging to people, but when I do have a bad day, I try to look on the bright side.
NRA Family: Have you encouraged or inspired other girls to start shooting?
Katie Zaun: I do have one story … last year in April, right after the Junior Olympics, a girl named Alee DM'ed me on Instagram and she congratulated me and recognized my name from BB gun matches, and she was from South Dakota. I asked her if she was still shooting and she said, "Yes, but I'm aging out next July," so I encouraged her to pick up precision rifle, and I gave her a few names of people who would help her in South Dakota. I thought it was cool to be able to help her out. She did end up trying out air rifle, but she had to travel many hours a day to practice. In the end she did not continue precision rifle, but I'm so glad I could help her out.
NRA Family: You're 15. Do you have a learner's permit?
Katie Zaun: No, I have my license. I don't like driving in snow, though.
NRA Family: Since you live on a farm, do you drive a tractor?

Katie Zaun: No, but I can drive a 4-wheeler.
NRA Family: What does the future hold?
Katie Zaun: I'm a freshman, so the next couple of years seem good. Schooling will be about the same, and shooting will be about the same. Repetitive, but interesting. I plan on shooting in college, but you never know. My goal is to keep on going with shooting as long as I can.
NRA Family: Is there a particular discipline in shooting sports that you'd like to try?
Katie Zaun: I would love to try Rapid Fire Pistol. I think it looks so cool, how they have to move their arms and get shots into the 10-ring. My dad shoots pistol, and since he travels with me on shooting trips he's picked up pistols. He shot Rapid Fire Pistol down at Nationals last year, and it's so cool to me.
NRA Family: You're the second of four children. What support do you get from your family?
Katie Zaun: My dad, in particular, definitely does everything he can do to make sure I don't have any excuses! So, doing that extra step such as getting the perfect ammo for my rifle or getting the important gun cleaner … he also pushes me to do better than I think I can do. There was this one day at practice, we were using the SCATT machine, and I had a little bit of left and right and I didn't think it was that bad. I came home and told him that, and he said, "Yeah, your coach sent me a picture of it. That is not what I would like to see, and I would rather have you not have any left and right." We had a school event after that and I told my mom, "I feel like he doesn't understand my abilities and he has a bigger expectation for me," but then, I realized that he's just pushing me to get better and better every single time. My mom takes me on international trips and that's been really fun.
NRA Family: You recently returned from an international competition in New Delhi. What was your impression of India?
Katie Zaun: My first impression, I'm not going to lie, was "What in the world did we get ourselves into?" The hotel was very nice, but going to the range, we drove through places that were in poverty, and people didn't have shoes. … But, the range was beautiful. Overall, it was a fantastic trip, and many memories were made.
NRA Family: How'd you do in India?
Katie Zaun: I did pretty good. I shot smallbore. The first day is elimination. I got through to the next round, along with the two other US shooters. The qualification round, I was in very good position after prone and kneeling, and in my head I knew I was in a good spot and then, standing came around. I knew it wasn't my strong point and I was trying to focus on getting the best shot. It dropped me down. I definitely need to work on standing and the mental part of not focusing on where I'm at, score-wise.
NRA Family: Did you bring home any cool souvenirs from India?
Katie Zaun: My mom and I bought a couple of scarves, and they are so pretty. I also bought a key chain, and I think that's my collector's unit – keychains.
NRA Family: When you're not shooting, what else do you do?
Katie Zaun: I love doing volleyball and track. I'm a jumper. I do long jump and triple jump and I'm hoping to start javelin. My mom thinks I should do a sprinting event to fill in my last event.
Follow Katie Zaun on Instagram.