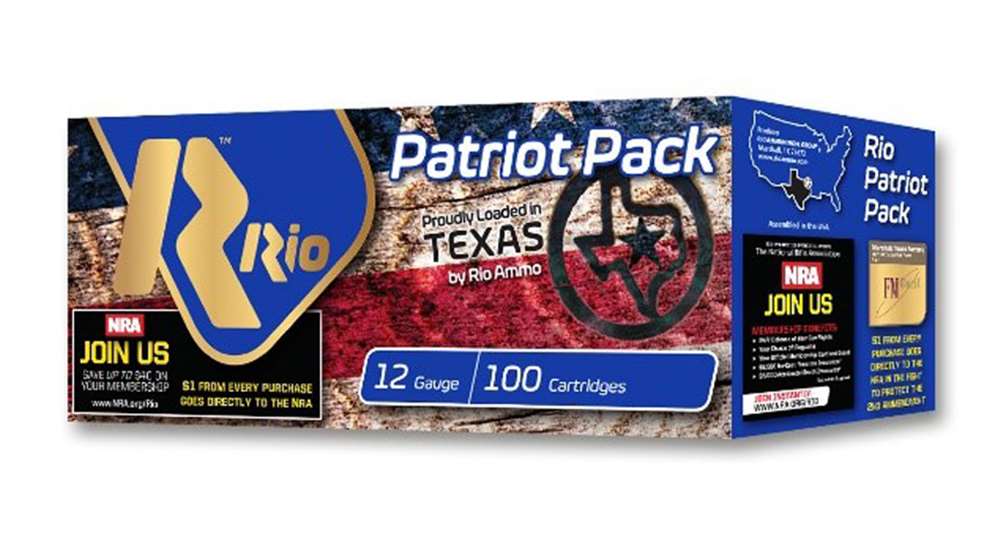 At a time when many companies in the outdoor industry are withdrawing their support for the Second Amendment, Rio Ammunition isn't afraid to stand tall for the Second Amendment with their new Rio Patriot Pack. Rio, a familiar name in Spain and Europe since 1896, wasn't born in Texas—but they got there as soon as they could. Manufactured in Marshall, Texas, the new Rio Patriot Pack features a distinctive outer sleeve design holding 100 12-gauge cartridges that are designed for wing and target shooting. Rio's support doesn't end with the snazzy, NRA-focused design; in fact, their support for the NRA takes two separate approaches.

First is that Rio will directly contribute $1 for every Patriot Pack sold through June 15th of 2019 towards the NRA's various educational and legislative initiatives aimed at preserving our firearms rights for future generations. Second, Rio is working with the NRA to offer a membership discount of up to $40 if customers sign up through a special URL found only on the Patriot Packaging. 
"By helping to fund vital NRA programs," says Darrell Morrow, National Sales Director for Rio, "and by compelling our customers to sign up for an NRA membership, Rio is helping to ensure that the qualities of discipline, respect, good sportsmanship and loyalty, all key aspects of the shooting sports, are carried forward to the next generation of collectors, hunters and competitors."
"We are grateful for RIO's commitment to the Second Amendment." says Todd Grable, Executive Director of Membership for the NRA. "It is critical to have partners who stand with all of us in protecting our Second Amendment rights and preserving America's shooting sports heritage."