I have a very unique relationship with the ammunition manufacturer, Hornady. While most would just purchase their top-quality match-grade ammunition, I just opt for the components and tell them "I'll put it together myself." Little did I know the same option was available with a safe! I'm not talkin' about a little safe either, like the kind that you would keep some jewelry or documents in. I'm talking about a big honkin' safe, large enough to store a real collection.
The company that makes it is called SnapSafe— a Hornady company that creates safes and safe components that are large enough to store an entire family's gun collection, yet are built to be modular, simplifying delivery and movement. I reached out to them and asked for their second-smallest option to be sent out to my home to get a better idea of not only the product, but the experience of putting one into place as well. The model in question was the Super Titan. Although it holds more than 24 guns, it is still one of the babies when compared to the Super Titan XXL Double Door, capable of holding more than 56 long guns. However, just like its big brother, it is completely modular and can be moved without any special tools. When a SnapSafe arrives at your door all that is required is the working knowledge of a ratchet (lefty-loosey, righty-tighty, right?), and the ability to place round pegs in round holes.
After receiving confirmation of my order I received a call from FedEx confirming delivery. They also gave me the option via email to opt-out of the signature-required service. This has quite a bit of added value, as a day off from work isn't required to wait for a package, nor must you deal with a rigging crew tearing through your home.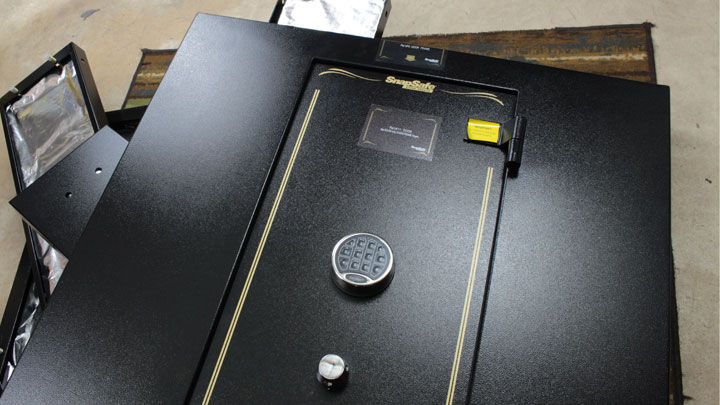 I did, however, happen to be there the day it was delivered. It was dropped off discreetly in a fully covered pallet to which the syllabus read just one solemn word, "Tools." I really liked that they kept it quiet; I mean usually if someone is getting a safe this large it would imply they have something that would make a burglary worthwhile. The total package was 550 lbs give or take. That would normally require a team of people with specialized equipment to get it through the door, and forget about a flight of steps! However, because it was a SnapSafe it was broken down into six major parts—most of which I was able to carry in myself. The only parts that required a buddy were the face and the backplates, and that was more for their size than their weight.
Assembly was extremely simple. Just 48 bolts needed to be cranked into place with their accompanying washers. They even include a real ratchet and a 19mm socket. Most companies include a tool that hardly resembles a wrench! You don't need to be too physically fit to get the first five panels together, as it only requires lying the back on the floor and bolting the four smaller sides around it. Two people were required to put the door frame on, and we found it helpful to get inside of the safe to lock down the hardware. Once everything was together, I was able to upright the mainframe by myself and use a moving blanket to finalize its position, just inches away from where it was assembled. Once in place, we dropped the door itself onto its hinges and were just about finished. I liked that they built the Super Titan with a mid-sized door located in the center of the safe. This bolsters the weakest point, as well as the chance of a "gunvalanche" when you open it.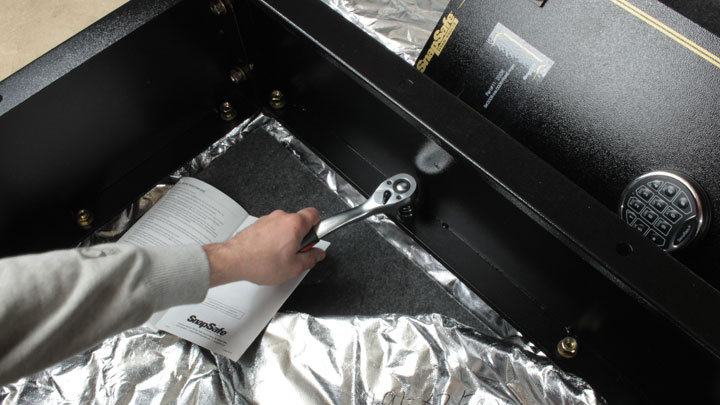 As for the interior, you have a few options depending on your needs. One configuration divides the safe neatly down the middle, allowing for the convenient storage of other valuables such as cash or documents. The 2,300-degree one-hour fire rating will help ensure that these survive should disaster strike. For the serious gun owner, there is also an option to keep it largely open to accommodate the most long guns. We went this route because well, frankly, we have a lot of guns. This gave us 15 slots to place individual guns but of course, many more can fit, they just would be resting on each other. We found the carpeting to be exceptionally smooth and gentle. Illustrated above are two Henrys and a Browning...as he volunteered to confirm the softness through the use of his delicate bottom (what a disgrace of a hunting dog).
Our overall assembly time took just one hour and 29 minutes, which didn't include about five minutes to unpack it and 11 minutes to get all of the parts from the driveway to the basement.
As we finalized the installation we took note of the mechanical override through the use of the supplied keys. I considered this a big deal as I've had digital locks fail on me in the past, leaving me high and dry the day before a course. We also appreciated the use of eight 1-inch locking bolts, making it virtually impossible to get into through conventional prying methods. As we shooed the dog out of the final shebang, we stacked it full of guns and closed the door on not only a fine collection of firearms…but the hassle of having to move ginormous safes. For more information and to order visit snapsafe.com.