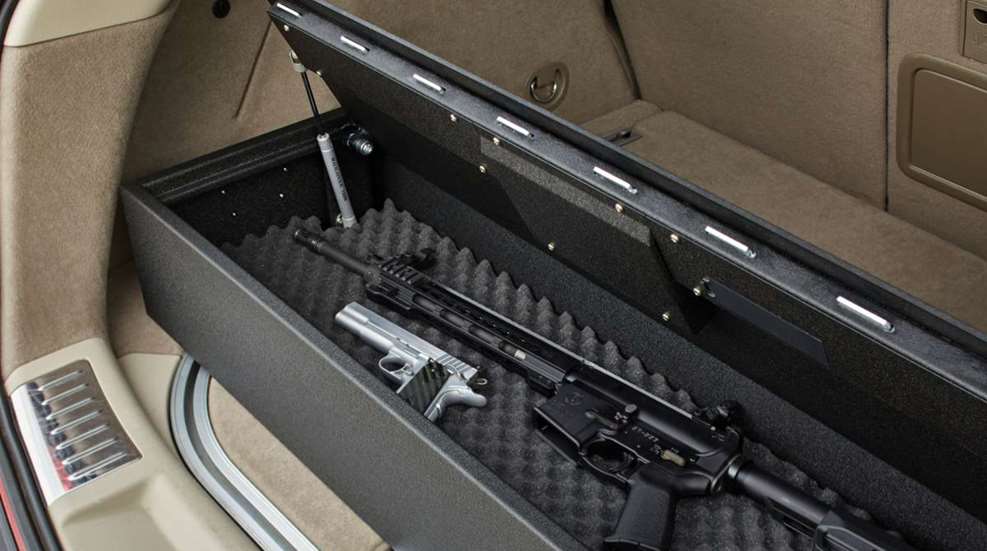 Vehicle break-ins are one of the most common forms of theft, and one of the best ways to protect your belongings is to keep them out of sight. That goes not double, not triple, but quadruple for firearms! Guns are very attractive to thieves because they are portable and have a high resale value on the black market. If you're in a situation in which you must leave your firearms unattended in your vehicle, it's in everyone's best interest if you leave them securely stored. That's where SnapSafe's Trunk Safe II comes in.
Of course, the SnapSafe Trunk Safe II does much more than keep your guns and valuables out of sight. It's an extremely robust, heavy-duty security solution ... and when we say "heavy duty," we mean it. The safe helps deter thieves by dint of its sheer weight at 69 pounds. After all, the most common vehicle theft scenario is a "smash and grab," and a 70-lb. safe is neither very portable nor very grabbable. A simple and effective security solution to this everyday problem. The safe offers plenty of room for hiding and securing tools, firearms, electronics, documents and other valuables, deterring common thieves.
The Trunk Safe II offers a 13-gauge exterior and robust 6-gauge steel door to protect the safe's contents. The door recesses into the frame; its eight interior locking lugs prevent prying around its perimeter. Internal hinges and premium gas shocks ensure smooth operation. The Trunk Safe II includes a 3-foot cable for anchoring to a stationary object for added security. Four pre-drilled holes on the bottom panel enable permanent installation. A padded bottom liner protects the safe's contents.
It measures 42 inches wide, 7 inches high and 13 inches deep, creating more than 3700 cubic inches of storage space! These dimensions fit the back of an SUV, car trunk or RV and equally well at home. For ease of moving, there are integrated d-handles on the end panels. A programmable digital lock allows quick entry with a 3- to 8-digit access code. A key ensures a backup opening method in the case of a low battery. MSRP $633; SnapSafe.com.