by
posted on February 22, 2022
Let's face it: Whether you're not entirely sure you trust the hotel's in-room safe, or whether your travels will take you somewhere concealed carry is forbidden, there are some times when you'll need to secure your gun against unauthorized users. All-new for 2022 is Hornady Manufacturing's TrekLite Lock Box XXL, which designs to do just that--in a convenient, lightweight and completely secure format.
The way Hornady delivers this security without weighing you down is through polycarbonate construction, which weighs about one-third as much as steel. This polycarbonate is more than "just plastic"; it's advanced materials tech that creates the tough-as-nails shell of the TrekLite. At the same time, a durable, non-slip over mold provides added impact protection and prevents the container from shifting in travel.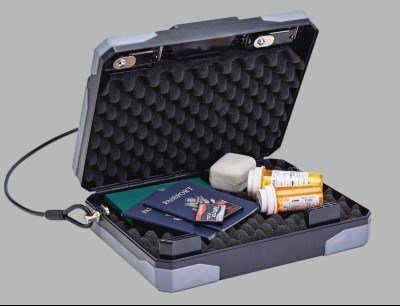 What do you need to make it work? A solid object. Just attach the 1500-pound rated security cable to anything that fits the bill of "solid object," set one of the 10,000 user-programmable codes, and let the dual 4-digit TSA lock keep your guns secure. That's up to two full-sized handguns, but of course this lock box will also serve to protect your important documents, medication, cash … anything you can fit in it. The TrekLite Lock Box XXL includes egg crate foam padding on the lid and bottom that holds contents firm and keeps them protected.
Sometimes, of course, it's time to display the firearm for checkpoint inspection. Dual 4-digit TSA locks located on opposite corners of the container prevent prying and unauthorized opening while still permitting security check-point inspection quickly and hassle-free.
Exterior Dimensions: 12.2" x 10.1" x 3.3"; Interior Dimensions: 11.8" x 7.3" x 2.9"; Material: Impact-resistant Polycarbonate; Includes 1500-lb rated security cable; MSRP: $53.99; Hornady.com