by
posted on July 12, 2022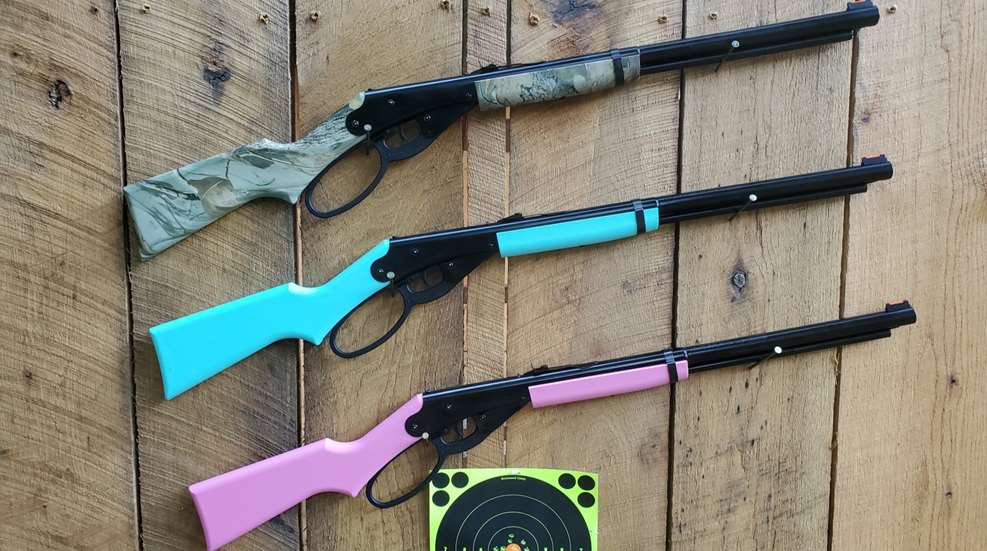 Daisy has its beginnings in the late 1800s and has been a household name since then. Millions of Americans had their first lessons in gun safety with a Daisy by their side—and the Red Ryder model is quite possibly the most iconic of the company's offerings.
At first glance the Model 1999 looks much like the Red Ryder. In fact, I thought that was what was in the box at first with a change in stock color. However, upon unboxing it completely, I immediately noticed some great upgrades that will help young and older shooters alike.
The 1999 is perfect for the whole family. So naturally, I got my whole family involved in this review. The panelists included my niece, my adult daughters and my mother, who is in her seventies. My niece is 10 and could cock the gun herself, largely in part to the oversized loop, which made grasping it easier. The sights are adjustable and easier to see than other models. The fiber-optic front sight helps young eyes find it, and older eyes align the sights more easily.
The stock is large enough to get a firm hold, but not too big for smaller hands. The the guns are light enough for anyone with reduced upper body strength to support. These guns are designed for shooters 10 and up with proper adult supervision. Always stress that air guns are not toys, and should be treated with the same respect as firearms. Some smaller-framed kids may need assistance cocking the gun, but I found the effort required perfectly matched the expected strength of kids who should be able to operate the gun independently at that age.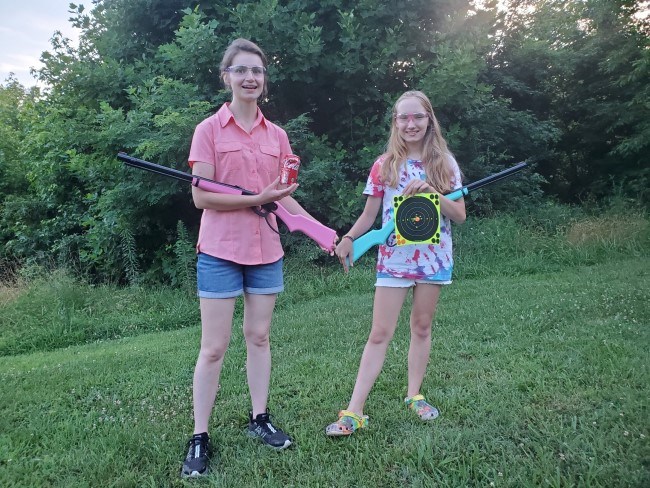 The BBs fly up to 350 feet per second (fps), which is enough to puncture a soda can; at distances greater than 10 yards, most of the BBs will remain inside the can. This makes the gun a stellar tool for backyard fun. With a proper backstop, you can plink away without disturbing your neighbors with noise or errant projectiles. (I'll provide more notes on creating a safe BB gun range at the end of this article.)
There's no delightfully satisfactory sound quite like the audible POP of a BB making contact with a tin can. The 1999 provided plenty of those POPs—and more than a little family hilarity as the rhythm of the POPs punctuated a competition betwixt grandmother and granddaughter. The accuracy of this gun is satisfactory with groups of 1- 1.5 inches on average at 10-12 yards. That is plenty good enough for youngsters learning to safely handle a firearm (or young-at-heart shooters punishing cans).
After some heavy use at the family gathering and additional testing on my small farm and range, I expect these air guns will take some heavy use and last quite a while. (It's true that air guns don't experience "fouling" like firearms do. Still, always remember to take some basic care of your air gun, such as wiping the exterior with a gun cloth and oil the gun as needed to extend its life and ward off rust.)
Here are the specs:
650 BB reservoir
195-yard shooting distance (max)
35.4" length
2.2 pounds
Crossbolt safety
Molded forearm and stock
Adjustable sights
Front sight is fiber optic
Large loop lever
BB Gun Range Rules
Ensure you have a proper backstop.
Remember to have young shooters wear safety glasses in the event of a bouncing BB.
Enforce all regular gun safety rules to ingrain habits now.
Keep shooters at least 17 feet from the target to avoid ricochets.
Keep all shooters BEHIND the line when shooting the Daisy 1999 or any other air gun.
Teach shooting positions and safety rules now to instill a lifetime of fun!