by
posted on October 5, 2022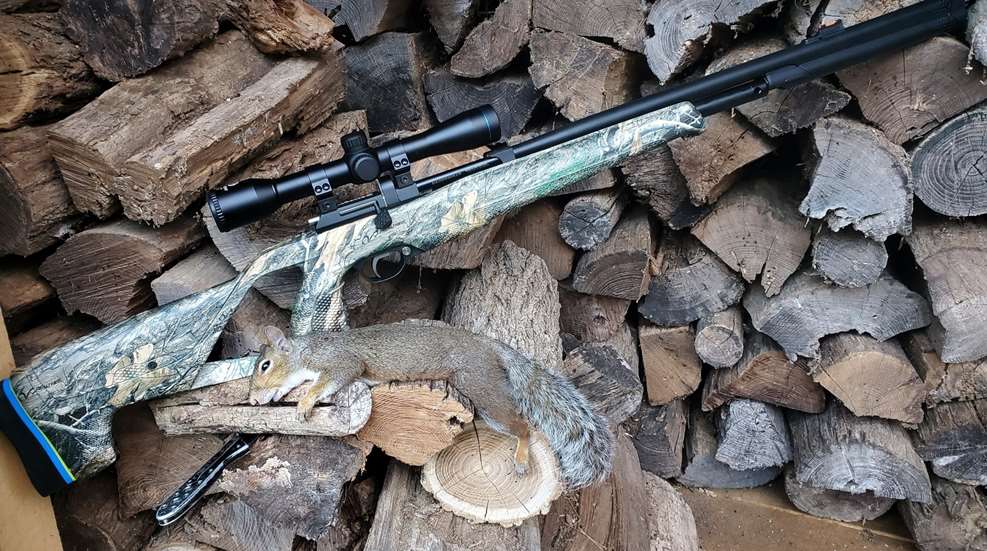 Imagine having a .22 air rifle powerful enough to rapidly fire off seven pellets at squirrels, rabbits or other small game animals before you had to reload. Enter the Stoeger XM1. I have a number of .22 air rifles; some that are quite good, and a few that are old favorites. However, this Stoeger XM1 is probably going to be the go-to air rifle for me from now on. 
Right out of the box this rifle impressed. Before I read the manual, I noticed the unique bolt action. The flat, but textured, bolt handle is easy to grip in all weather conditions. The rifle is light and easy to shoulder too. I love the ergonomics of this rifle. I read the directions after handling it for a few minutes and noticed quickly that the directions for this rifle were much better than most air rifles I get to review. (There were actually more than three or four pages, with detail!)
An interchangeable cheek piece and pistol grip as well as spacers for the length of pull (LOP) are included. Iron sights came with mine, but after putting them on I realized the rear sight would need to come off to accommodate the scope they sent with it. While I prefer a variable power scope, for the purpose of this article I used the included scope. After a quick and easy installation, I went to charge the rifle. The included adaptor fit my compressor and filling the rifle tank took a few minutes. The top fill pressure is 200 bar or 2,900 psi.
I wanted to test this rifle on squirrels once I got it sighted-in, so I removed the single pellet tray and started to load the rotary magazine. This may be the only negative thing I could say about the rifle. The directions are pretty good, so do read them all first, and then examine the magazine. I was so excited that I was working as I read and did not realize that the transparent plate on the magazine should be on the back as the user is loading and rotates clockwise while feeding pellets in skirt-first into the hole. Take your time as the magazine is small, and as you fill it, be careful that when the plate rotates back around that pellets do not start to fall out.
The magazine fits perfectly from left to right as you shoulder the rifle. It may take a bit of wiggling until you get a feel for where it slides in, but it works as it should. Just do not be in a hurry until you load a magazine a few times.
Once I had the rifle ready to go, I sighted in with a SHOOT NC target. I took one magazine of seven pellets to get it dead center at 35 yards and then I backed up to 50 yards to see what it would do. At 35 yards I was plastering pellets into one big hole. At 50 they were within an inch with the occasional pellet a little outside that, and I am sure that was me moving or shaking a bit. I was impressed.
Here is what surprised me. I don't have a lot of experience shooting "suppressed" firearms. I have shot some air rifles claiming to be suppressed. However, this rifle is so suppressed that the lack of a sharp "CRACK" made me worry that the rifle was not going to have enough energy to really be useful for hunting. I was in for a surprise.
I put a thick-walled soup can in the yard and started plinking at it. The first few shots I heard hit the can and I could see I was hitting it dead center. Then I shot at the ends and edges and it started jumping energetically. When I examined the can, the pellets were going straight through without fail. That got me thinking maybe I was just not hearing the power. It was time to go test it on small game.
The first squirrel I shot was a deal maker for me. I had about an hour of light left and parked myself under some hickory and beech trees with a few oaks nearby for good measure. Hickory nuts and acorns were falling. Fifteen minutes later I saw a squirrel in the top of the oak. It was 55 yards out bouncing around, hanging by its hind legs and eating like a pig.
I was pulling the very smooth trigger while said tree rat was gorging on acorns, when he pulled up and ran back down the limb towards the trunk. He paused as I shifted and zeroed back in. The few seconds he stopped were enough. The gun spit the .22 pellet with little more than a "pfft." The sound or lack thereof was still making me think I was under gunned, but that all came to a halt with the result. At 55 yards up and forward of my position, the pellet hit with an audible WHACK and the squirrel fell like a big rock and bounced off the ground, graveyard dead. I heard it bounce and I don't hear so well these days. I sat there stunned. "Holy COW!"
Upon examining the squirrel I saw I hit him in the shoulder and the pellet actually exited the rodent. I have my new squirrel gun, rabbit rifle, ground hogs in the garden or other pests rifle! With comfy ergonomics, a super smooth trigger and superb accuracy and low sound, you cannot go wrong. If you need a dependable, rugged, easy to use and reliable .22 air rifle, seriously consider this Stoeger XM1. The quiet report and accuracy will leave you very pleased. Pellets are inexpensive compared to .22 rounds and you do not have to worry about them going a mile and a half away! Stoeger offers this air rifle in four models; prices range from $199 to $249. StoegerIndustries.com
Specifications
PCP powered with the correct high pressure pump, tank or hand pump
Adjustable trigger
Adjustable length of pull (LOP) on the stock and interchangeable cheek piece and pistol grip for larger or smaller shooters.
Comes with a scope in 4x32 power and fiber optic sights that are adjustable
A 7 round rotary magazine or a single pellet loader tray included
Removable gauge cover
S4 Suppressor Noise reduction system
Alloy pellets fly up to 1,000 fps and lead 800 fps
Crossbolt safety