by
posted on May 27, 2021
Summer has arrived and kids are out of school and champing at the bit to start having fun. After months of research and review, I found four air guns that I feel are perfect for new shooters. To be sure, I "hired" a team of three young men I could trust—all are part of our local youth outdoor club—to test out those air guns. They shot the guns for hours at 30, 50 and 70 feet at spinning targets to see how they handled. Here is the scoop on each of them.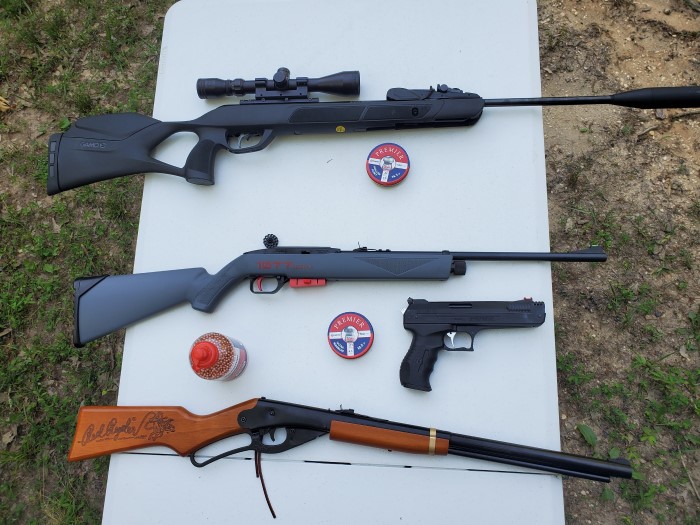 Gamo Swarm 10X Gen 2
This .22 pellet rifle is serious business. It's a breakbarrel 10-shot autoloading rifle, and I find it's pretty quiet, especially given that the pellets can sizzle up to 1,300 feet per second (fps). Matt, who is 19 and a great marksman, took on the task of testing this rifle to see what he thought about it.
"The rifle is a beast! It shoots very accurately even at our farthest targets. I liked how you could just glance and see how many shots you had left in the magazine. The scope that came with it was quite good too."
I have to second Matt's praise for the rifle. (After all, I could not let them have all the fun!) I have nothing but good things to say about the rifle, with one very minor exception. The rotary magazine is a hit with me because it holds 10 pellets and you can purchase as many as you want to make loading very quick. However, users should ensure that the pellets snap down into the magazine. I used a pen to push mine down into the magazine, and the extra second it took to do this was very minor and did not cause me to degrade my rating at all. The rifle is that good.
Accuracy out of the box is one hole shooting at 15 yards and shots touching at 25 yards! If you have a pest problem or live in an area where gunshots might cause issues, this is the pellet rifle to do the job. This rifle is great for stronger teenagers learning to hunt or shoot small targets. GAMOUSA.com
Daisy Red Ryder
This American classic needs no introduction. While the power of this gun is at the opposite end of the spectrum from the GAMO Swarm, it is made for new and budding shooters—and it is a load of fun to shoot. Even kids 5 years old with enough reach and parental supervision can enjoy this gun.  
The lever action hurls .177 BBs up to 350 fps. The sights are adjustable and, unlike many guns these days, this one has a wood stock. This BB gun got its start in 1938 and shot to stardom in the cult classic movie "A Christmas Story." The quality of the gun is such that you can pass it down to the next generation to learn gun safety and marksmanship with it.
Gus was our enthusiastic shooter for the Red Ryder. "The Red Ryder was my favorite because it was easy to load and so much fun. It only took one cock of the lever to get it ready to shoot and I think it was quick AND accurate too! It also holds a lot of BBs!"
Gus reported that he regularly was dinging the metal target at 50 feet with it and it has the power to go through a soda can too. At $40 this air gun is a must-have. Kids of all ages can enjoy it, as well as adults. Daisy.com
Crosman 1077 FreeStyle CO2-Powered .177 Pellet Rifle
The young men tested this gun to find out how the CO2-powered air rifle would hold up, and they had great things to say. It has a 12-shot rotary clip, adjustable rear sight, fiber-optic front sight, and sports a cool three-toned modern look. The .177 pellets can travel up to 780 fps, zipping through cans and spinning pellet gun targets too. This gun is ideal for young shooters aged 9 or 10 and up, but I recommend that they have a little bit of previous experience due to the semiauto feature.

Matt found the 12-shot rotary clip fairly easy to load. He advised taking your time since the pellets are small. When firing the gun very rapidly the boys had a few jams, but they were easy to quickly and safely clear and continue right on shooting in no time. The gun comes with two magazines which is a bonus. Each CO2 cartridge seemed to last 60 shots before needing to be swapped out. The boys also reported this gun is very fun to shoot. A line of cans would be ideal for this gun so you can take advantage of the semiauto feature! Retail price is around $95. Crosman.com
Beeman 2004 Single-Shot .177 Pistol
I purchased this pistol just to throw something different into the mix. The Beeman 2004 is great for shooters 13 and up with a moderate amount of strength to cock it. The gun costs $35 and is surprisingly accurate and fun to shoot.
Joe, who is 14, said it was easy to shoot and pretty accurate to 50 feet. He shot at a metal target at that range and found the pellet completely flattened! It advertises 550 FPS velocity. It weighs 1.7 pounds and is made for medium to large hands.
Joe's comments were, "The sights are easy to see (they are contrasting fiber optic) and the gun is fairly easy to reload, but be careful you don't get pinched cocking it. I had a lot of fun shooting it!"
He liked the gun so much I left it with him after getting his parents' approval. I think this gun is a great tool to teach young shooters handgun handling and safety. I was so impressed by the things Joe had to say, I am going to buy another one to keep for myself and let the outdoor club youth use. Beeman.com
This summer, start your kids out with air guns that will last and be a load of fun to safely shoot. Don't forget the safety glasses, BBs, pellets and targets!