by
posted on August 17, 2015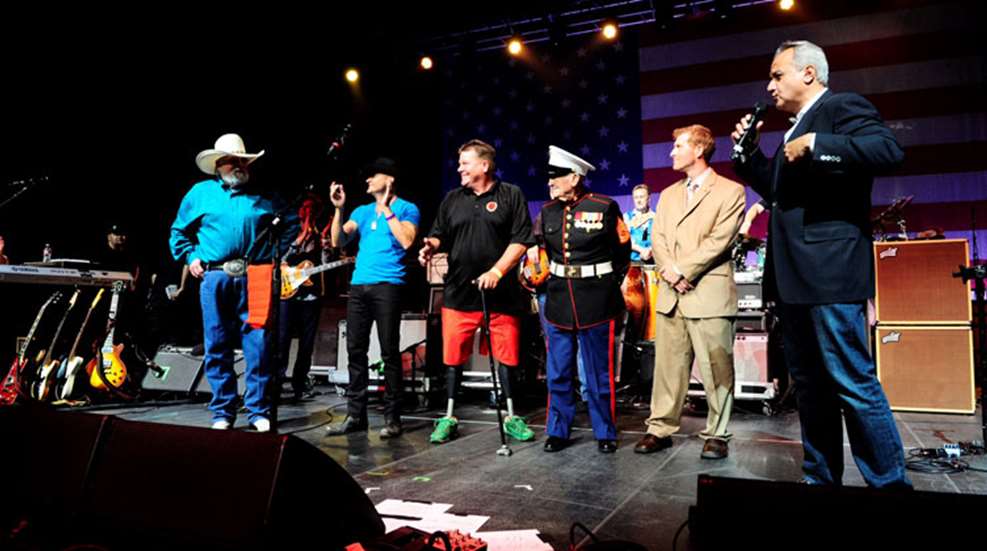 If you're a fan of American-made lever-action rifles, then you probably already know that Henry Repeating Arms has been been synonymous with American quality and craftsmanship since 1860. What you may not know is that Henry rifles were a crucial part of the Union victory in the American Civil War. This commitment to American military heroes is a tradition that Henry Repeating Arms carries on to this day.
This was particularly evident on Wednesday, August 12, when Henry Repeating Arms' Presisdent Anthony Imperato took the stage in front of a sold-out crowd at the Bridgestone Arena in Nashville, Tennessee. The audience, there to cheer on the Charlie Daniels' 40th Anniversary Volunteer Jam, came to a standing ovation when Imperato presented four war heroes with Henry Military Service Tribute Rifles. Imperato made his presentation halfway through The Charlie Daniels Bands' set, with Charlie himself standing on hand.

The deserving honorees were Jack ten Napel, a 95-year-old World War Two veteran who served in the Marine Corps; Scott Schroeder, a Bronze Star and Purple Heart recipient who served in the U.S. Army for 26 years; Sam Schoenheit, a USMC Staff Sergeant who was wounded in action; and Ryan Weaver, a Chief Warrant Officer 3 and helicopter pilot in the U.S. Army.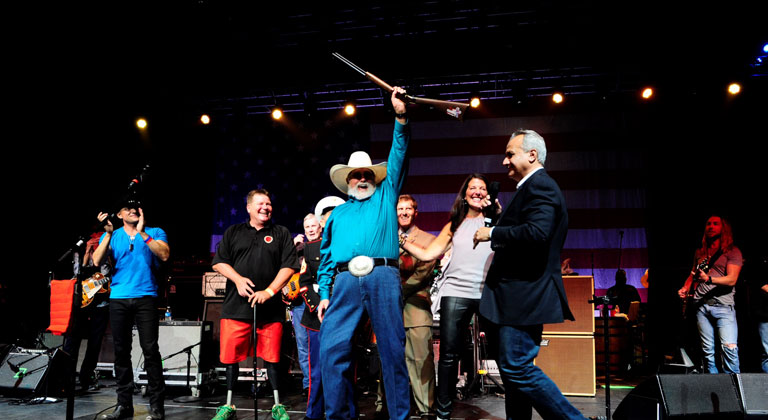 Additionally, Imperato also presented Charlie Daniels with a customized Henry Golden Boy rifle with the Volunteer Jam logo and an inscription reading, "Presented to Charlie Daniels—Thank you for your patriotism and all that you do for our veterans."

The Volunteer Jam was a smorgasbord of country and western stars, including surprise guests Eric Church, Lynyrd Skynyrd, Jamey Johnson and Blackberry Smoke in addition to scheduled performances by Wynonna, The Charlie Daniels Band, Ted Nugent, Trace Adkins, Alabama, Terri Clark, Billy Ray Cyrus, Colt Ford, The Grascals, Lee Greenwood, The Kentucky Headhunters, Tracy Lawrence, The Oak Ridge Boys, Ryan Weaver, Craig Morgan, Lee Roy Parnell, Billy Dean, Michael W. Smith, Travis Tritt, Phil Vassar and Montgomery Gentry.
As lead sponsor of the Volunteer Jam, Henry Repeating Arms donated $200,000 to The Journey Home Project, a non-profit organization that was co-founded by Charlie Daniels and his long-time manager David Corlew. The Journey Home Project connects donors with veterans' organizations that do the most good in meeting the health care, education and career needs of military servicemen and women and their families. Originally, Imperato intended to donate $100,000, but he was so moved during the concert that he donated an additional $100,000 on stage.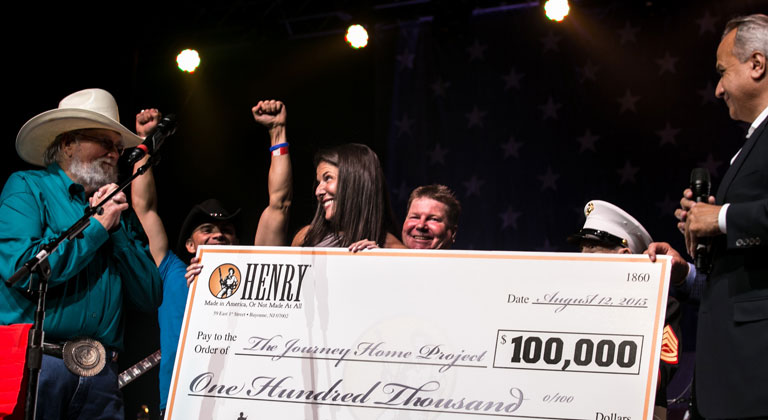 To learn more about Henry Repeating Arms, click here. For more about The Journey Home Project, click here. To see a video of this moving event, click here!