by
posted on March 3, 2015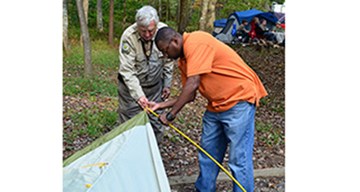 If you've never camped out before, getting started may seem a bit intimidating. There's lots of gear to buy, and some of us aren't too sure we'd be good at putting tent parts together. Now Georgia State Parks' First-Time Camper Program, designed to let newbies "test drive" the fun of camping in a supportive environment, will be offered this March in 13 state parks across Georgia. The program, which includes free equipment donated by REI and Coleman, allows first-timers to see if they enjoy sleeping under the stars before investing in their own gear.
For just $50, guests spend two nights in a modern campground, trying out all the necessary gear. Park staff or volunteers will greet campers upon arrival, give tips on setting up the tent, and offer a Camping 101 lesson. Equipment donated by REI and Coleman includes a family tent, sleeping pads, chairs, camp stove, fuel and lantern. Bathrooms and hot showers are a short walk from the campsite. At the end of their getaway, campers return the gear and go home with memories to last forever.
Georgia's State Parks currently in the program include A.H. Stephens in Crawfordville, F.D. Roosevelt in Pine Mountain, Fort Mountain near Chatsworth, Fort Yargo in Winder, General Coffee near Douglas, Gordonia-Alatamaha in Reidsville, James H. Floyd near Summerville, Magnolia Springs in Millen, Reed Bingham in Adel, Red Top Mountain on Lake Allatoona, Richard B. Russell on Lake Russell, Skidaway Island in Savannah and Stephen C. Foster in the Okefenokee Swamp. Both Fort Mountain and Red Top Mountain have enough equipment for larger families or groups up to 20 people.
Anyone who has never camped in a Georgia State Park may participate. While leashed dogs are normally welcome in campgrounds, they are not allowed in the First-Time Camper program since gear is shared among participants. Once settled in, guests can enjoy hiking, biking, fishing, boating, geocaching, mini-golf, wildlife programs and many other activities. Reservations are required and must be made by calling the individual parks.
To learn more, visit GeorgiaStateParks.org/FirstTimeCamper.