by
posted on April 3, 2020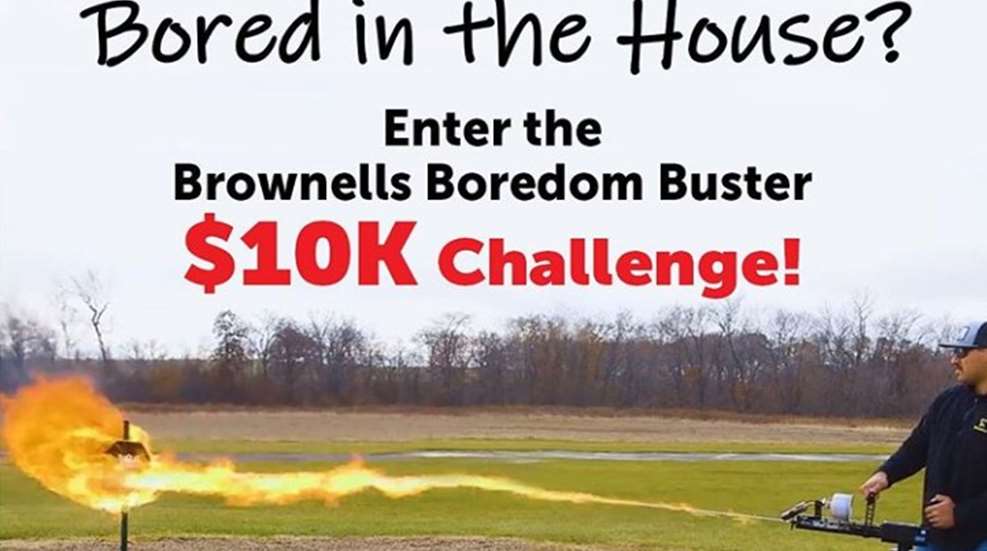 The Coronavirus quarantine and social-distancing protocols may be ongoing, but the masters of all matters "gun," Brownells, would like to impress two things upon you: First, that the outdoors is still open, and second, that they have ten thousand dollars waiting for a creative Brownells fan. It's called the Brownells Boredom Buster $10K Challenge, it's open to all, and all you need is an Instagram account and a smartphone.
Contestants can enter by creating funny, entertaining or otherwise extraordinary 2nd-Amendment-related videos and posting them on their personal Instagram accounts. There are rules, of course. Your video can't be more than 60 seconds long, and it must depict safe gun handling practices. (If you'd like a quick refresher, click here and here!) Additionally, your video needs to be tagged @Brownellsinc, and must use the hashtag #BBB10K.

Once the contest closes, however, what happens next will bust even more boredom, as Brownells will choose the five best videos and allow fans to vote for the winner. The winner will then get to travel to Brownells for a $10K shopping spree! The Challenge began April 2 and will run through April 16, 2020, so if you happen to have some extra time these days (and who doesn't?), you still have plenty of opportunities to dream up your winning entry.  
"We know there are a lot of smart, creative people in the 2A community," said Brownells Director of Content and Communications Ryan Repp. "We thought this would be a good way to give them a way to overcome boredom and show how much fun and how awesome the Second Amendment lifestyle can be."

From all of us here at NRA, be safe, have fun and good luck!