by
posted on February 11, 2015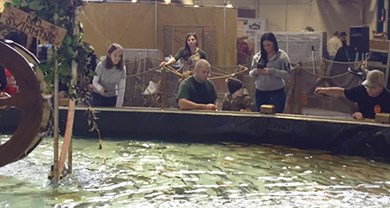 So many of us who love the outdoors were first introduced to it through the sport of fishing. This may be the main reason why Sports America's Trout Pond is always such a huge success at the Great American Outdoor Show.
"We've had several thousand people come through already, and it's still early in the show," smiles Carl Honaker, the mastermind behind the Trout Pond. It's certainly not difficult to see why the pond is such an attraction for families attending the show. The giant artificial pond, complete with water wheel and faux foliage, is stocked with several hundred rainbow and golden trout. A mere five dollars buys five minutes pond-side, and a chance to catch one of the fish. Although it's a catch-and-release game, successful fishers get something very special: a free fishing trip courtesy of Sports America. "We'll give away seven, eight hundred trips," says Honaker.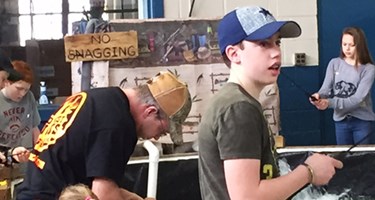 Why does he do this? "We're trying to promote sport fishing to young people," Honaker states, "so it'll become a passion for life." He's got good reason to believe in his method, too. "I've been doing this for 30 years," he continues, "and some of the kids I fished with back then are bringing their own kids fishing with me now."
Another attraction at the booth is the Mine. Here, for five dollars, kids can sift for buried treasure in the old-timey barrels that dot the booth. "This is only the second year we've been doing this," continues Honaker, "but it's working out well. The kids seem to be having a lot of fun." As well they should: The hidden prizes include real Indian arrowheads, fossilized shark teeth, gemstones and more...all of which the kids get to take home.
If you're visiting the Great American Outdoor Show, make a point of stopping by-and catch some fun!