by
posted on February 12, 2015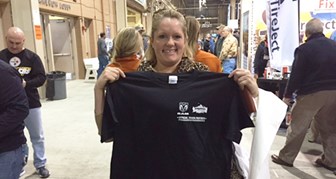 One of the fun things about the Great American Outdoor Show is that many of the products on display are available for purchase right there. But canny show-goers know something even better: If you keep a sharp eye out, you might be able to take a thing or two home for free.
Of course, it's hard to miss Remington's Great American Gun Giveaway. Each day of the show, Remington is giving away a new-for-2015 firearm. Since names are chosen anew each day, attendees who come to multiple show days increase their odds of winning. Just sign up at any of the NRA membership booths (located at both entrances), or at the Remington booth, and you might find yourself the lucky owner of a brand-new Remington.
Sound like a long shot? There are plenty of other opportunities to get your hands on free goodies all over the exhibition hall. The Chevy booth is giving away free t-shirts, for example; all you have to do is sign up at Benelli's booth, you can upgrade your old hat for a snazzy new Benelli chapeau. Opportunities abound everywhere you look.
One of the most emotionally moving giveaways, however, can be found at the LEEK Hunting and Mountain Preserve booth (6504, in the Main Hall). Here, $5 will buy you a chance at a set of handmade game calls, lanyard and a custom display box. One hundred percent of these ticket prices go to support LEEK's mission of offering guided hunting and fishing adventures to disabled veterans. For more, information, visit LEEK at their booth, or online at www.leekpreserve.org.