Every year, the gun industry hosts the SHOT Show. Featuring manufacturers large and small from around the world, it is this show where we see brand-new releases spanning all categories related to shooting, hunting, and the great outdoors. Here, we take a quick look at six of the newest safes and storage solutions to hit the market launching in 2023.
Hornady Square-Lok Modular Organizing System
The Square-Lok Modular Organizing System from Hornady (pictured above) offers perhaps the widest variety of customization options to fit your specific needs. Using its Square-Lok panels as the foundation of this system, various accessories can be added to fit rifles, pistols and shotguns.
Not limited to firearms storage, you also have the ability to add items such as metal and wire shelving, storage bins of various sizes, drawers and more. What is nice about this system is that you can quickly and easily change the layout of the entire unit, easily adapting it as your needs change. For information on this and other new releases in the Hornady security collection visit HornadySecurity.com.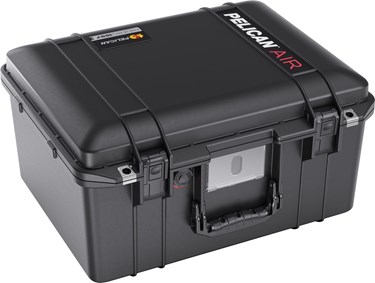 Pelican Air 1557
Best known for cases of every shape and size built to provide the utmost protection for camera gear, firearms and more, Pelican's latest is the Pelican Air 1557 case. With an interior storage space measuring in at 17.3"13"x9.8 inches, this case provides ample storage for your handguns and other valuable gear. Understanding that this case would be used in a variety of manners, Pelican offers up four different options to customize the interior of your new case: "pick and pluck" foam interior, padded dividers, TrekPak Divider System and a "no foam" option.
Constructed of a proprietary polymer material, the Pelican Air 1557 case weighs in at approximately 6.6 pounds. Additional features include a stainless-steel padlock protectors to prevent locking systems from breaking loose, waterproof seal and crushproof exterior. For more information on this case and everything Pelican has to offer, visit pelican.com.
MTM Tactical Rifle Crate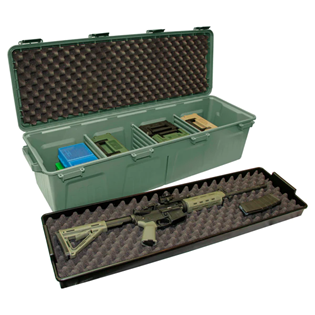 Anyone who is passionate when it comes to guns knows how easy it is to accumulate gear. Also well known is how disorganized you can become without proper storage solutions. The Tactical Rifle Crate from MTM makes it easy for even the messiest of shooters to become organized.  The interior bottom compartment of this case measures 39"x11"x7.1" and features divided compartments, ideal for ammunition, eye and ear protection, and even an assortment of targets. 
Fitting just above the lower compartments is a removeable tray. At 39"x11.7"x3.1" this tray is a perfect fit for your rifles, especially ARs (when the upper and lower receivers are separated). For more information on the Tactical Rifle Crate and everything else MTM has to offer, visit mtmcase-gard.com.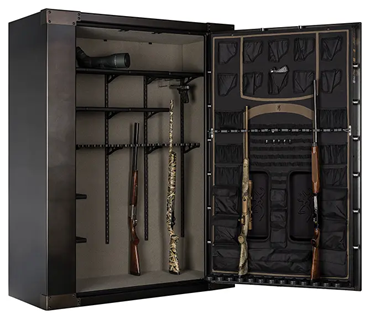 Browning 1878-65T Safe
Part of the 1875 series of safes from Browning, the 65T offers endless storage and organization options for your rifles, pistols, shotguns, optics, gear and more.  Offering 58 cubic feet of storage, key features of this safe start with fire protection up to 90 minutes at over 1,600 degrees Fahrenheit. It has a modular door storage system with handy solutions for optics, handguns and more, and boasts the famous Axis shelving system—which allows you to maximize the interior of your safe for maximum storage opportunities. 
A unique feature of this safe is the electrical outlet located in the interior of the safe, perfect for those who wish to install a dehumidifier inside the unit. For more information on this and the entire safe line offered by Browning visit browning.com.
Nanuk 935 6 UP Gun Case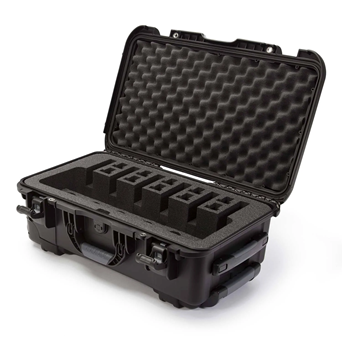 As a firearms instructor, I find it's of utmost importance to have easy access to handguns in one central location during a course. Not only does this mean more time on the range, it also provides a quick visual on what guns are cased and which are still in use. The Nanuk 935 6 UP gun case provides all that and more in a rugged yet compact unit. Fitting handguns with barrel lengths up to 5 inches, this case also provides space for two magazines per firearm, further adding to the convenience of this item. 
This case is also airline-ready, with steel-reinforced spacing for both padlocks and cable locks alike. Another handy feature of the Nanuk 935 is that it you can remove the center foam piece to free up space for items such as eye and ear protection, optics and more. For more information on this and other items Nanuk has to offer visit nanuk.com.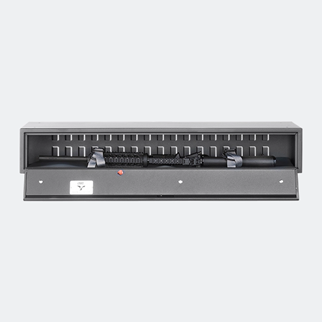 SecureIt – Fast Box Model 40
The SecureIt Model 40 Fast Box is a hidden gem amongst the world of firearm storage solutions. As interest in self-defense and home-defense guns is skyrockets, so does the need for innovative solutions for both the storage and deployment of these firearms. The Fast Box Model 40 From SecureIt is a popular option for those looking to store their home-defense gun in the bedroom. 
The internal dimensions of the Model 40 are 40"x11"x6", making it ideal for up to two long guns. This safe is easily placed by one person under a bed or dresser unit, as it weighs in at an easily manageable 33 pounds. For an even more secure option, one can utilize the predrilled holes in the unit itself to secure it to a bedroom floor. It's also perfect for a truck bed or SUV. For more information on this and the entire SecureIt line, visit secureitgunstorage.com.