Riton Optics knows both the joy and pain of glassing for game very well. Focusing at long distances with a binocular in your hands can become quite tiring after a few minutes ... and even the slightest optical distortions can give you a headache after a while. Of course, it's wildly unsafe to use your riflescope to "glass" for game. A spotting scope is safe, effective and doesn't have to be handheld, but that type of optic can be quite expensive. Not so with the highly anticipated addition to Riton's PRIMAL line of purpose-built optics. The all-new 5 PRIMAL 15-45x60 Spotting Scope has been carefully designed with premium features packed into a compact, lightweight package, which provides hunters and shooters unmatched versatility in the field.
At the heart of the 5 PRIMAL 15-45x60 Spotting Scope are lenses crafted from Extra-Low Dispersion (ED) glass, delivering top-tier optical clarity and resolution while minimizing color fringing visible to the human eye. The advanced optical design and fully multi-coated lens coatings allow for maximum light transmission and definition when glassing for wildlife in all lighting and weather conditions.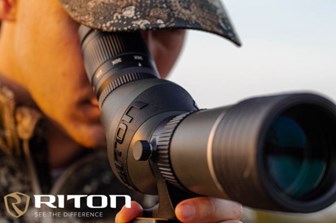 Designed and engineered with a durable, lightweight aluminum alloy construction and IPX7 waterproof rating, the 5 PRIMAL 15-45x60 Spotting Scope is built to withstand just about every adventure ahead. Measuring in at just over 2.5 lbs. and 12.5" long, the 5 PRIMAL 15-45x60 is easily packable, taking up less room in your pack for the hike in and out of the woods and mountains.
Focusing and zooming on subjects is effortless with the large, rubberized and knurled zoom and focus rings, allowing for precise adjustments and grip when bare handed, or while wearing gloves in cold conditions.
As with every magnified optic from Riton Optics, the 5 PRIMAL 15-45x60 Spotting Scope is also backed by a Limited Lifetime Warranty and the Riton Promise, providing users with a lifetime of confidence in the field. MSRP $999; RitonOptics.com