For years, Lone Wolf Arms was best known for creating aftermarket enhancements for GLOCK pistols, but there's a new day breaking: Lone Wolf Arms has turned its expert tuners loose on SIG SAUER's P365 and P365XL pistols. The result? DAWN 365 barrels, which have been expertly designed to enhance the SIG pistol shooting experience. Crafted from premium 416 stainless steel, these barrels feature a new profile design that's finished in QPQ for exceptional wear resistance and long-lasting performance.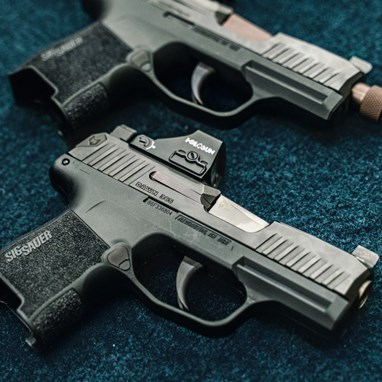 The DAWN 365 profile design features improved serrations as well as profile bevels and facets, which work together to reduce snagging, resulting in quicker and smoother drawing without compromising compatibility with most P365 holsters. The DAWN 365 slides also feature an optic cut for HOLOSUN 507K and other red dot pistol sights that share the same footprint.
The DAWN 365 profile design also features a hood pocket and profile facets, which work together to reduce the bearing surface for faster cycling, resulting in quicker and smoother shooting. This makes the DAWN 365 barrels perfect for everyone, from concealed carry owners looking for consistency when it counts the most to competition shooters who demand the highest level of performance and reliability from their firearms.
In addition to their superior performance, these barrels are also factory slide drop-in ready, meaning that they can be easily installed into the firearm without the need for any additional modifications. This ensures that the shooter can enjoy the benefits of these barrels right out of the box, without having to spend any extra time or money on installation. MSRP $159-$174, depending upon model chosen. For more, visit Lone Wolf here!