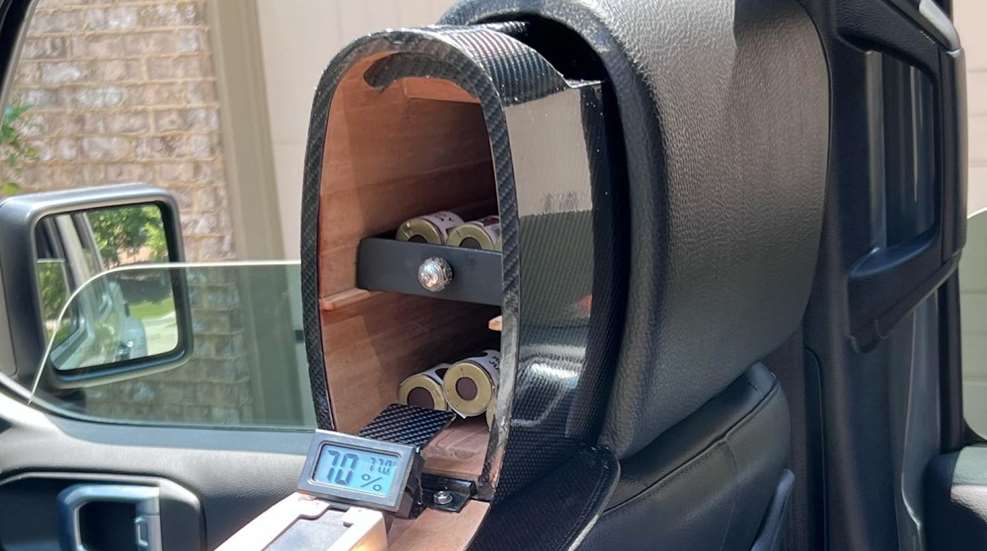 Vehicle break-ins are up nationwide, as are vehicle thefts. If you ever need to leave your handgun in your vehicle, it's important to do your best to prevent its theft. The Headrest Safe can help you do this in two ways. First, it's a deep-concealment method that lets you hide your pistol "in plain sight." Should anyone figure out that it's actually a safe, they'll still have to get past its robust lock and construction.
But what if you also had the option to detach that safe and use it to transport your firearm ... wouldn't that be great? The Headrest Safe Company has just announced a new solution that concealed carriers should know about: the Slide Headrest Safe. This two-piece unit works just like the original Headrest Safe, but it also functions as a removable, easy-to-carry lockbox with an off-shoulder strap. It is compliant in states where handguns must be securely stored during transport out of your vehicle.
Need to hop on a flight with your firearm? The Slide Headrest Safe is also TSA-compliant, enabling it for use during air transportation. Securely store anything of value and take it with you when you leave your vehicle.
Will it work in your car? The answer is "almost certainly yes," thanks to its universal design. You can blend it into your current upholstery with black, dark gray or light gray leatherette. With a quick-access biometric reader and keypad, you have rapid access to whatever you have securely stored away. And no, an intrepid thief won't be able to just slide the Slide--it can only be removed by the owner or installer. 
"When it comes to carrying your valuables or firearms in your vehicle, most people think they have to choose between safety and convenience," said Louis Tuck, COO/CFO, The Headrest Safe Company LLC. "With The Headrest Safe, you can have the best of both worlds: peace of mind that it's secure, plus easy access." MSRP $450-800; TheHeadrestSafe.com.