by
posted on March 7, 2017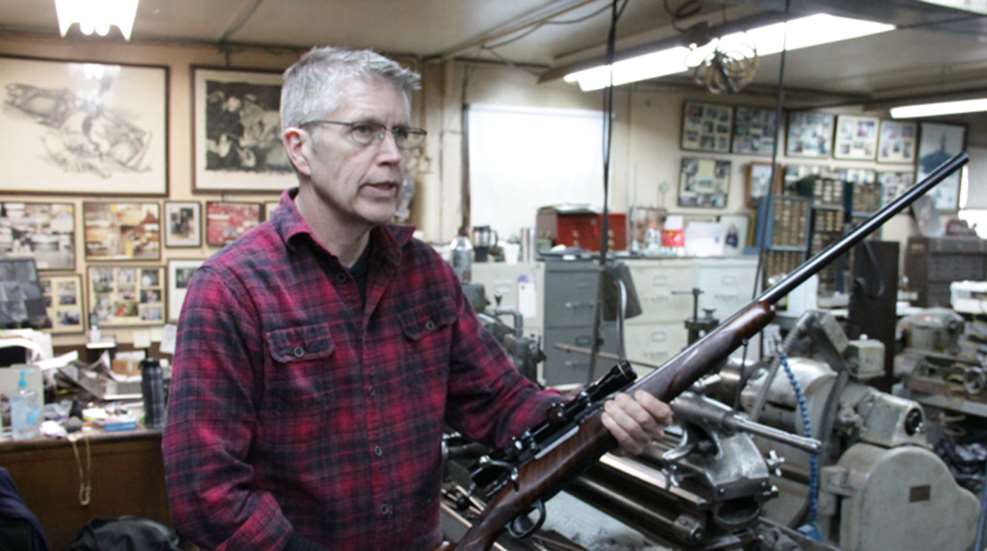 It's a nondescript long, low white building—there isn't even a sign out front—but inside, some of the best firearms in America and beyond are fine-tuned to perfection. Heritage Gunsmiths is located just a few miles from the village of Centerburg, Ohio, the geographic middle of the Buckeye State, and is owned and operated by master-gunsmith brothers Jim and Tim Eyster.
The brothers were fortunate enough to have been born into the gunsmithing trade; their father, Ken Eyster, opened the shop in the mid-1950s. "Yeah, my brother and I didn't have much choice when we were growing up," Jim joked. "We were unapologetically used by Dad as slave labor."
The boys may not have realized or appreciated it at the time, but they were serving an apprenticeship during their early years, something they highly recommend today for others looking to make gunsmithing a career.    
"And in addition to apprenticing, another route to take after high school is a couple years of training at an accredited gunsmithing school," Jim said. "After that, it's find a job and learn by doing."
For those students still in high school, Jim recommends not shying away from math and science courses. "For instance, figuring out how much to raise the comb of a shotgun stock to change the point of impact on the target is simple trigonometry," he said. "And basic machining, CNC (computer numerical control) machining, and basic welding are helpful, too. Many local career centers offer all three of those courses."
As for beginning hands-on gunsmith training, Jim recommends tinkering with your own guns, taking them apart and putting them back together. "Eventually, you'll probably get stumped, but solving problems is how you learn," he said. "Surprisingly—and this is something we didn't have available to us when we were growing up—YouTube videos are a great way to learn basic gunsmithing techniques."  
The Eysters will work on rifles, but Heritage Gunsmiths has built its reputation on improving shotgun performance, tweaking the high-end smoothbores used by today's competitive sporting clays, trap and skeet shooters.  hey've even coined a word for the magic they perform: Eysterizing. 
"We strive to get that last one percent of performance out of every shotgun we take in," Jim said. "A lot of gunsmiths just won't do that anymore because of the amount of labor involved and time required, but we will."
When asked what he enjoys most about the job of gunsmithing, and what he likes least, Jim's answers were the same. "The people," he grinned. "Most of our longtime, loyal customers are great people, but some can also be very demanding. Many people just don't understand that it may be months before they have their gun returned; we're always swamped with work."
Another thing to think about when considering gunsmithing as a career is that it takes quite an outlay of cash just to get started. For instance, the Eysters have one metal lathe alone in their shop that's valued at $17,000. And the shop is filled with such specialized, expensive equipment. 
An alternative to being self-employed as a gunsmith is working for a gun manufacturer. Other places to find employment include big-box outdoors stores such as Bass Pro Shops, Cabela's and Gander Mountain, or smaller, independent firearms retailers.
But the dream of most young gunsmiths is to one day have their own shop, and if you are thinking along those lines Jim mentioned the importance of developing a niche business.
"In other words, certainly obtain general gunsmithing skills, but also try to specialize in a particular type of gunsmithing. Developing a skill-set that few other gunsmiths in your area have can be very beneficial," he said. "That niche approach—such as we've developed here at Heritage with high-end shotguns—keeps work coming through the front door."
The Eysters believe that the future for skilled gunsmiths looks bright. "It certainly depends upon the economy," Jim cautioned, "but as long as the economy holds, people will continue to shoot recreationally and require gunsmithing services." He also mentioned that, in addition to the economy, national politics often have an effect on gun sales, particularly for so-called "black guns," meaning AR15-style rifles and semiautomatic handguns.        
In the past, gunsmithing has been a male-dominated profession, but that's gradually beginning to change.   young woman who has been apprenticing with the Eysters for the past six years is Rebekah Abel. 
"I do a little bit of everything around here," she said, "basic gunsmithing as well as billing, shipping, answering the phone, that sort of thing. I also do some of the Browning and Winchester factory-service work we get in." An interesting weekend job that Rebekah and her boyfriend have is selling NRA memberships at sport shows.
Rebekah became interested in shooting at age eight through the 4-H Shooting Sports Program. "I began trap shooting at a local conservation club, then switched to shooting bunker trap, thanks to Jim's help and guidance," she said. "As a result, I competed at the Junior Olympics three years in a row at the Colorado Springs Olympic Training Center."  
Do you like to shoot, hunt, and enjoy working with your hands? If so, gunsmithing just may be the career for you.  If you have any specific questions on how to get started, Jim Eyster said he'd be glad to try and answer them.  He can be reached by e-mail at [email protected].