by
posted on May 24, 2023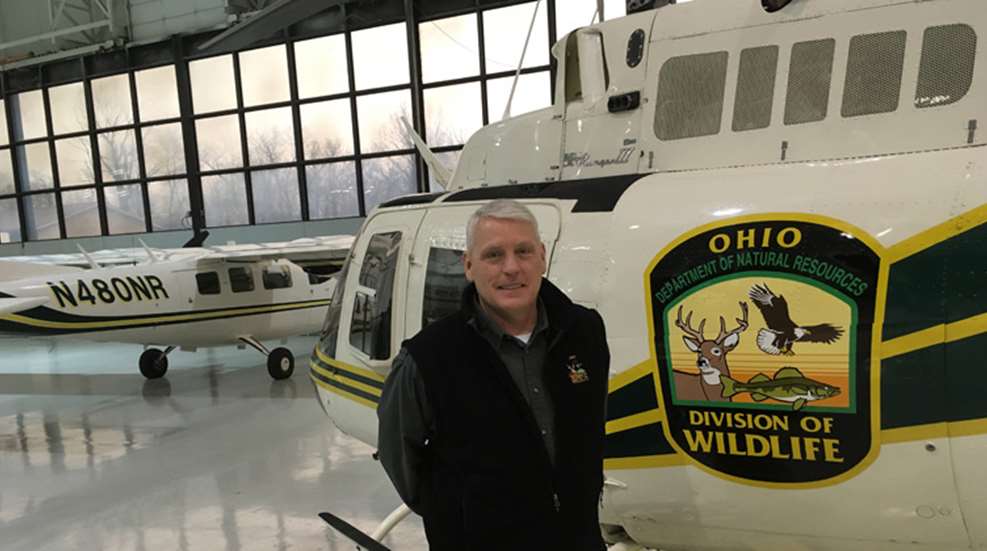 Joe Barber is a longtime aircraft pilot with the Ohio Department of Natural Resources, Division of Wildlife, flying both airplanes and helicopters. That state wildlife agency owns and operates two fixed-wing Partenavia airplanes and one Bell 206 Helicopter.
How long have you worked for the Ohio Department of Natural Resources, Division of Wildlife, and what other positions have you held that helped you become a natural resources pilot?
"I have worked for the Division of Wildlife since 1995, nearly 22 years. I graduated from Otterbein College in Westerville, Ohio, in 1986, earning a degree in Biology. While in college I was also in the Reserve Officer Training Corps (ROTC) program in a cooperative agreement with Ohio State University (OSU) and Otterbein College, allowing me to attend ROTC courses at OSU and receive a commission as an Army officer. I was then selected for Army flight training and spent nearly six years active-duty flying UH60 Blackhawk helicopters. More than anything else, I believe my Army flight training and flight experience prepared me for my current job."  
What experiences—outdoors or otherwise—did you have as a kid that helped prepare you for your aviation career?
"I grew up in Galena, Ohio, near Hoover Reservoir north of Columbus, and spent a large part of my life on the lake. Hunting and fishing were always an important part of any family events.
"As for aviation, my first experience flying was at a young age with a friend of our family in a Cessna 172 out of Port Columbus (Ohio), today known as John Glenn Columbus International Airport. That was a great experience, but due to motion sickness it did not end well. I did learn a valuable lesson from that flight, though: Always include motion-sickness bags in the pre-flight planning process. Somehow, I got over that first experience with airsickness and have been flying for over 30 years since.
"I would also like to mention that while I was attending high school, Mr. Dick Phillips was a teacher of mine and also a pilot. He offered an opportunity for students in their senior year to take an elective course titled 'Aviation.' And as part of the class we had the opportunity to attend a career day at the State of Ohio Hangar to get hands-on experience flying simulators, seeing different aircraft, and learning about the different roles aircraft play in state government. Coincidentally, today I work and fly out of that very same hangar."  
How would you suggest a young person prepare for a career as a natural resources pilot?
"I retired from the Army National Guard in 2015 after 29 years of military service, with 28 of those years spent flying. I cannot speak highly enough about the training and experience I received while serving and flying for our military. That said, the need for biology and law enforcement knowledge is also very important for a natural resources pilot."
What do you enjoy about your job?
"I enjoy all the various types of flying I get to do. For instance, I make wildlife survey and population census flights, fly wildlife law-enforcement missions, and make many miscellaneous flights such as transporting wildlife for reintroduction or flying search-and-rescue missions.
"I also enjoy the many interesting people I get to meet and work with, such as wildlife and fisheries biologists, wildlife officers, and others."
Do you have an interesting story to tell about your job, possibly a dangerous situation you've encountered?
"Danger in aviation is one thing pilots work hard to avoid. But through detailed risk assessment, dangers can be identified and mitigated to an acceptable level. Natural resources flying has inherent risks that differ from commercial aviation. For example, low-level wildlife surveys, maneuvering while conducting remote sensing, providing firefighting support with an external load (such as water), aerial capture of wildlife and aerial spraying operations are all part of the types of flying I do. Training and experience are a crucial part of mitigating the risks associated with those operations.
"Yet sometimes things can still happen that are completely unanticipated. For instance, one late-fall night over central Ohio, I and two wildlife officers were flying a law-enforcement mission when we heard a loud bang. Flight controls were normal, we were not experiencing any unusual vibrations, both engines were operating normally, the engine indications were all normal, and the aircraft noise levels were normal.
"The aircraft was equipped with an external infrared system, so the operator (one of the wildlife officers) began scanning the outside of the aircraft to determine what had happened. He didn't see anything unusual and the aircraft was flying normally, so we continued the mission. But once back on the ground, during post-flight inspection, we found substantial damage to the nosecone of the aircraft approximately 6 inches below the pilot's front wind screen. In that area we also discovered a bunch of feathers, and that is when we realized we had hit a bird.
"While in flight we could not see the nose of the aircraft with the infrared system, so we were unaware of the damage. From the extent of the damage and the feathers it is most likely we hit a migrating Canada goose—at 4,500 feet and at 2:00 A.M.!  Fortunately for us the strike was not 6 inches higher, which may have caused the bird to crash through my pilot's station wind screen."
But the job of a natural resources pilot is not always so serious. Joe Barber concludes with the following humorous story.
"Years ago, the Division of Wildlife was conducting a snowshoe hare reintroduction program in northeast Ohio. We had contracted with a trapper in the Upper Peninsula (UP) of Michigan to capture the hares, and after he had 40 to 50 hares I would fly to the snowy UP, load the airplane with the hares secured in cardboard boxes, and transport them back to Ohio for release.
"On one trip, I had just taken off from the UP airport, climbed to my assigned altitude, leveled off, and set the airplane for cruise flight back to Ohio. Suddenly, a hare jumps from the back of the airplane into my lap. Unfortunately, the FAA pilot training syllabus does not include what actions a pilot should take in situations like that. My first thought was to grab the hare and toss it to the back of the airplane, hoping I didn't see it again until landing in Ohio.   
"But before I could, the critter jumped off my lap onto the floor between my feet. It then crawled forward into the nosecone of the plane, out of sight. Initially relieved, I then realize that all the aircraft's avionics, flight instruments, and electronic components are in the nosecone, and that there was now a wild hare loose up there with a penchant for gnawing things.
"Thankfully, within a few minutes the bunny came back out of the nosecone on its own and jumped onto the co-pilot seat beside me. It then leapt to the rear of the aircraft and I didn't see it again until landing in Ohio."

Image courtesy Ohio DNR