by
posted on February 27, 2018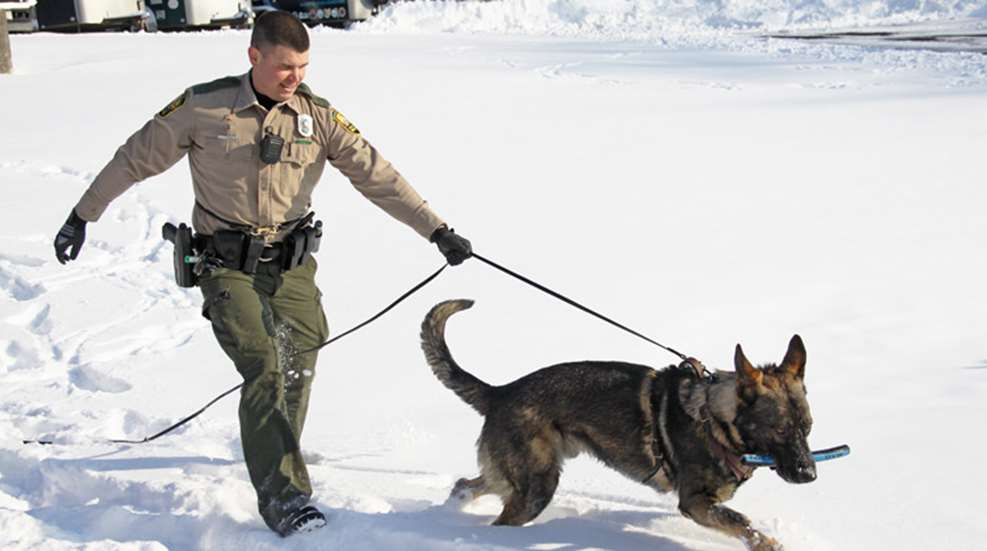 For the first time in its long history, the Ohio Department of Natural Resources, Division of Wildlife, will soon be joining more than 20 other states in employing K-9 officers. Three state wildlife officers and their dogs began training January 22, and if all goes well will graduate on April 1. Two additional dogs and their handlers are scheduled to be trained this summer, making a total of five, to be assigned one per wildlife district in the Buckeye State.
Selected for the specialized training were veteran State Wildlife Officers Jeremy Carter, Chris Gilkey and Matt Leibengood. Their furry partners are Finn, Mattis and May; two German shepherds and a black Labrador retriever, respectively. All three dogs are less than two years old and were purchased with donations from the Ohio Division of Wildlife's many conservation partners and sponsors; more than $37,500 has been raised thus far.
"The dogs will be trained to detect six different scents," said Officer Gilkey, "gunpowder, waterfowl, turkey, deer and fish, as well as ginseng." Gilkey explained that ginseng is a highly-regulated plant that grows wild in the eastern U. S., including Ohio, and its roots are frequently dug illegally out of season by poachers.
"The temptation is the root's high monetary value," said Gilkey, "anywhere from $300 to $900 per dried pound. These dogs will be a great tool in helping us win the fight against ginseng poaching in Ohio, as well as against game and fish poaching."
K-9s can help in wildlife work in more ways than just deterring poaching. For instance, two dogs from other law enforcement agencies assisted the Division of Wildlife in two hunting incident investigations during Ohio's recent deer hunting seasons. One incident involved a hunter who had been fatally shot. In the second incident, a deer hunter had been shot and seriously wounded by another hunter.
In both situations, the K-9s were brought onto the scene and within minutes were able to locate the components of the shotshells and cartridges used in the accidental shootings, crucial evidence which greatly assisted in the investigations. That's just some of the unique type of work these new wildlife K-9s will be trained to do.
The three dogs have been accompanying their handlers during routine patrols for several months, bonding to one another. Once formal training begins it will be a demanding schedule for both dogs and handlers: 10-hour days, four days per week for 10 weeks, for a total of 400 hours of instruction.  
In addition to the three new K-9s' law enforcement work, the Ohio DNR, Division of Wildlife, looks to capitalize on the public relations value of the dogs. "Most everyone loves dogs," said Gilkey, "so we plan to use the K-9 officers as an avenue to make contact with those people who may not necessarily hunt or fish, including school kids. The dogs will give us many opportunities to tell our story of what we do as a state agency in managing Ohio's wildlife."
Officer Gilkey's shepherd, Mattis, was born and raised in Germany, so Gilkey has to speak to the dog in German to give it commands. He said the expected working life of a German shepherd K-9 is usually seven to eight years.     
According to Gilkey, wildlife law enforcement is statistically the most dangerous law enforcement job in the world, mainly because most wildlife officers work alone much of the time, any potential backup many minutes and miles away. "But now with Mattis, I have a partner with me full-time," said Gilkey. "Having him along not only makes me feel safer in the field, but my wife and family know that I'm safer, as well."    
Gilkey went on to point out that most K-9s do not die in the line of duty as a result of being shot or stabbed; surprisingly, they die in an overheated vehicle. It happens when their handlers are away from the vehicle, for any number of reasons, and have left their K-9 partner inside with no way of escape.
"To prevent such a tragedy, our patrol vehicles are equipped with heat alarms," said Gilkey. "So if a dog is inside and the interior of the vehicle gets too hot, the rear windows automatically lower and a fan kicks on to force fresh air in. In addition, the vehicle's lights come on and the horn begins sounding to alert the officer of the situation. Handlers also wear a pager on their belt which alerts them that the temperature in their vehicle is too warm for the dog."
Also on the pager is a deployment button, one that could save an officer's life. "If I'm away from my vehicle and have left my dog inside," said Gilkey, "and I become involved in a life-threatening situation—a fight with a poacher, for instance—I can push the deployment button and my vehicle doors swing open. The dog is then trained to immediately track me by scent and come to my aid, protecting me from an assailant, if necessary. And that's a very comforting feeling…"