by
posted on February 28, 2023
Now is the time to plan for the first official summer camping trip for 2021. A successful and relaxing camping trip hinges on having the correct gear to allow you to enjoy yourself as you do camp chores—including clearing, cutting and cooking around the campsite. After months of research and testing of some cutlery, I found what I believe to be the best items out there that are not incredibly expensive, yet will last you a long time if cared for properly.
Clearing the campsite
You need to be equipped with a good axe and machete, and possibly a small saw for firewood or trimming chores. Cold Steel makes a Hudson Bay Camp Axe that is perfect for cutting a small fallen tree or chopping up firewood. This axe weighs just under 3 lbs. with a 27" American Hickory handle. The axe head is clamped on to the handle, ensuring it won't go flying off at some point. Although I doubt you will ever break the handle, the clamping system allows you to switch it out with any handle you can procure that will fit in the clamp to get you by.
I love the balance of this tool and I found it to be sharp right out of the box. I cut some hickory kindling for a fire—and if you know hickory, you know that is one tall order—and chipped the ends to get some quick fire starter material. The product is superbly made and you know you are holding quality.
Cold Steel also makes a great machete for clearing a path or removing saplings around camp. Their Bolo machete also has great balance and heft. There is a hole in the handle where you could put a piece of Para cord to loop around your wrist if you want. I walked along a few trails on my property to test it initially and trimmed all the branches going to and from a stand in my woods. The machete is light enough that you will not grow weary swinging it, yet it is heavy enough that it slices through branches cleanly. This is a great camp tool to have on hand or even store in the truck. If you are hacking your way to camp, this is the machete for you.
Sometimes you need to do some light saw work such as making tent pegs, but don't want to carry a huge bow saw to make clean cuts. Gerber has a EXO-MOD Pack Saw I absolutely love. It is so light and strong that I can carry it easily on my belt with the included snap-together sheath, or shove it in a pack and never know I have it until I need it. I cut some hickory and oak limbs that were a few inches thick and the saw teeth zipped right through both dead limbs and green limbs. I think this little saw is going with me not only on camping trips but on my hunts as well. It is easy to use and well made.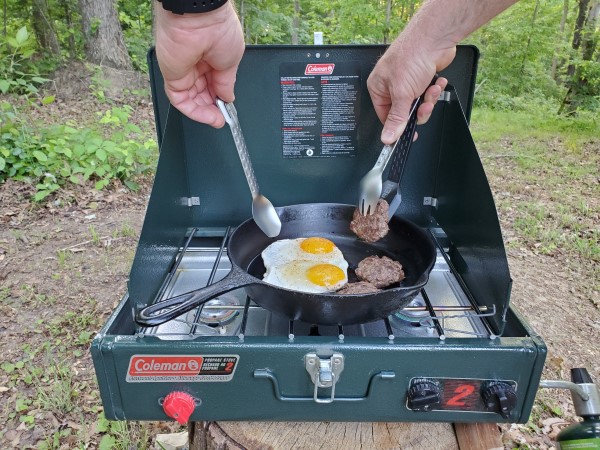 Cooking
Food cooked at camp is always so much better than food in a can or a box. Gerber stole the show with their COMPLEAT product. This package deal has a spatula, fork, spoon and multitool. The fork and spatula put together make a great set of camp tongs for cooking sausage or other things. Lightweight at 2.5 ounces, this set can go in a deep woods backpack and set you up for success at camp without weighing you down! The multi tool works as a veggie peeler, bottle opener, can opener and a serrated package opener too. The COMPLEAT set is a product I really wish I had years ago. The spatula is perfect for flipping over foods quickly in a pan and the textured handles on the tools make gripping them easy as you are working near heat. In this author's opinion, every camper needs this set.
Speaking of cooking, you will likely need a fire. If you are in a jam and need to start one I found the TITAN SURVIVORSTEEL Fire-Starter to be the best ticket for the job. You don't need matches. This product has a full-sized Ferro rod that starts fires even when wet. Use the fire starter on the back of your knife to throw 3,000-degree sparks to your tinder. The product is guaranteed to spark more than 12,000 times. (I cannot see ever using it that often, so I will probably be passing this on to my grandkids at some point...) The SURVIVORSTEEL FIRE-STARTER comes with a piece of SURVIVORCORD that is 9 feet long. Again this product goes in my hunting pack and camp pack (I purchased two of them!) for those unexpected overnight stays as well as the planned ones. There's even a high-decibel survival whistle in the handle, as you'd expect from a veteran-owned company. 
Pocket some confidence
"Which multitool is best without carrying the kitchen sink?" I hate carrying bulky items. I like slim and loaded tools. The Leatherman Signal was my choice and it was a great one. I work at a day job that requires dress clothes but I was able to carry the Signal with no one the wiser. It has 19 tools in a small package and comes in seven colors. At 4.5 inches and less than a half pound of tool power, it is a must have while camping. All of the tools can be opened with one hand! When you a busy and have your hands full, this is a plus. My wife is asking very nicely if I will get her one as well.
Everyone has a favorite pocket knife. After losing my old favorite and looking hard for a new one, I finally settled on a BUCK 112 Slim Pro. I doubt I could make a better choice. I don't care for huge knives that take up lots of space or wear a hole in my pocket. The Slim Pro comes in three handle materials. I got the Brown Micarta which is slip resistant and will last nearly forever, plus it looks great too. The American made knife has a removable deep pocket clip that is strong and functional. I love it. Like all BUCK knives this one retains an edge ... and unlike my last favorite pocket knife, I won't be losing this one.
This summer when you go camping set yourself up for success and give these products a try. You won't be disappointed.