by
posted on February 28, 2023
When I was a kid, my father would drop me and a few of my friends off along a river during the summer on his way to work saying, "See you in a few days right here around 4 p.m.!" We would carry as much as we could as we hiked a mile or two to the river, where we set up camp and fished and had a great time like we envisioned Tom Sawyer had back in the day. Those were the days of no cell phones, and no worries other than that of a thunderstorm raising the river levels.
While the main focus of our camping trip was to escape chores, fish and eat around a campfire, we often carried an assortment of air rifles to enjoy some target shooting (and occasional dispatching of snakes). Over the years I have used a number of air rifles; in doing so, I have found what I consider to be the ultimate camping air gun.
Enter the Crosman American Classic .22 pneumatic pistol. I had one of the early models years ago and it was used on cans, wasp nests, snakes, frogs for a frog leg supper, even pine cones. The new model is sleek and has a real bolt action design to load easier. The pistol is still basically same great gun, with some upgrades.

Why a camp gun?

The answer to that is simple. The gun is perfect for camping or possibly even survival in a pinch. You can carry a lot of .22 pellets in a very small space. Pellets are fairly inexpensive as I write this. Unlike a pellet rifle, this pistol tucks into a camping pack and takes up little room. Additionally, Crosman offers a pistol shoulder stock for this gun, which I'm confident will provide even better accuracy. There are two really big draws to this air gun for me. First, you do not need CO2 cartridges, so you can shoot this gun for years by simply pumping it up and taking decent care of it. I have one that's 20 years old that still fires (but could probably use some new seals). That makes it great for camping. No worries about not being able to shoot as long as you have pellets.
Specs in layman's terms:
Velocities up to nearly 500 feet per second (fps) depending on how many pumps (up to 10) you give it
Fixed front, adjustable rear sights
Worry-free composite stock
Rifled steel barrel
.22 caliber (also available in .177)
Crossbolt safety
The skinny on the pistol
Accuracy makes any can or squirrel or rat within 20 yards in real danger and with some practice and a steady hand, that range can be increased with the correct pellet. Groups were fired informally off a block of wood, not a vise or shooting bench, as "camp use" will be freehand or off an improvised rest.
You can see from the pictures that after an initial 25 pellets, I allowed for a very brief break-in, grouped high and right. One adjustment down and left with the rear sight and I was plugging the center of the targets and "dinging" cans and other small objects around the backyard without fail. (I dare a squirrel to venture into the garden now.) 

This is one consistent air gun. During testing, I had only one flyer when shooting groups on multiple targets, and I know that was because my glasses shifted just as I was pressing the final stage of the trigger. You can count on this gun to do the job over and over again.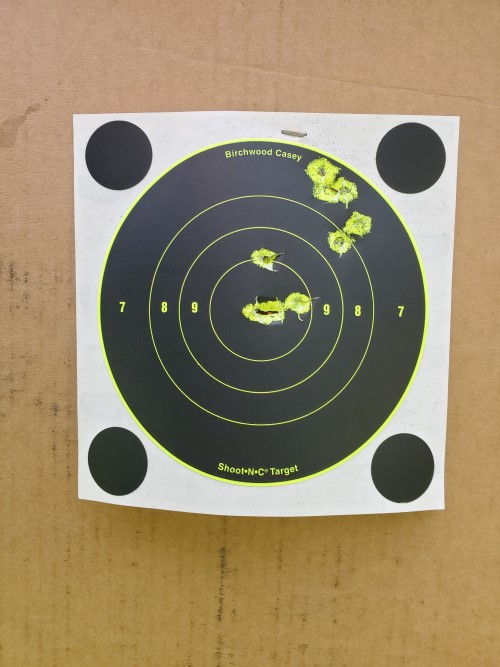 Final thoughts
If I had to be picky and find something to change about the gun, I would treat the front sight blade to a more vibrant color to make it easier to see. Second, I do feel the trigger is slightly mushy...although by air gun standards, it's certainly among the better ones!
This pneumatic pistol will be packed in my camping gear every time I go to the woods or hang out with friends. It is affordable, fun to shoot and reliable. Taking out snakes, rats, mice or gophers is routine. Shooting pine cones or other targets is a load of fun. For around $70 and a can of pellets you will start having a lifetime of thrills. This gun is also a good one to start youth out learning the additional safety measures of accurately handling and shooting a pistol. I heartily recommend this air pistol as a part of your camping gear! MSRP $79.99; Crosman.com