by
posted on October 20, 2018
Outdoorsy people are made, not born. For some of us who have been raised in cities and suburbs, the idea of "roughing it" can seem more than a little intimidating. No showers? No bathrooms? Soggy sleeping bags laid out on uneven ground, rocks and branches digging into our backs? Whether you're an experienced outdoorsperson trying to ease your tech-addicted teenage kids into hiking and camping, or whether you simply want yours to be the campsite where everybody gathers, you should think about the benefits of investing in some seriously luxurious gear to make your next outdoor excursion into a five-star experience. (Once you've experienced the joys of a wilderness cookout with your family, maybe
later
you might decide to go for an experience that's a bit rougher around the edges.) Sound a little pricey? It's a good idea to keep in mind that many of these comforts of home can serve as useful backups if you ever find yourself stuck without power or water in an emergency situation. Here are some outdoor products to help introduce non-campers to the wonders of the wilderness...or to weather a natural disaster in place.
1. Cabela's Ultimate Alaknak Tent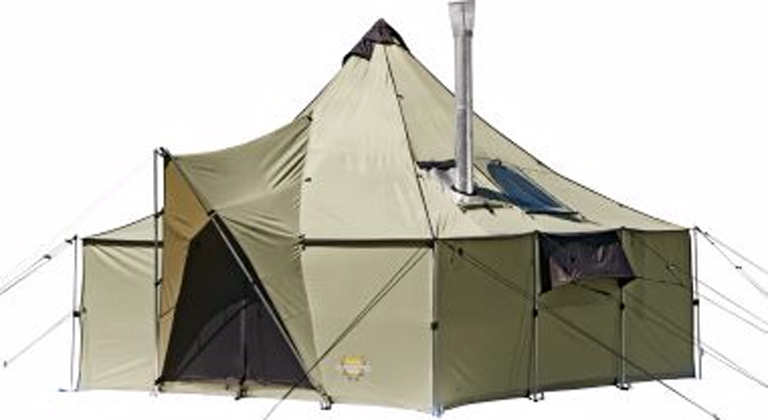 This 12-by-12-foot tent has plenty of room for your whole family, sleeping six comfortably, but that's just the beginning of the outdoor luxury. It's got room for a stove with a stove jack that folds aside, so the tent's material won't be melted by the heat...while you stay warm and cozy. Its sturdy steel pole construction and 250-denier tent cloth keep it dry and upright even in strong winds, rain and snow. Plenty warm enough? There are three covered, ventilated windows and a screen door to let in the breezes while keeping bugs out. The tent is almost 10 feet tall at the center, so you can stand up and stretch. Drop-down cup holders adorn the walls, with extra pouches for gear storage. Customer reviews are outstanding, reporting that the tent offered a homey experience even in a Norway winter.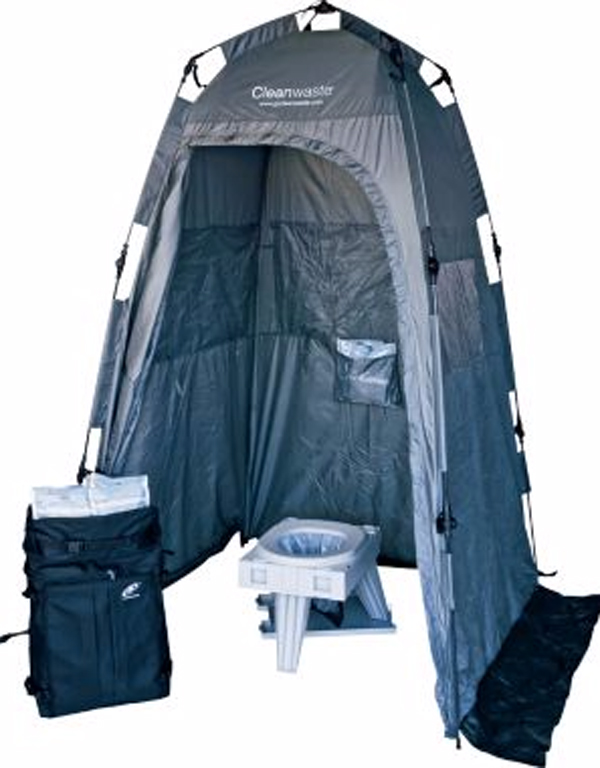 2. Cleanwaste GO Anywhere Portable Toilet and Accessories  

Let's be frank: One of the biggest stumbling blocks to camping for those of us who are accustomed to city life is the lack of...facilities. If you or a family member are letting bathroom concerns keep you from enjoying an adventure outdoors, consider the Cleanwaste GO Anywhere Portable Toilet and Accessories, available from
Cabela's
. It comes complete with a privacy tent that erects in a minute, featuring windows that you can see out of (but that nobody can see in), a portable toilet and waste bags that turn liquid waste into a gel. The sturdy throne will hold up to 500 pounds, and the separate tent has room for paper, hand sanitizer and anything else you might like to keep handy. The included waste neutralizer is biodegradable, and the toilet has flanges that allow you to change the bags in a sanitary fashion. At only 8 pounds, it's simplicity itself to toss into your trunk or truck bed—and it's a great fallback should you ever lose water to your home.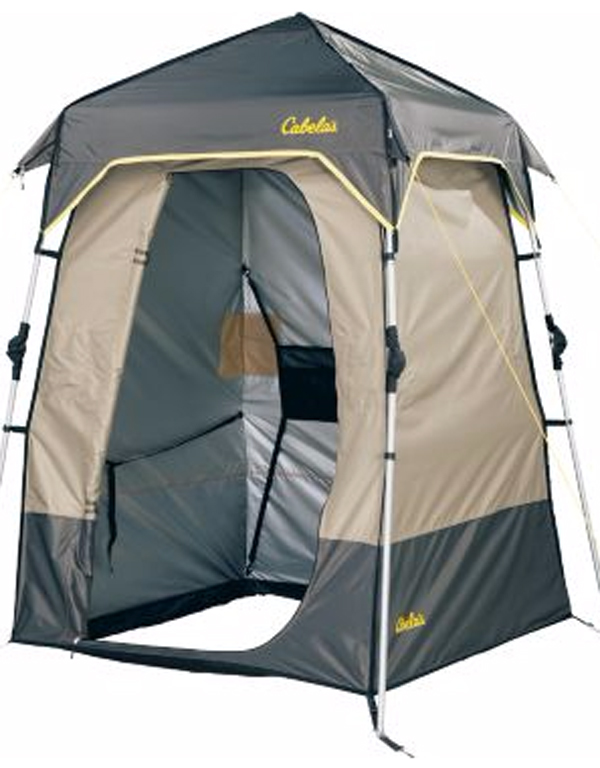 3. Cabela's Easy-Up Deluxe Shower Shelter  
Sadly, there just aren't enough hot springs in the world where it's acceptable to bring your rubber ducky and your loofah. Soothe the worries of your citified camping friends with a shower shelter that lets them do their ablutions in privacy. The Easy-Up Deluxe Shower Shelter from Cabela's supports a 5-gallon shower bag, is over 7 feet tall and about 5 feet to a side, so there's water and room aplenty. The base is a mesh that keeps your feet clear of the bare ground while letting the water drain. With included steel tent pegs, it'll stay up while you're scrubbing down, and weighs 33 pounds.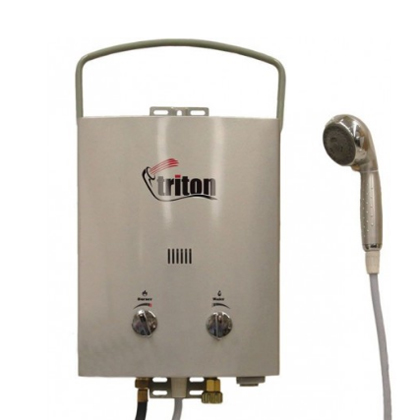 4. Camp Chef Triton 5L Portable Water Heater 

Speaking of showers, they're
ever
so much more enjoyable when they're hot. With the Camp Chef Triton 5L Portable Water Heater, you'll never have to shower in frigid water again...at home or in the field. It comes with brackets so you can hang it if you like, and offers 1.5 gallons a minute of hot water at up to 102 degrees Fahrenheit above the current water temperature (at the lowest flow setting). The temperature and flow is fully adjustable to your taste, with mist, shower and jet options. It requires a hose to flow properly, and one standard LP tank offers 11 hours of continuous use.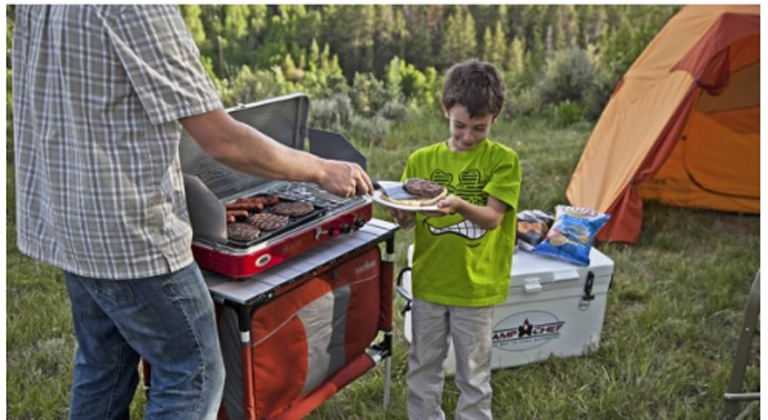 5. Camp Chef Rainier Campers Combo Stove
This propane-fueled stove will make your outdoor meals the hit of the campground. It offers two gas burners and an included griddle that fits over one of the burners, so you can turn out flapjacks, steaks, coffee...pretty much whatever you'd like. It's got a matchless ignition system and a three-sided wind barrier, so you'll never have to worry about inclement weather getting in between you and a hot meal. With a convenient carry handle and bag, and weighing in at only 16 pounds, it's ready to go wherever you are. Better still, it's perfect for getting through a weather emergency at home that has disrupted your power or gas connections.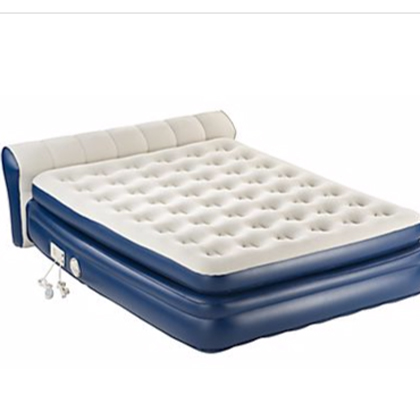 6. Aerobed Premier Air Mattress With Headboard and Built-In Pump  
Everything looks better when you've had a good night's sleep. Why spend a day outdoors nursing a sore back when you could spend the night on an Aerobed Premier Air Mattress With Headboard and Built-In Pump, available from
Bass Pro
? This luxurious queen-sized baby has a built-in AC-powered pump that inflates in four minutes and offers adjustable comfort control so you can have a firmer or softer mattress. A built-in headboard keeps your pillows from sliding off in the night, and the durable, puncture-resistant structure will keep the bed ready to use for years to come. It deflates in less than a minute and tucks into a convenience storage bag, so it's also great for surprise guests and sleepovers.