by
posted on September 18, 2015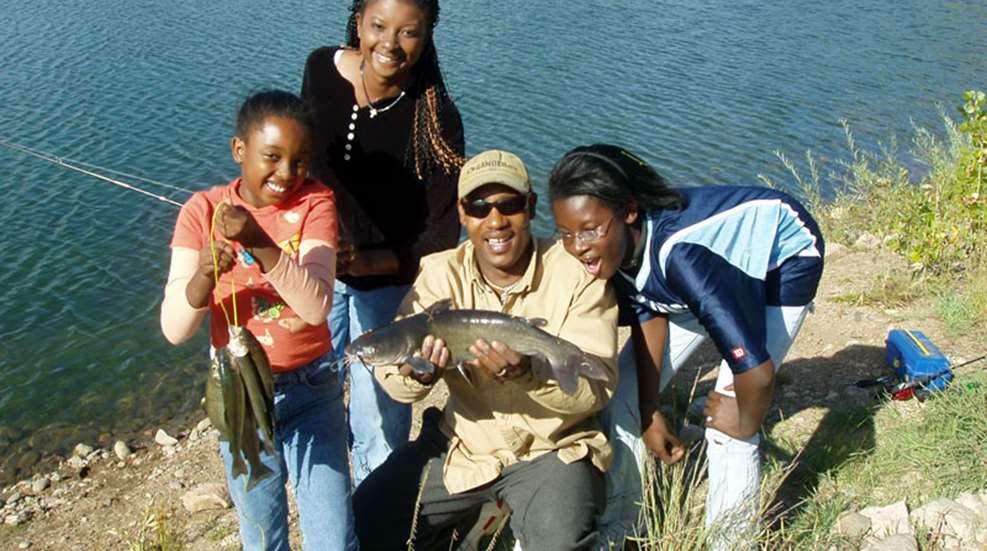 These four online stores have everything you need to outfit mom, dad, teens, and kids...and be sure to check out what they have for dogs! Cat hunting apparel coming soon. 
Cabela's: World's Foremost Outfitter
Right now, Cabela's is having a Camo Kickoff Sale (September 10-23) on gear for the whole family!

Cabela's Men's Silent-Suede Jacket with 4MOST DRY-PLUS is perfect for any man looking to do some cold-weather hunting this season. Cabela's Silent Suede has been trusted for years; there's no reason to sacrifice startling your game for warmth. The jacket is lined with Thinsulate in the body and hood, waterproof, adorned with many pockets, available in three camo options…and it's on sale! MSRP $164.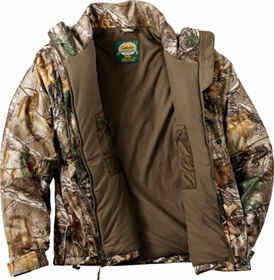 Cabela's Women's OutfitHER Insulated Bibs with 4MOST DRY-PLUS is designed to fit women hunters. They're rugged, the knees and crotch-areas are flexible, lined with Cabela's Loft XP heat-trapping insulation that's soft to the touch and so waterproof you'll ask the skies to open up and give all they can. In short: These bibs will keep you dry, comfortable and warm. Part of the Camo Kickoff Sale. MSRP $127.


Cabela's Youth Silent-Suede Dry-Plus 4-in-1 Parka is perfect for young hunters. Just like their Silent-Suede Men's jacket, this parka will keep quiet even if worn by the most fidgety kids. It's waterproof, has a storm flap chin guard and insulated hood and body.  Adjustable cuffs help to keep out drafts and retain the warmth, and it comes in two camo options. The Youth 4-in-1 parka is part of the Camo Kickoff sale, so get one for your soon-to-be trophy winner. MSRP $113.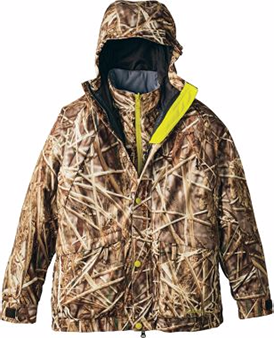 Bass Pro Shops: Your Adventure Starts Here!
Bass Pro Shops have everything for the outdoors, and especially everything for the outdoors family.

So it's a horrible, rainy day…but not when you put on your Bass Pro Shops PVC Rainsuit! Designed to be tucked away into your bag, boat or vehicle until you need it, this suit is 100% waterproof. It's lightweight and durable, features a zipper closure with storm flap, adjustable wrist cuffs and a drawcord hood. The pants are secured with elastic in the waist and ankle. So let the floods come, you'll be dry-as-a-bone! Made in a selection of sizes. MSRP $15.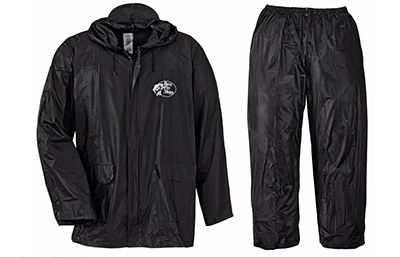 Looking to catch dinner for your family? Bass Pro Shops has the turkey vest for you. The RedHead for Her Camo Turkey Vests are tailored to fit your figure better than the men's version. There's plenty of pockets, inside and out, to hold all kinds of turkey calls and hunting accessories. Its integral, self-supporting chair system is perfect when you can't find a tree for a much-needed rest. With its padded shoulder straps, decoy bag and durable polyester wrap knit material this turkey vest is a worthwhile investment. MSRP $69.99.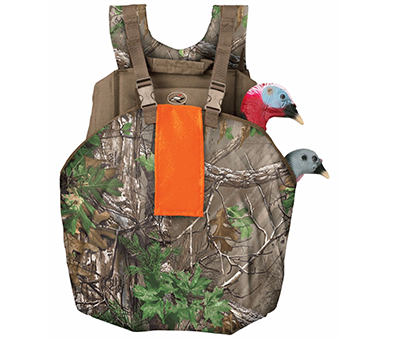 Bass Pro Shops has numerous youth boots for various activities that are reasonably priced, since children seem to grow faster than those weeds you've been meaning to pull. RedHead McKinley Jr. Hiking Boots for Youth are fitted with orthopedic insoles, contour molded rubber outsoles and a fully padded tongue, and they are made to last. With an MSRP of $29.99, they might be the most economical shoe you'll buy for your speedy sprout.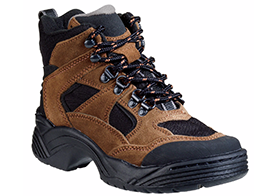 Field & Stream at Dick's Sporting Goods
Depending on what you're looking for, Field & Stream probably has it!
The True Pursuit Insulated Gloves by Field & Stream keep your hands warm and dry, ready to take on the coldest and wettest hunting day. The palms are designed with a gripping material so you can firmly hold on to your rifle, binocular or railings of a tree stand. Color options are blaze orange and Realtree. MSRP $19.99.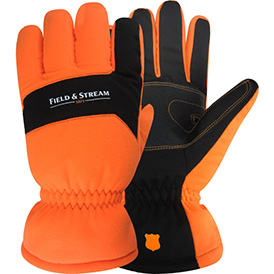 Layering, layering, layering; it's preached to everyone who loves the outdoors. So why not layer and control your scent so you can get the most out of a hunt? Field & Stream's Women's C3 Midweight Mock Neck Baselayer shirts lock in your scent with antimicrobial and Zeolite—it'll be like you game doesn't even have a nose. Made with SMARTWICK fabric to keep your body dry, this midweight liner is flexible and a great addition to your hunting outfit. MSRP $34.99.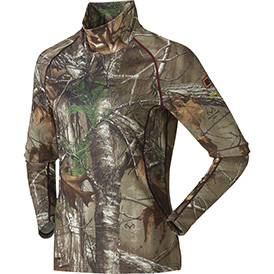 Let's continue with the layers; it's an important rule to live by. The Youth C3 Midweight Baselayer Leggings by Field & Stream are available in sizes S to XL. These leggings are made of the same scent-blocking fabric as the midweight shirt above. The thin fabric fits nicely under all types of pants and provides extra warmth. Its jersey fabric moves with your body and the secure waistband keeps them from slipping down. Available for a great price at Dick's online. MSRP $29.99.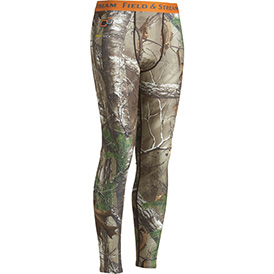 Huntworth Gear
Amazing quality at a shockingly good price. Say a warm, comfortable, dry hello to the outdoors. 
Huntworth's Men's Reversible Hunting Balaclava is a seamless, and silent, addition to your camo silhouette.  It's made of 4-way stretch fleece to fit any size head, yet still retain its shape. The outside fabric is treated with a water-repellent finish and the inner fabric is made of anti-pill fleece. This reversible balaclava (blaze orange inside) will keep you dry and warm, and can easily fit under your lucky hat. MSRP $27.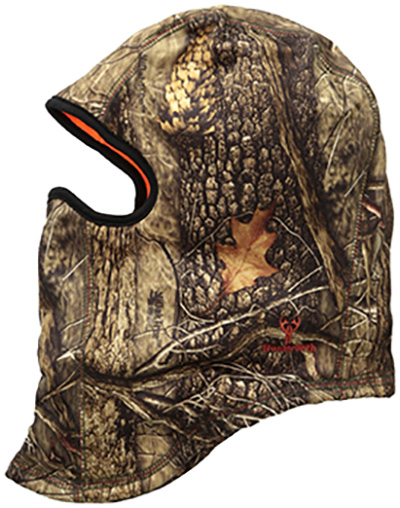 The Women's Life Style Soft Shell Jacket by Huntworth is not only a fashion statement, but also a great layering piece. This double layered jacket can fit well beneath a heavier coat. The outside is made of a stretch polyester and the inner layer is made of warm, thick fleece. It's water repellant, durable, and the arm cuffs are tapered for a close fit. The sides and shoulders feature Huntworth's snow camo, which is functional and fashionable. MSRP $19.99.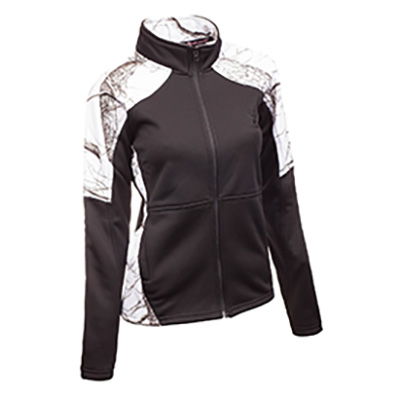 Huntworth's Youth's Hunting Glove is a combination of good looks, durability, comfort and wonderfully soft fleece.  This glove is called "Youth's Hunting Glove" because it snugly fits a child's hand, and acts as a second skin when the time comes to pull the trigger. The trigger-finger part of the glove is exceptionally sensitive. Made with Oak Tree EVO camouflage, the fabric has been treated with reliable water repellent to keep out rain and snow, and the palm is sprayed with a silicon print for a secure grip. MSRP $35.