by
posted on October 11, 2017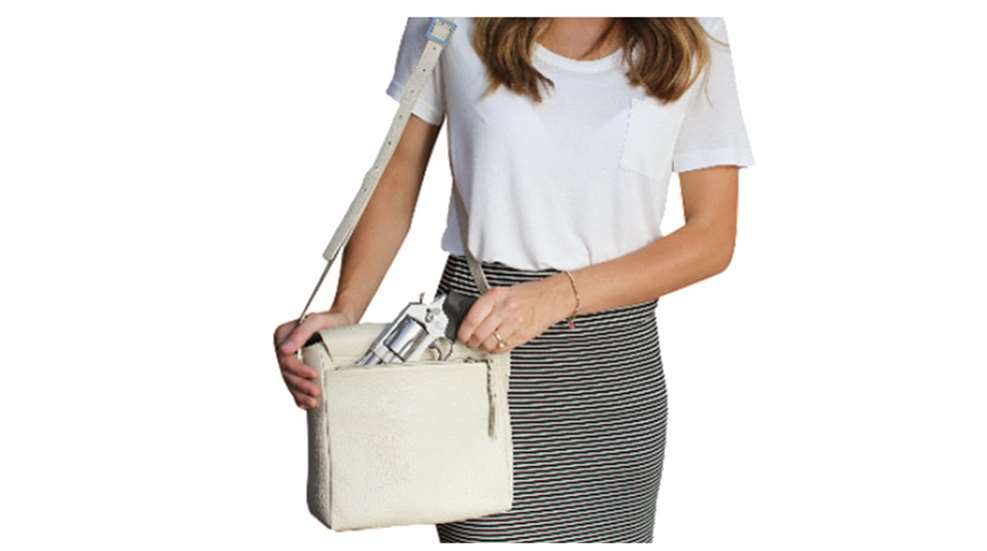 Okay ladies, we all know that our purses are a statement of our personalities as well as the "carry-all" of everything near and dear. We all have that one favorite bag, but with the abundance of options in an ever growing market, the "favorites" list keeps getting longer. NRA Family has scoured the Internet to find amazing conceal-carry bags for every occasion.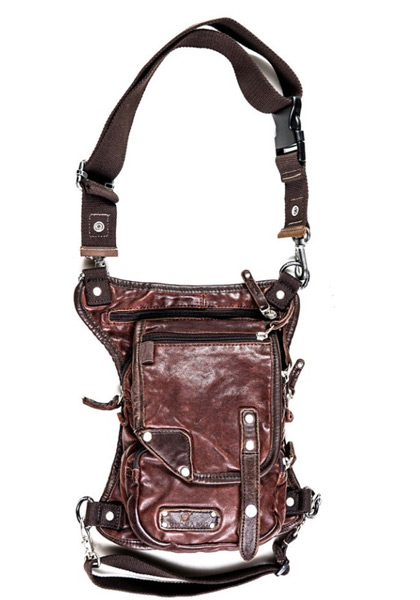 1. The Cowboy by Ukoala Bag
The Cowboy by Ukoala Bag is crafted from top-quality leather that has been distressed, creating that vintage edgy look. The main compartment measures 6 by 8 inches and includes a Kydex detachable holster system, allowing for custom positioning and quick-draw comfort. With the purchase of the optional, additional belt you can easily convert the bag to a backpack. Offered in Saddle or Black Stallion color options, the Cowboy is a fierce, ready-to-ride bag. MSRP: $299.99. Click here for more details.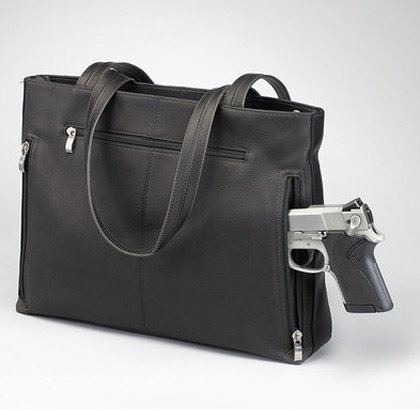 2. Concealed Carry Shoulder Portfolio
Sometimes simplicity is perfect. The fully lined Concealed Carry Shoulder Portfolio offered by Gun Goddess incorporates a zippered handgun pocket on the back with special padding that prevents printing. The included adjustable holster allows for the perfect draw angle. Color options are Espresso Brown or Black, and each bag has chrome feet for added protection on its bottom. Want to bring along your iPad or small laptop? No problem: With an overall bag size of 16.5 inches wide and 12 inches tall, there is plenty of space for everything. MSRP: $139.95. Click here for more details.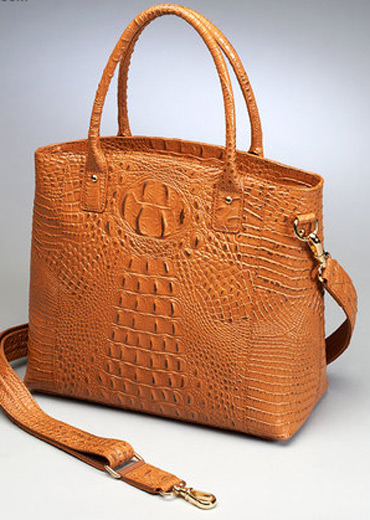 3. Croc Pattern "Town Tote" Concealed Carry Purse
Looking for a bit of elegance in your concealed carry purse? Then take a look at the Gun Goddess tan Croc Pattern "Town Tote." Embossed with a 3-D croc pattern, this American cowhide purse is designed for either left- or right-hand draw, with gun access from either end of the bag. The included adjustable strap allows for a cross-body carry option, or you can utilize the top carry handles. The supple, yet durable leather garnishes a dark patina over time and use, adding to the beauty of this purse. MSRP: $219.95. Click here for more details.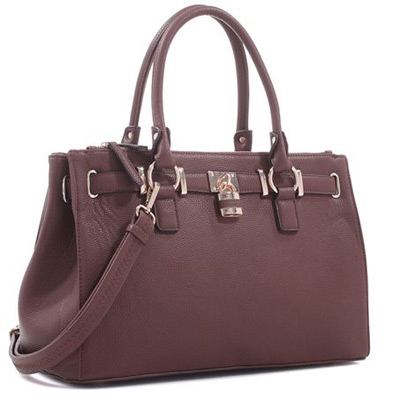 4. Lock Satchel With Matching Wallet
Hiding in plain sight: The Lock Satchel offered by The Well-Armed Woman is a great way to do just that.  Onlookers will see a gorgeous bag adorned with a light gold lock and will be none the wiser about your cargo. The concealed-carry compartment features ambidextrous zippers and a removable matching holster, keeping your firearm safe and secure. Dual top carry handles and a removable shoulder strap offer two ways to carry this wonderful bag. MSRP: $79.99. Click here for more details.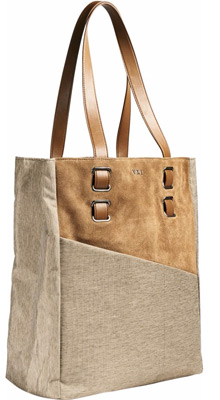 5. 5.11 Women's Molly Concealed-Carry Shopper Tote
Perfect for an everyday carry bag, the Women's Molly Concealed-Carry Shopper Tote from 5.11 blends function and beauty. Genuine suede and 420-denier nylon along with a polyester-oxford exterior create an attractive tote. The ambidextrous TacTec System pistol compartment keeps your firearm safe and within easy reach. The integrated flex-cuff slots and spacious main compartment provide an abundance of storage and organization options. MSRP: $149.99. Click here for more details.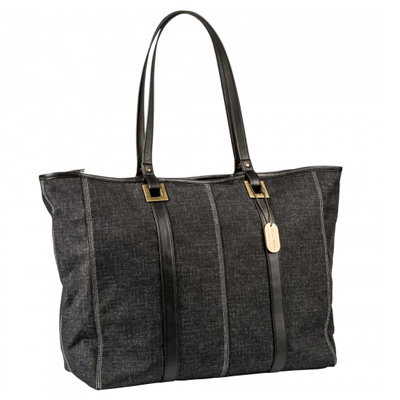 6. 5.11 Weekender Tote
Planning a weekend getaway and need to find the perfect bag for traveling with your concealed firearm? Check out one of the newest offerings from 5.11, the Weekender Tote. Constructed from 420D Nylon Twill with faux-leather accents and trim, this water-resistant tote conceals a TacTec System-compatible pistol compartment for quick and easy access. The main compartment is spacious enough for your 15-inch laptop, while two exterior pockets provide extra storage. Throughout you will find rugged self-healing YKK zippers as well as highly discreet exterior logo treatments. MSRP: $149.99. Click here for more details.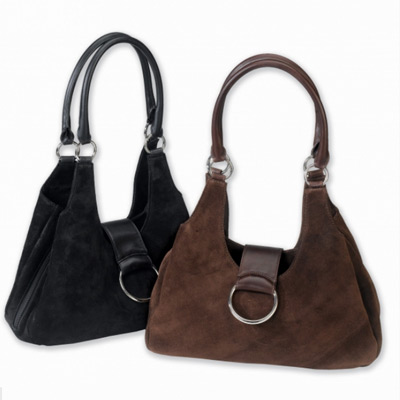 7. Wisteria Holster Handbag
Galco Gunleather has outdone itself once again with the Wisteria Holster Handbag. Available in brown or black, this center-cut steerhide bag is incredibly soft, with smooth leather handles and nickel hardware. Two main compartments for your daily essentials are secured with a gravity closure strap and ring, while the holster compartment is a self-contained side-entry pocket featuring a locking zipper for security. MSRP: 299.95. Click here for more details.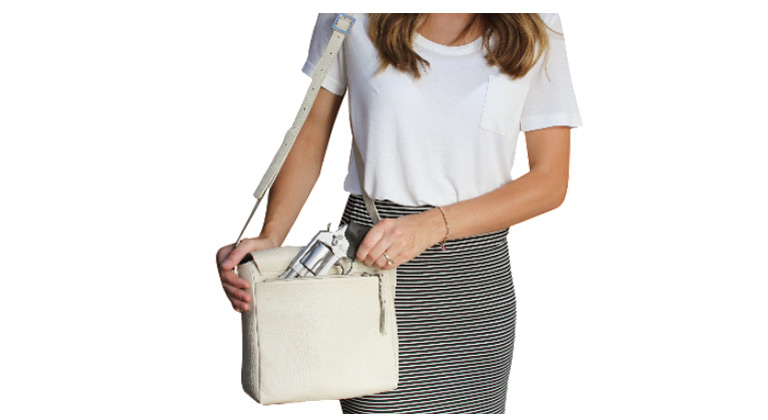 8. Cubic Crossbody Handbag
The crew at Women's Holsters have created the perfect bag for the office or fun around town: the Cubic Crossbody Handbag. The deep-textured leather is offered in eight different colors—so you're guaranteed a wardrobe match. The Cubic features an adjustable cross-body leather strap, silver hardware and a reinforced, lockable zipper around the anterior concealed-carry compartment for secure carry. MSRP: $280. Click here for more details.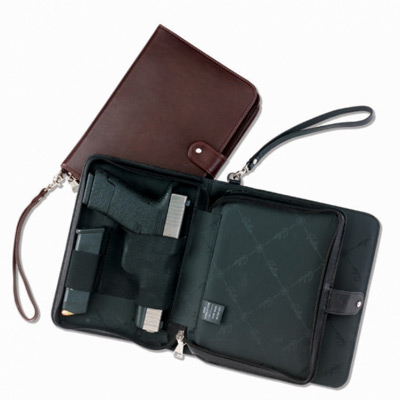 9. Hidden Agenda
Sometimes a purse is not necessary ,but having your firearm for protection is. The Hidden Agenda from Galco Gunleather is a great option for times when carrying your purse is not feasible. The fully functional day planner has a separate holster compartment for your handgun and spare ammo, offering the utmost discretion while conducting your business. Offered in black or brown, it's fully ambidextrous and features a lockable nickel zipper pull and removable wrist strap. MSRP: $169.95. Click here for more details.