by
posted on March 3, 2018
NRA Family
 recently had the chance to speak with David and Karin Holder, the stars of
Outdoor Channel
's
Raised Hunting
. They're lifelong hunters who are passing the sport down to their own children, as well as inspiring others. Here's what they had to say about the challenges and triumphs of raising a hunting family.
1.
Dear David and Karin, the focus of your show, "Raised Hunting," is on hunting together with your children, Warren and Easton. How long have you been hunting with them?
Well, this is an easy question: The boys have been going hunting with us even before they were able to realize where they were or what they were doing. We have video that we share in the credits of our TV series that shows both boys shooting bows as early as two, and Karin and I taking them to the mountains even earlier than that. That's why our TV series' name, Raised Hunting, was so fitting: Hunting, hiking and everything outdoors is truly our lives.
2.    What challenges have you faced in starring in "Raised Hunting" with your kids?
Sports, sports and sports. Karin and I both played sports when they were younger, and both of us feel that school, homework and sports all come before Raised Hunting. That's not to say that the boys occasionally don't get a "get out of jail" pass to accompany us into the woods for a hunt. Without a doubt, it leads to a far more busy life—producing/starring in an Outdoor Channel TV series, going to school, and managing after-school activities. Karin also has a full-time career as a financial advisor. But at the end of the day, getting emails from fans that Raised Hunting has reached them on an emotional level makes all of the work worth it! In one word, which probably every family in America can relate to, it's all about "balance."
 3.    How has hunting together benefited you as a family?
We can't speak for every family out there, but for us hunting together has been a "dream come true." Just like the opener of our shows states: "I used to dream about hunting and then our boys were born and those dreams changed." They changed for the better and one could say we are living our dream.
The hunts themselves have taken us to some incredible places, where we have shared sights and sounds that will live with us for an eternity. The trips have allowed us to introduce our boys to some amazing people that they will remember forever—from all walks of life and parts of the world.
But it's the impact that hunting has had on our family that is the greatest benefit. The lessons that come from hunting can't be replicated in a classroom. The ethics, the values and all the attributes that come from one-on-one time spent with your kids—that is the DNA our boys' character is built upon. Without trying to brag about our kids, if you ask us how has hunting benefited our family, the simple answer would be: Meet our two sons Warren and Easton, and see for yourself.
 4.    Do you have any tips for parents who'd like to get their kids started in hunting? Things they should and shouldn't do?
This might be our favorite topic on Earth. Karin and I love bowhunting, and we love to swap hunting stories with anyone and everyone. But if we ever get the chance to talk about getting kids involved in hunting, make sure you have plenty of time and a comfortable seat.
First off, Karin and I both grew up inside the Beltway, just outside of Washington D.C., so hunting wasn't a common way most people spent their spare time. We also, without giving up our ages, grew up in the era before cell phones, tablets and computers, so just about everything we know about hunting came from having to teach ourselves. Our families hunted, but it was more of an annual get-together than a true hunting trip.
For Karin and her generation of women, hunting was treated as a trip you could join, but you were not really expected to participate as a hunter. I didn't have anyone to really learn from as most of my family was more of a "weekend warrior" type. Even at a young age, it was obvious that hunting was going to be more than a weekend passion for me. So, without really knowing it, both of our lives were being molded to eventually help others to not have to struggle to learn or to feel included in the way we had struggled with/felt excluded from hunting.
With that in mind, the first thing is that there is no age too early to take your kids along. They don't have to be the hunter, and the experience doesn't even have to start with hunting at all. It can be hiking, fishing and camping; just introduce them to the outdoors as soon as possible.
As we produce our TV series, it often forces us to look back on countless hours of old video footage. What jumps out at us is how much we teach our kids based on our actions—not the intentional lesson itself. Good or bad, our kids pick up more than just knowledge; they pick up on our feelings and reactions. Before we know it, they are miniature duplicates of ourselves and they react to situations the same way we do.
When we take them along, we make the trips shorter and design them to be fun. It's also important to not focus the hunt on the outcome. However, the earlier you start them, the sooner the day will come that the kids will get their first game. It's also important to employ whatever props you have to make it comfortable and fun for youngsters. Blinds are one of the greatest inventions. It's right up there with snacks. But, remember, the greatest prop you have is YOU, the parent. Turn the phones off—both yours and theirs. Spend time pointing out, asking, and talking about your surroundings. Help them understand WHY we hunt, and how that very day will be one that they will remember forever—not because of what animal is harvested, but more because of who they're there with.
 5.    What has your most exciting hunt been so far? Your toughest?
I love this question. Hunting is more than a part of our lives, it is our lives. So, if we choose any one hunt as the best or most exciting, then we would be shorting so many of the others. The fact is, each one has its own uniqueness and special place in our hearts. With that being said, being there to see our boys take their first animals with a bow has got to rank very high on the list for both Karin and I.
The toughest is another story. For me, this one would easily be the six days I spent trying to find an already dead elk I shot with my bow in Montana a few years back. I told this heart-wrenching story in the Season One episode, titled "Determination." When a perfect shot, on a perfect bull, leads to a less than perfect recovery, it becomes a test of character and responsibility.
For Karin, that answer would be similar. Karin finds hunting elk in general to be more mentally and physically demanding, making it the most exciting and challenging hunt for sure. Anything that takes this sort of effort and dedication is also going to be the most rewarding as well.
One of the most exciting encounters for Karin was with a bull our family later nicknamed "Crown Royal," a beautiful Montana elk that carried a majestic matched set of eight points on either side. The encounter never resulted in an opportunity for a shot. However, the locating, hiking and calling…basically, all the effort that went into bringing a wild animal so close to us, was enough to etch that day with my family, and that elk, into my memory forever. We documented this encounter, along with the bull Karin did finally connect with, in Season One as well. The episode was called "Trust" and, till this day, it's still one of Karin's favorite episodes.
 6.     In an upcoming (August 29) episode, you take a physically disabled teen and his family hunting. How did that opportunity come about?
Yes. Season Two, Episode Nine, titled "The Plan," is actually a sequel to a production we did last year, called "Winning," with the Webb family. We first met Tanner and his family through a local non-profit organization Building Brighter Dreams, where our oldest son Warren, along with Tanner, quickly laid down their crosstown football rivalry to spend a weekend hunting Iowa whitetails together, which is how those two later became close friends and hunting buddies. During that weekend, the Webb family changed the lives of my entire family. After unsuccessful attempts at getting Tanner his first deer that season, we set out on a journey to help a very deserving young man, not only take his first deer, but make his dream come true. "The Plan" is a heartwarming documentary of what people will do and how hard they will work when they see something being done for all the right reasons. The episode epitomizes what hunting is really about.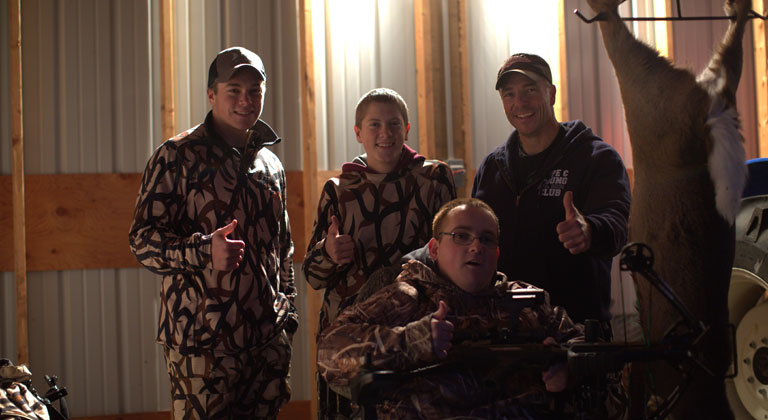 7.     Are there any other upcoming shows that we definitely shouldn't miss?
Well, we would be crazy if we didn't say you should catch them all, but to be completely honest every time we sit down to do a final review of our newest production, we think this is the best show we have ever produced. Whether you're a bowhunter, gun hunter or just someone who loves the outdoors, Raised Hunting has something for everyone.
We do caution folks who watch the series for the first time to bring some Kleenex! With the unique style and story lines that Raised Hunting has become known for, people often write us, telling us how they never expected to watch a hunting show and get choked up. Our answer is always the same: Raised Hunting is not a hunting show. It's a series of short films on hunting. And if we don't reach you emotionally, then we haven't done our job.

Don't miss the next episode: For air times, click here!
Thank you for allowing us to tell, not just our stories, but "THE" stories that truly represent what hunting is meant to be, showcasing why so many people before us worked so hard, and why the Holder's will do the same today…all to preserve the heritage, the legacy, and the culture that HUNTING is for generations to come. 
We are Raised Hunting...and proud of it!!