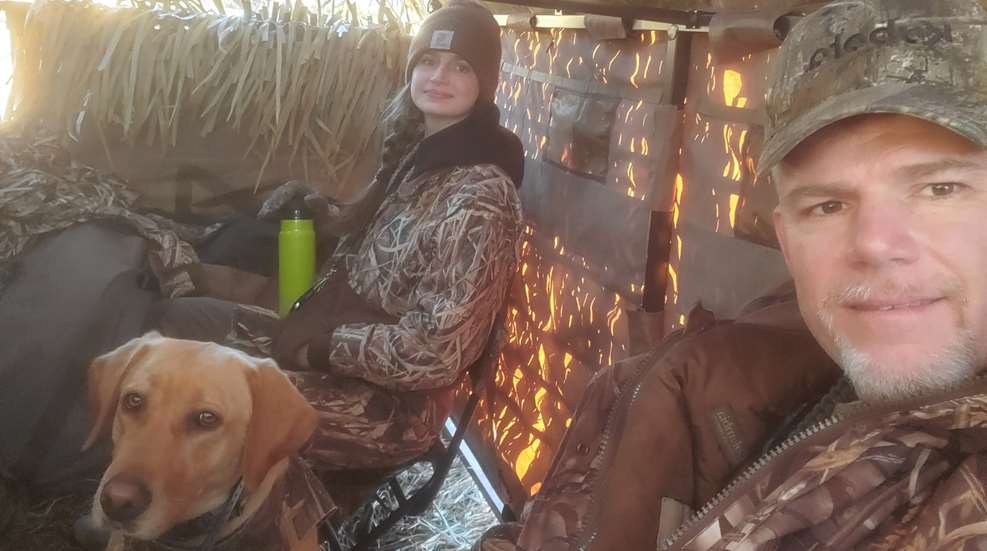 Hunting blinds are a valuable tool for hunters and can be utilized effectively to take many game animals, ranging from small game to big game. Some blinds are best used in certain hunting situations. Read on to find out how to make the best use of a hunting blind.
 1. Pop-Up Blinds
These blinds have come a long way over the years. A pop-up blind is basically a camo-colored tent that can be deployed with minimal effort, usually by pulling a tab, putting together some spring-loaded rods or ribs, or by unfolding it. Most of these blinds are light enough that they can be carried afield on hunts.
Pop-up blinds can be used for small game, photography, big game such as elk, deer, predators and turkey, and they are highly mobile. Many have elastic straps on them to add local grass or brush to enhance your camouflage. These blinds will hold at least two people, sometimes more, and are great tools for mentoring youth or apprentice hunters. Hand movements or other small movements are concealed as long as you have the windows behind you shut so your silhouette isn't visible. Gear can be stored inside, and you can stay a tad warmer and possibly drier in a light rain or snow.
Considerations for purchasing and using
Buy a blind that has good reviews for durability as well as ease of use. Practice with your blind prior to going into the field. Keep all stakes or other pieces in a bag so they are not lost. I use the Muddy Prevue 3. Three people can hunt in it comfortably. The mesh is one-way see-through, and the windows open silently with sliders. This is the easiest blind to deploy and break down that I have used. The weight is negligible.
When hunting certain animals, pop-up blinds that suddenly appear the day of the hunt can spook game. Whitetail deer often shy away from blinds unless they blend in very well and have been in place for a week or more. Problem is, leaving a blind in the field for a week or more invites "less than honest people" a chance to take your blind. So, consider those factors before using. Turkey do not seem to care about pop-up blinds, as long as they can't see any movement or hear loud noises coming from it.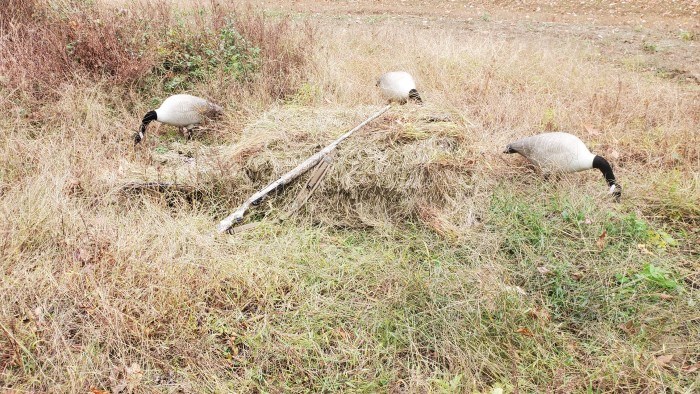 2. Layout Blinds
Waterfowl hunters looking to bag geese or ducks in fields will find great use in layout blinds. Layout blinds have the benefit of being lower profile, close to the ground, so they individually hide hunters while allowing those hunters to quickly sit up and shoot at approaching or landing waterfowl. Most layout blinds come in a camo color, usually a corn stalk-type pattern or grass pattern, but stubble straps are provided and (as with the pop-up blind) using them to stuff local grass or stalks in them is wise. Layout blinds are great for areas where you are in the wide open and cannot have a high profile. Waterfowl have keen eyesight and will flare from anything looking suspicious.
Considerations for purchasing and using
I have a Final Approach Knockout blind that works very well for goose hunting. I look for several things in a layout blind. A waterproof bottom so the muddy fields or wet fields don't soak me is key. The water-resistant outer shell is a big help too. Plenty of stubble straps are a must for hiding your blind. A collapsible frame that is easy to use is also important. Often field hunters must walk at least a few hundred yards to their hunting area, and no one wants to carry a blind fully deployed!
The Knockout blind is big enough that I can climb in with my parka on and move around enough to be comfortable. It has backpack straps too, making the trek into the field easy while my hands are free for decoy bags and my gun. The no-pin frame on the Knockout puts it at an advantage over other layout blinds, and there is much less hassle setting it up.
When using a layout blind, try to back it up to a fencerow, existing stubble or standing crops, and be sure to use the vegetation around you to further camouflage your blind. This type of blind is best used by experienced waterfowl hunters and is a great way to just "disappear" into the field and get your shots up close on geese and ducks!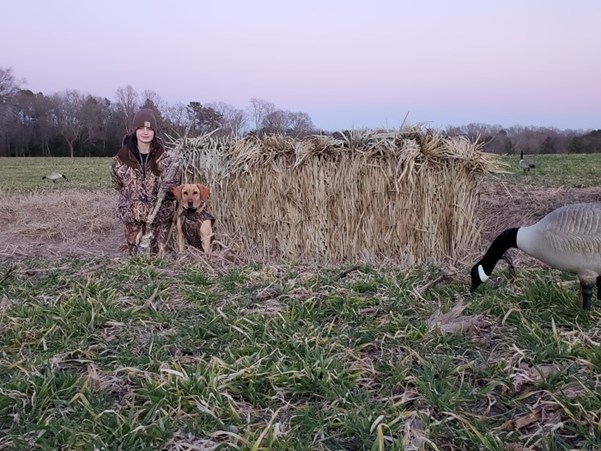 3. Box Blinds for Field Hunting
There is another type of blind waterfowl hunters often employ when field hunting. Commonly known as a box blind, these blinds usually hold three or four adults within a framed rectangle that is covered in fabric; there's usually some grassy material attached to it to help hide the hunters sitting on stools or chairs within.
These types of blinds have their place in field hunting where there is standing crops or vegetation that can help blend the blind into the field contour. While they are expensive compared to other blinds, they are fairly quick to set up, offer cover and concealment for several hunters and are a bit more comfortable to hunt from.
I find these types of blinds to be great when mentoring new waterfowl hunters, as you can look right at your fellow hunter, speak face to face and hand gear such as shells back and forth. The downside to using these blinds is that they are large, heavy and require a bit more work to conceal the first time.
Considerations for purchasing and using
There are several companies making box blinds for waterfowl hunting in fields. I have used most of them and while most are pretty nice, I like the ALPS OutdoorZ Alpha blind. Some of the features that make this box blind a great one include push-open shooting doors that help conceal you from above, which is where ducks or geese are flying and looking right down on you. The side doors on this blind fully open, and the tube frame is shock corded with black stickers to match up the sides even in low light for quick set up. I set mine up the first time in less than 10 minutes (and I was taking my time reading the instructions).  
Any blind you get should really have plenty of stubble or brush loops to use local vegetation to help blend in. This blind has plenty of the straps and pockets too. I also like the dog doors/flaps so that you can work the dog from within the blind if you want to. Pockets on the inside of the blind make putting shells in hands' reach a convenience. The hook and loop fastening that's used to attach the material to the frame on the Alpha is strong and wide, ensuring you won't have it fall down in the middle of a hunt when someone is jostling around.
Pay attention to the dimensions of any box blind you purchase. You do not want hunters crammed together such that shots are difficult to make. The big size of the Alpha allows fully bundled hunters ample room to move around.
The one thing you need to consider when purchasing any box blind is the vegetation or panels of vegetation you might use to help conceal it. Scout your area and be sure there is enough vegetation to do the job. If you do not have enough vegetation locally, you need to get plenty of it elsewhere and consider some extra for touch ups once you get to your location.
Blinds are great tools to allow game to get close enough for ethical shots. Using a blind also is often key to the success of a new hunter, as they often take some coaching and there is often more movement when helping them. Using a blind can improve your odds and increase success in the field. Just make sure you use the above tips and considerations when selecting the proper blind for your hunting adventure.