Rich Baugh and his son, Parker, knew which buck they wanted to focus in on during the 2014 youth season; it was just a matter of waiting for the right opportunity. The 10-point typical buck had been seen on camera, but you never rush a good thing. With the right amount of patience, and guidance, Rich was able to get Parker on the big bruiser two days before the close of the season.
Here's what happened in Rich's own words:
This buck lived in a small area on our farm, and was a regular in two food plots (one was corn, the other 1/2 brassicas, 1/4 cereal grains and 1/4 clover). We have a Banks Blind in between the food plots, and saw and filmed this buck several times last year when he was a 4-year-old. We've gotten lots of daytime Reconyx pics of him walking by the blind and in the food plots, so I knew if we waited for the right weather Parker would have a chance at him. It's been hot the entire youth season, so I didn't think the odds were good, so we stayed out, waiting on the right conditions.
Finally, with two days left in the Iowa youth season, a cold front came through and it was time to hunt. It was a sunny, cool day with a strong northwest wind. The buck came out and went in the cornfield. We were set up for him to come out in the green field, so we had to shift everything around in the blind. After about five minutes we were able to start filming, and get a window open for the shot. He was about 140 yards away and was quartering away. Parker's shot was perfect, and dropped him in his tracks.
Parker dropped the huge buck on October 4, 2014, using his Thompson Center Encore Endeavor .50-caliber muzzleloader.
NRA Family InSights: At what age did you allow your son/daughter to begin hunting, and how did you decide when the time was right?
Rich Baugh: Parker began hunting when he was nine. I waited until he showed an interest in it, and was proficient enough with a gun that I felt like he could make a good shot if a deer gave him the chance.
NRA Family InSights: How did you decide on the right equipment to help make him successful?
Rich Baugh: I originally bought Parker a 20-gauge youth combo gun that had two barrels: One for bird hunting and one with a rifled barrel for deer hunting. He killed a turkey and a buck that first year. I set up a ground blind overlooking a brassicas food plot so that he would have a close shot and a good rest inside the blind. He killed his first buck at 35 yards and made a perfect shot.
NRA Family InSights: What's something you've learned from taking a youth hunting?
Rich Baugh: You have to be patient and don't force a youth to hunt. I only take Parker when he wants to go. I also take him to stands (like food plots) where he's going to see quite a few deer and have good odds for success.  Youth hunters are much more likely to have fun and want to hunt again if they are seeing game! It's also very important to work on marksmanship and teach youth how to property execute a shot. I worked with Parker a lot on this and so far, he's killed all 10 deer that he has shot at. Several have been in the 150- to 160-yard range, and he's made perfect shots every time. That comes from teaching him how to slowly squeeze off a shot and helping him stay calm when he's about to get a shot.
NRA Family InSights: What's the best part about going hunting?
Parker Baugh: Spending time with my dad in the outdoors.
NRA Family InSights: What's something you've learned from going hunting?
Parker Baugh: I've learned to be patient waiting for the right shot and to have good shooting fundamentals.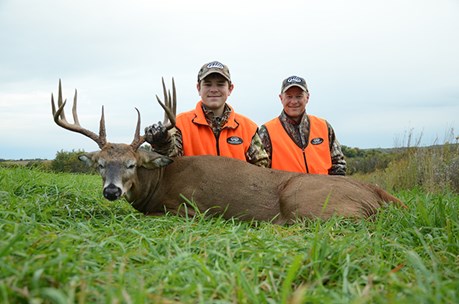 Learn more about Whitetail Properties Land Specialist Rich Baugh here.
About Whitetail Properties: Founded in 2007, Whitetail Properties Real Estate has exploded into North America's top place to buy and sell recreational hunting, ranch and farm land. Whitetail Properties has expanded operations into 20 states and counting, enlisting a staff of hard-working, knowledgeable and passionate Land Specialists.  Whitetail Properties TV  airs on The Sportsman Channel showcases the benefits of owning land with heart-pounding hunts and land management tips. To browse prime hunting, ranch and farm land currently for sale or to contact a Whitetail Properties Land Specialist, visit WhitetailProperties.com.