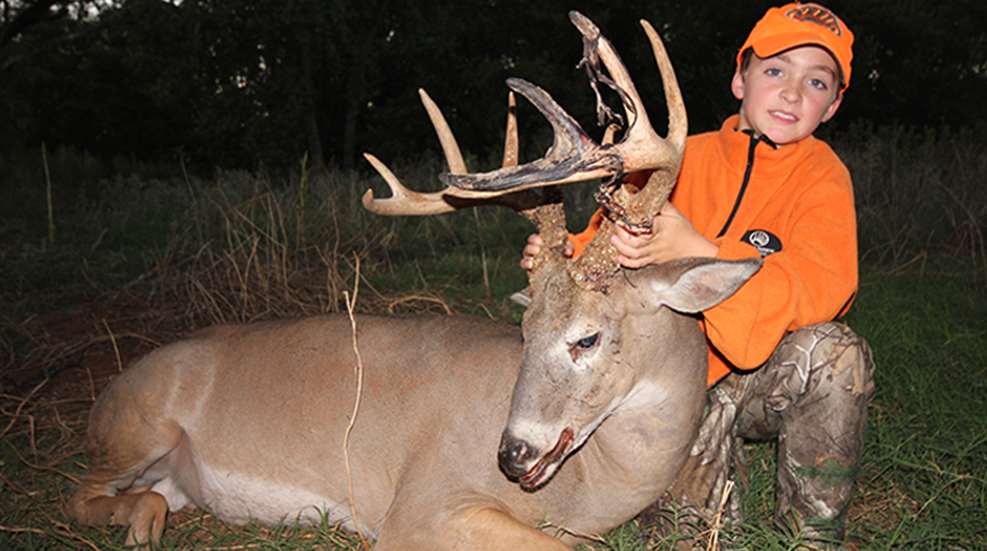 On September 6, 2014, Oklahoma native, 10-year-old Ridge Purviance and his father, Whitetail Properties Land Specialist Steve Purviance, hit the Kansas woods for a youth season whitetail hunt. Having spent the last three years watching an old buck, the father-son duo decided it was time to target the big bruiser.
Here's what Steve had to say about the hunt: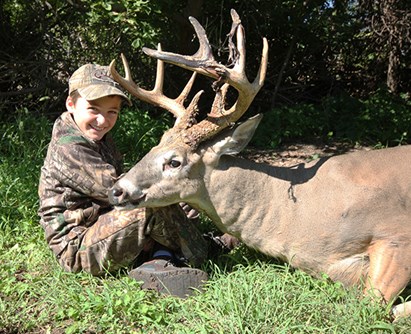 This was an old deer that we've had on Reconyx for three years now. He'd been showing up regularly in daylight, so with the limited time we had to hunt we decided this would be our target buck. We were fortunate on the first evening of Kansas Youth season. A north wind brought some seasonably cool weather, which gave us additional optimism that this buck would continue his daylight pattern. It was a great evening. Deer started moving by 4 p.m. and luckily for us, Ridge's buck stepped out with an hour of light to spare. Ridge made a great shot at 175 yards, and the deer dropped in his tracks.
This beautiful 6 to 7 1/2-year-old buck was shot with Ridge's Ruger .243. It weighed in at 196 pounds dressed, with 6 1/2-inch bases and 149 6/8 inches of antler.
NRA Family InSights: At what age did you allow your son/daughter to begin hunting and how did you decide when the time was right?
Steve Purviance: Ridge started dove hunting at 4. He shot his first turkey at 5. Shot his first deer at 7. First off, before Ridge was allowed to hunt I had to assure myself that he could handle his firearm safely. Secondly, I wanted to feel confident that he understood the reasons behind gun safety and understood the consequences of a mistake.
NRA Family InSights: How did you decide on the right equipment to help make him successful?
Steve Purviance: We practiced until we found the right fit(s).
NRA Family InSights: What's something you've learned from taking a youth hunting?
Steve Purviance: I'm able to enjoy the small things like when I started hunting, including all the little details of being in the woods and patience!
NRA Family InSights: What's the best part about going hunting?
Ridge Purviance: Finally getting the animal!
NRA Family InSights: What's something you've learned from going hunting?
Ridge Purviance: How to be quiet and have good patience.
Follow and like Whitetail Properties Mt. Hide Outfitters LLC., operated by Steve Purviance, on Facebook.