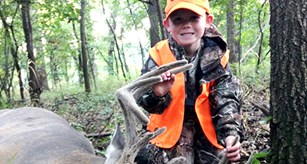 Whitetail Properties Land Specialist Zane Goodwin was meant to be watching his son, Roan, play soccer one Saturday-but the game was cancelled. What would any dad do in that situation? Why, take his son hunting, of course! Zane and Roan hustled up to Kansas, where he manages a property and setup to make some memories neither will soon forget.
Zane shares the story of the hunt:
Roan's Saturday soccer game got cancelled, so we rushed up to Kansas to put a ladder on a new blind we put up in late July. Luckily my brother Zed had been up a couple days before to give us an idea where the best movement was, and it happened to be down in the river bottom. After trying to quietly fight off some yellowjackets that made a home in the new blind, we got the ladder attached. We already had our gear, and decided to just set it out the rest of the afternoon to dark.  
It was slow for the first couple hours, and then as usual fawns and does began browsing around us. I told Roan he owed me a $1 since I spotted the first deer, but if he spotted the first shooter buck then we would be even. Within 15 minutes I heard, "Dad I think it's a shooter." He was right; a really nice velvet buck had stepped into the beans southwest of the blind, approximately 150 yards out and worked his way into the edge of the timber where he was browsing on leaves. We watched him a few minutes, and Roan decided he wanted to harvest the animal.
The deer made his way back into the bean field and began browsing where Roan took his shot. The beans were tall and the river bottom thick as darkness drew near, so we decided to look for the deer first thing in the morning. The 145- to 150-inch full velvet buck ran approximately 70 yards into the hardwoods. Roan made a phenomenal heart shot on the buck and was grinning ear to ear when we found him, as was I.
The rest is history, but history I'll remember for the rest of my life.  I hope the same goes for Roan.
Roan tagged his velvet buck with a .30-30 lever-action rifle.
NRA Family InSights: At what age did you allow your son/daughter to begin hunting, and how did you decide when the time was right?
Zane Goodwin: At 5 to 6 years old we started shooting a .22, but a specific age does not make a child ready. When I felt they understood the importance of gun safety, and could find their target and accurately shoot 100 yards with a rifle.
NRA Family InSights: How did you decide on the right equipment to help make him successful?
Zane Goodwin: I did a lot of research, along with trying to keep instilled some of our family tradition. There are so many small things you can do to create a great and successful experience for your children. They need to get familiar with the equipment they are going to use in the field. I recommend a lot of target practice with smaller calibers like a .22, and to teach them target acquisition (how to find a target in the scope). This helps with your communication with them, as well as knowing they are on the right deer or target when there are multiple targets in the field.
Holding, aiming, finding the target and dry firing (with a spent shell or dummy round) in the gun they are going to be using to harvest an animal. I don't want any idea of kick (recoil) in their mind during the time of harvest. If they don't know about it they won't recognize it and are much less likely to flinch during the moment of the shot. This, of course, creates a better shot, which leads to fewer misses, less wounded animals and memories that last a lifetime.
NRA Family InSights: What's something you've learned from taking a youth hunting?
Zane Goodwin: One of the best times to truly spend with a child in God's creation is at dusk and dawn. His creation becomes more alive, he paints the sky like no one else can, and hunting is at its best. It occurs every day, and I hope these experiences and conversations I have with my children during these moments help to shape who they are for the better and give them something they will pass down to their children as well.
NRA Family InSights: What's the best part about going hunting?
Roan Goodwin: You get to see a lot of deer and other animals.
NRA Family InSights: What's something you've learned from going hunting?
Roan Goodwin: Put the gun up to your shoulder, and aim at the animal behind the shoulder.
Follow and like Southeast Kansas Whitetail Properties, operated by Zane Goodwin, on Facebook.
About Whitetail Properties:Founded in 2007, Whitetail Properties Real Estate has exploded into North America's top place to buy and sell recreational hunting, ranch and farm land. Whitetail Properties has expanded operations into 20 states and counting, enlisting a staff of hard-working, knowledgeable and passionate Land Specialists.  Whitetail Properties TV  airs on The Sportsman Channel showcases the benefits of owning land with heart-pounding hunts and land management tips. To browse prime hunting, ranch and farm land currently for sale or to contact a Whitetail Properties Land Specialist, visit WhitetailProperties.com.