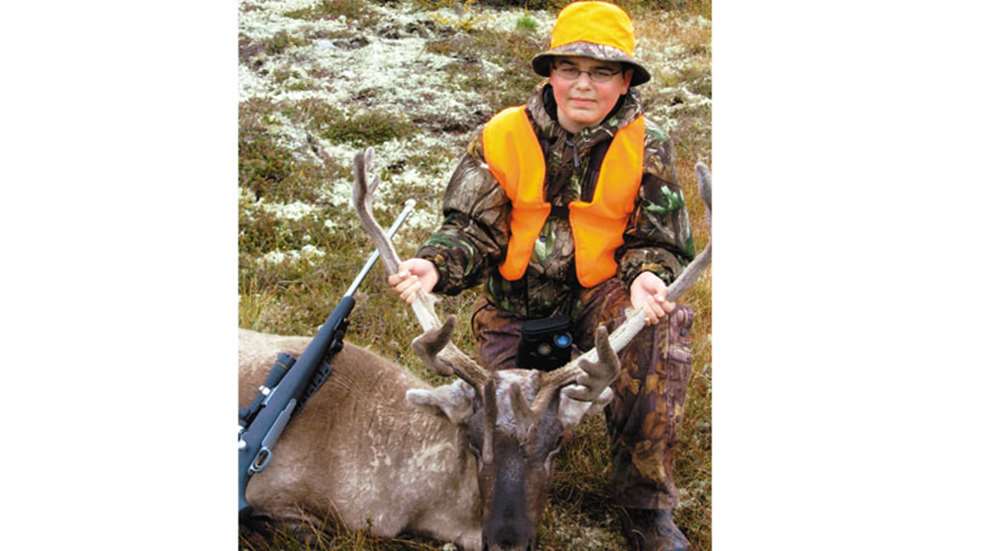 Editor's Note: For today's #ThrowbackThursday, we highlight a story sent in by then-13-year-old Mackenzie Hess, published in November 2009. It's still a great story six years later!

My name is Mackenzie Hess, and I had a great hunting adventure for Quebec Caribou. My dad and Uncle Randy organized a hunt for caribou at a sportsman's show in February 2007. They booked the hunt with Explo-Sylva Outfitters for 12 hunters for September 10-16, 2008.
On my 13th birthday, my parents and grandparents bought me a Model 7 Remington in 7mm-08 caliber with a 3-9X33mm Leupold compact scope. With some range practice at different shooting positions and one successful whitetail hunt under my belt, I felt I was ready for the caribou hunt.
My hunting trip started in upstate New York. We drove 34 hours from there to the Outfitter base camp in Caniaposcau, Quebec. The next day we flew into Camp Mike by float plane at noon. We unpacked our gear and went for an afternoon hunt in back of camp. We saw only three caribou, and they were about a mile away.
On our second day of hunting, the weather was rainy all day. We did see a few caribou swim across the lake, but we had no opportunity to shoot. Three of the hunters did get caribou—three bulls and one cow.
On the third day, my dad and I met my Uncle Randy up on a tundra plateau. We were going to help him with his bull, which he had shot at 60 yards with his bow. Just then, a group of caribou came running up from the lake. My dad got me into a shooting position, and when the largest one stopped at about 100 yards, I squeezed the trigger, hitting the bull high in the front shoulder. It went right down. It took us the rest of the afternoon to get the two caribou back to camp.
At the end of the fourth day, nine of the hunters had filled their tags. On the fifth day, my dad got a cow with my rifle at 370 yards, as I videotaped the shot. That afternoon, my dad and I went back to the same area where I had shot my caribou. We were only sitting there for about 30 minutes, when a small herd came up from the lake. I got into a kneeling shooting position, and my dad spotted a double-shovel bull. I took the shot at about 80 yards. The bull stumbled a few steps, and fell over. About two minutes later, another herd came up a ravine just behind us, and my dad shot a bull in that herd.
We were very successful on this hunt—12 hunters took 24 caribou! When I got back to school, all my friends and my teacher congratulated me on the success of my hunt. Looking back on this great adventure and all the fun we had made it easier to make up the schoolwork I had missed.
A trip like this may require some extra work at home and at school, both before and after the trip. However, if any young hunter is lucky enough to go on a trip like this, it will create a lifetime of memories!