by
posted on March 20, 2018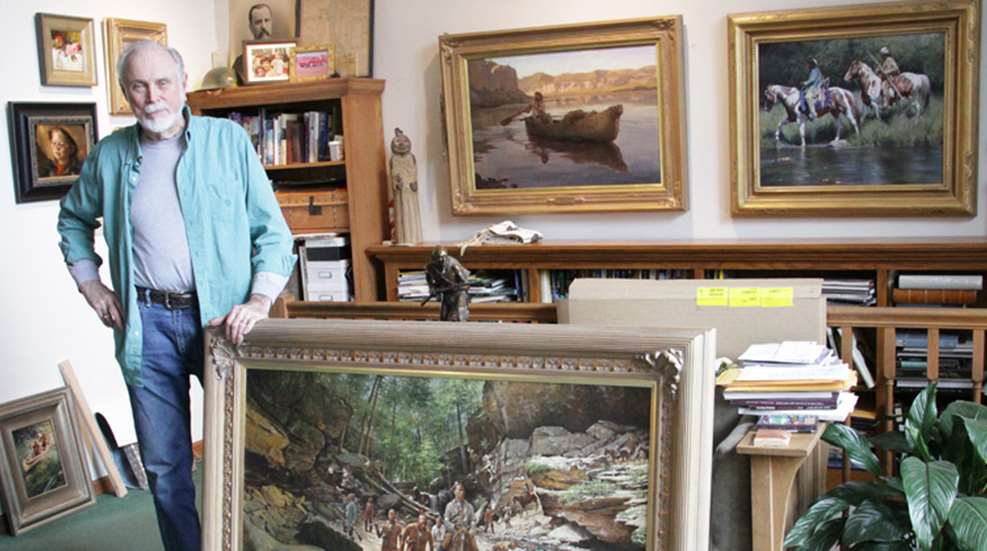 Where others see modern-day cities, he sees ancient Indian villages. Where others see today's crop fields, he sees vast virgin forests. In short, artist Robert Griffing sees America as it was long before we ever became a nation. He also sees—and paints—the Native American Indian peoples who once lived here more than 250 years ago.
Born and raised in the extreme northwest corner of Pennsylvania, Linesville to be exact, Griffing has been intrigued by North American Indians since that memorable day as a boy when he found his first flint arrowhead lying along the shoreline of nearby Pymatuning Lake.
"That was the beginning of my fascination with Indians," said Robert. "After finding that first point I kept hunting, and by the time I graduated from high school I had a good-sized collection."
Born with innate talent, following high school Griffing enrolled at the Art Institute of Pittsburgh, and after graduation bounced around from job to job for a few years before becoming the art director/designer of an advertising agency in Pittsburgh, a title he would hold for the next 30 years. But he never lost his desire to paint portraits of Indians, and pursued that hobby during odd hours and weekends. "I just couldn't get Indians out of my head," he said.
Specifically, Griffing wanted to paint Eastern Woodlands Indians, but was told by people in the business that there was little interest in that subject matter with art collectors. Instead, they suggested he paint Western North-American Indians.
"Unfortunately, I took their advice," remembers Griffing. "I painted seven Western pieces, and just for the heck of it also painted a portrait of one Eastern Woodlands Indian. At a small showing in my hometown, everyone seemed to like the Eastern Woodlands picture best, so eventually I did seven more paintings of Eastern Indians."   
In 1991, Griffing's alma mater, the Art Institute of Pittsburgh, offered him a one-man show featuring his art. It was an evening that changed his life. "Within an hour, all of my paintings of Eastern Woodlands Indians sold, and many people ordered prints of those original seven pictures," he said. "And within the second hour all my paintings of Western Indians sold, too, as that was all that was left."  
The show was so successful that Griffing said his boss came up to him afterward and asked, "Well, how much time are you giving me before you resign?" Robert said...two months. "It was the greatest career move I ever made," he smiled.
Since that time, Robert Griffing has created more than 325 paintings of Eastern Woodlands Indians, and shows no sign of slowing his pace. Prices for Griffing's original artwork now range from a few thousand dollars to as much as five figures. Lithograph prints of his original paintings are more within the financial reach of most people, selling for $40 to several hundred dollars each.
What makes Griffing's artwork so popular is not only the subject matter and historical accuracy of his paintings, but also his use of dramatic lighting, reminiscent of the Dutch master painters of the 1700s. Not surprisingly, it's the same type of light frequently found in old-growth forests. In addition, his paintings tell a story, creating a certain mood.
For instance, one of his most popular pieces with collectors is titled Only a Matter of Time. The painting depicts two warriors who have stumbled upon a fancy clock lying in a small forest stream that has been discarded by settlers heading west. Used to marking time in moons (months) not seconds, minutes and hours, the Indians have no idea what the clock is and have a puzzled look on their faces.
"It's one of my favorite paintings," said Griffing. "The clock represents the invasion of the whites and a loss of traditions and way of life for the Indians. What does the future hold for the tribes? I think the title of the painting says it all."       
Griffing's ideas for paintings come from original journals of frontiersmen and pioneers of the time, as well as historical documents and letters. But he admits that many pieces of his artwork are generic, not representing a particular event. He also describes his himself as a fast painter. "Once I get an idea for a painting and have it sketched onto canvas, I can move along pretty quickly," he said.
Models for his paintings during the early years of his career were mainly re-enactors, non-native people interested in 18th Century living history. But during the last decade, Griffing has developed relationships with Native Americans of several tribes who have become good friends and now act as his models.
"When I got the natives involved, my paintings began to take on a different look," he said. "There's just something about a real Native American in the way he stands and his actions that gives my paintings the authentic look of a warrior, chief or Indian woman."
Though Griffing focuses his painting on portrayals of Eastern Woodlands Indians, most of his work sells to the art market in the American West. "Surprisingly, I don't sell a lot of my paintings here in Pennsylvania, the other Great Lakes states, or along the East Coast" said Griffing.    
Asked what advice he might have for a person wanting to do what he does, Griffing had this to say. "Art schools these days don't teach much of the type of art I do," he said, "meaning figurative and realism painting. Students today are taught mainly CAD, computer-aided design. And art schools only teach the basics anyway.
"So instead of attending art school, if you believe you have some art talent and would like to pursue a painting career, I'd suggest finding a mentor who is doing the type of art you'd like to do and can help get you started. But that said, some artists have done very well in this field without any mentoring. Keep in mind, though, that most of those people have been artists all their lives, so they already knew how to draw and paint. They simply transferred those skills to Indian art."
Two books featuring Griffing's paintings have been published to date—both currently sold out—with a third to be published later this year. The new book will be unveiled during a three-day celebration honoring Robert and his art at his hometown in Linesville, Pennsylvania, August 3-5, 2018. Included will be a major exhibit of his work, his largest ever.
To view Robert Griffing's latest paintings, or for more information about purchasing his prints or original pieces of art, go online to www.paramountpress.com.