by
posted on February 20, 2014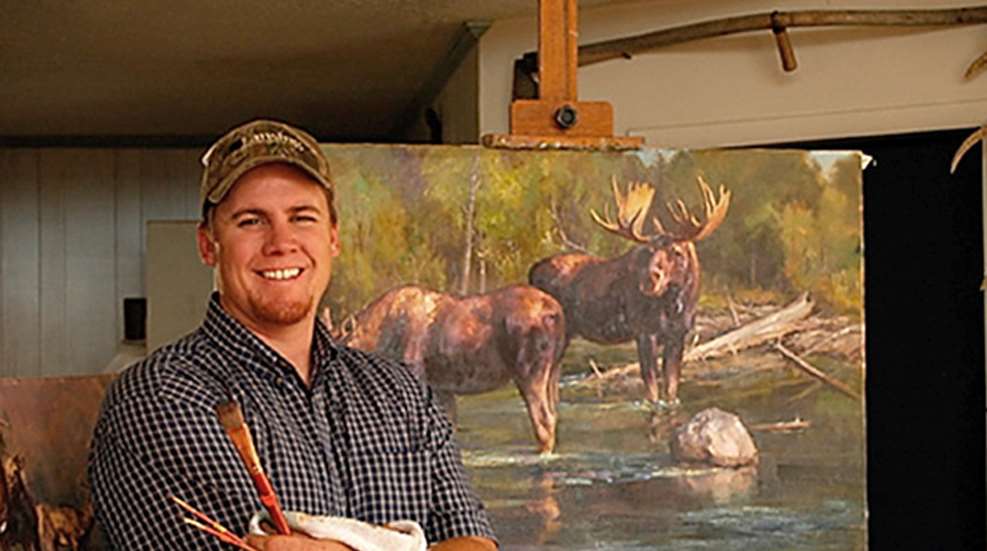 For wildlife artist Chad Poppleton of Cache Valley, Utah, there was no "ah-ha!" moment about his eventual career choice. It was just a quiet certainty.
"I've always known what I should do, what I needed to do," says Poppleton. "No question about it. I was born to do it. Sure, I dabbled in other careers, but I always felt it [wildlife art] was a calling." He still feels that way, which makes it the perfect "cool job" for him.
The Early Years
Even as a young child, Poppleton loved drawing animals. "I always had a crazy fascination for animals," he says with a laugh. "They get my juices going."
Fortunately, his rancher father was also an accomplished artist. Poppleton recalls a boyhood of hard work on the ranch, interspersed with trips to galleries, shows and other art venues with his dad. "It was a special time for us," he says. "And my father offered lots of gentle encouragement."
"You can do that someday if you want to," Poppleton remembers his father saying on more than one occasion. He believed, as does Poppleton, that if you're blessed with a talent, you should use it.
And use it he does-and did. Poppleton recalls his math homework, in particular, was usually peppered with doodles of deer, elk, cowboys and horses. Once, when he was in seventh grade, he had to erase his artwork from the margins of "10 or 15 different math books." It seems he liked to doodle in his friends' books as much as his own.
As to the math found within those pages, "I'm not an accountant or an engineer for a reason," says the artist with a laugh.
The Road to Success
As an aspiring wildlife artist, Poppleton felt fortunate to live just two hours from Jackson Hole, Wyo., which is "a mecca for wildlife artists." During his school years, he spent many an hour in the galleries there, taking inspiration from the masters of the genre.
So after completing a fine arts degree in illustration from Utah State University, he hoped the galleries would provide a venue to sell his work. "I was lucky to get in with a few good ones right out of college," he says.
But being represented by the galleries, even when your work is selling, doesn't necessarily translate into a full-time job with sufficient income to pay the rent. Poppleton painted up a storm, entered art shows and contests, and took workshops and other classes to improve his craft, but he did it while holding down a full-time job as a licensed contractor building custom homes.
"I had to pound nails in the daytime and paint at night," he says. "I'd work four 10-hour days and head to the studio each night from 6:30 to 10:00. Fridays and Saturdays, I'd paint all day, and I took off Sundays."
The turning point came in 2006-2007. The economy slowed and Poppleton's construction income took a hit. Although he's the first to admit he probably could have kept at it and been OK financially, after being picked up for representation by the high-end Legacy Gallery in Jackson, Wyo., and with the blessings of his wife, he decided he'd try to make a living as a full-time wildlife artist.
The Workday
The leap of faith paid off, but not without the occasional struggle. "There have been times when I've had to strap on a tool belt and do a couple of jobs," admits Poppleton. But with the encouragement from art dealers, collectors and his spouse, he has persevered.
These days, a typical day at the studio starts around 8:00 or 8:30. The first thing he does is "look critically and objectively" at his work of the day before. "I paint for a few hours," he says, "trying to take a five- or 10-minute break each hour."
The idea is to keep himself fresh, focused and at his most productive. There's also a lot of behind-the-scenes work: mounting pictures in frames, boxing and shipping finished pieces, shooting digital images of his work and sending them off to galleries and magazines. "My wife helps me with some of that," he says, clearly grateful.
Even so, a couple of hours a night spent on the non-painting part of the business are not unusual.
The Highs
Ask Poppleton what his favorite part of his job as a wildlife artist is, and he positively bursts with enthusiasm. Zeroing in on one thing is all but impossible.
There's the painting itself, of course. "Park animals are wonderful," he says, "but they don't have that fear of man. It's different painting the wildness of animals that live a hardscrabble life. Understanding them is critical." Poppleton's job, as he sees it, "is not just about making a nice painting. It's about telling a story and educating people about my subject."
"The shows are exciting, too," he continues. "It's fun being there with your friends. And reference is a really fun part of the job."
The referencing Poppleton is discussing is when he gathers the information he needs for his next paintings, traveling to sites where he can view, photograph and even paint the animals in their natural environment, then bringing his research materials back to the studio to begin work on new pieces.
Reference trips are often local, with his family in tow. "We have some horses and we travel a lot in the mountains," says Poppleton, who is also an avid hunter.
In addition, he enjoys yearly reference trips to the farther-flung regions of the Rocky Mountains. Last year, for instance, he took in Jasper National Park in the Canadian Rockies with bighorn sheep, grizzlies and elk. "I fell in love," recalls Poppleton of his time there.
But the absolute best part of his job, insists Poppleton, is "to see your work in someone else's home. It's having the inspiration and the vision for a painting and knowing someone else appreciates it."
The Lows
Getting Poppleton to identify a part of his job he doesn't like is a much bigger challenge. "It's all kind of fun," he insists. "Shows are exciting. Reference is fun. Painting is liberating and good for your soul. There are no negatives."
But on further reflection, he concedes there are a couple of things that are less than perfect. "Sometimes the hardest thing is wondering when you're going to get paid," he says. Even harder is being at a show and "standing in front of your own artwork."
Current Happenings
This year, Poppleton was selected as the featured artist at the 2014 Southeast Wildlife Exposition, www.sewe.com, in Charleston, S.C. in February. "It's kind of a Cinderella story," he explains.
Every year "100 or so artists" are asked to display between five and 20 of their works at the event. Back around 2000 Poppleton was one of those asked to participate. "I spent a lot of money to get there," he recalls. "And the courier damaged some of my frames."
As he looked around the room, he saw some amazing pieces, none of which were displayed in undamaged frames, as his were. He was hit by self-doubt. "I didn't do too hot," he says. "My work was okay, but I was scared to death."
He decided he needed to "get a lot better" before exhibiting there again. Ten years later, when he was asked to return, he decided to give it a go. This time, he had-in his words-"a great show."
The following year, he did even better. "Next thing I know," says Poppleton, "they were asking if I was interested in being a featured artist."
"Now," says Poppleton, "I'm overbooked with gallery exclusive shows and the phone is ringing off the hook."
Recently, Poppleton was selected by the C.M. Russell Museum, www.cmrussell.org, in Great Falls, Mont., as one of the first members of the Russell Skull Society of Artists. The new members will be able to showcase and sell their work at a March benefit for the museum. "These are some of the best contemporary artists in the country," says Poppleton. "It's quite humbling."
Between getting his work ready for the Charleston and Russell Museum expositions, Poppleton is a very busy man. "I'm working 70 hours a week right now," he says.
But he's not complaining. "People don't give you something without dedication and hard work. Then you can make a difference. We all have a need to be important and to create and do something worthwhile. I'm lucky to have found something I love to do and that I can get paid to do. It hasn't been easy, but it's been worth it."
Still, Poppleton doesn't rely on his successes. "I take a workshop from area artists every year," he says. "I sit down and pick the brains of the art legends. With art you'll always be learning. If you stop learning, you stop growing."
Is It For You?
Do animals in the wild fascinate you? Do you feel an almost irresistible urge to draw or paint them, to make them come alive on the page? Do you have the talent and the discipline to stick with it through good times and bad? If-like Chad Poppleton-you feel that call, maybe becoming a wildlife artist is the "cool job" in your future, too.
For additional information on Chad Poppleton and the galleries that feature his work, check out www.chadpoppleton.com.