by
posted on April 11, 2015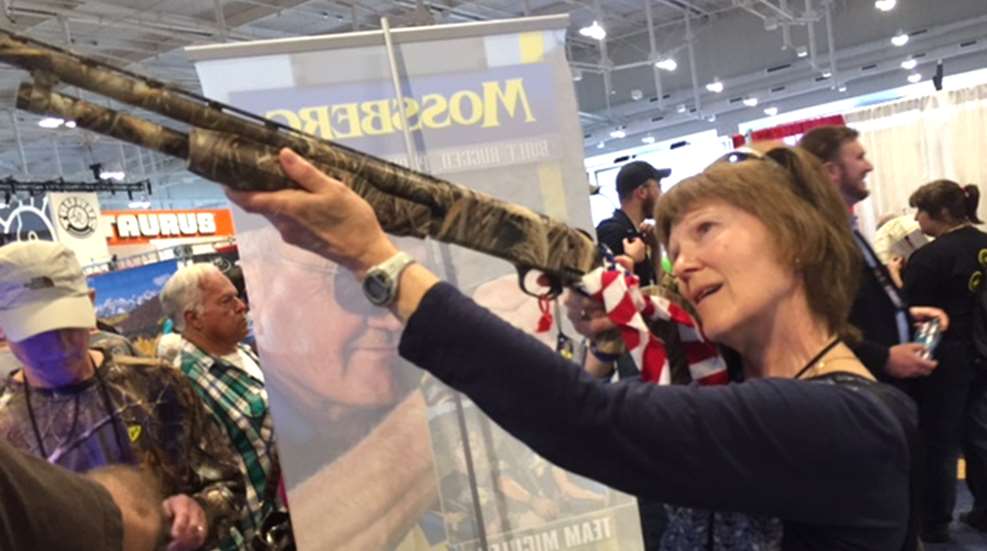 At first we thought it was maybe all in our heads. "Doesn't it seem as if there are more women here than there have ever been in previous Annual Meetings?" I asked my assistant editor, Sarah Smith Barnum.
"You know, it really does seem that way," she mused.
However, as we toured the show floor, we heard the same observation from manufacturer after manufacturer: They were seeing more women visiting their booths than ever before. So naturally, we decided to find out what it was that might be making this new (and very welcome) difference.
We caught up to Karen Wells-Hamilton at the Mossberg booth to ask her what's been the most exciting part of the show for her. "I've really enjoyed the conferences and seminars," she told us. "Yesterday, we got to see talks from Rob Pincus and Kyle Lamb. They're both excellent speakers, going over what to do in emergency situations, self-defense...it's been terrific." Now that she's in the exhibitor hall, reported Wells-Hamilton, she's on the lookout for her next purchase: a 9mm concealed-carry pistol. "I'm also looking at long guns, compact and youth models that will fit me."
At the Diamondback Firearms booth, we ran into Melissa Drongowski. She told us that the best part of attending the show is being able to see the guns in person, instead of online. So far, though, her favorite stop has been Cold Steel Knives. "I do knife-throwing, so it's good to go visit Cold Steel in person," she said.
Lori Winstead, who came all the way from Indiana to visit the show, also reports that the best part of walking the exhibit-hall floor is being able to handle the latest and greatest offerings from the manufacturers. "It's good to see the guns that they just don't have at the dealers back home," said Winstead as she examined the Taurus Curve pistol. "This is an interesting design," she mused. "It's different from anything else I've seen so far."
At the Remington booth, we met Pam Knight, who had driven from Texas to visit the show. "I'm looking at new rifles," she said, "but I really need a new scope for my rifle. I'm on my way to the Leupold booth."
So far, it looks like whatever it is that the women attending the Annual Meetings & Exhibits are looking for, they're very serious about it!