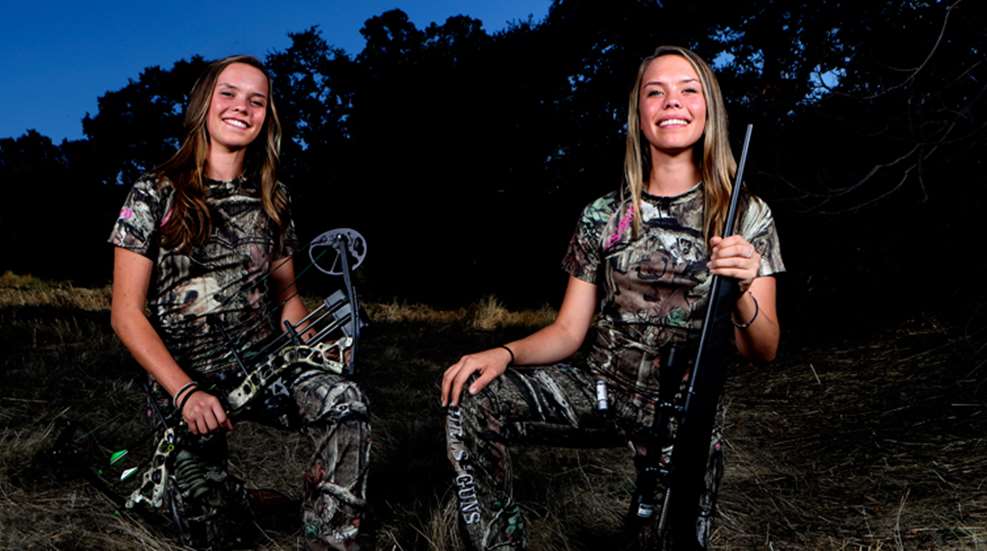 When NRA Family introduced twin sisters Morgan and Mason Baseley, the girls were 13 years old. Two years later, they are growing into fine young women and starting to strike out on their own for hunts. Let's catch up with these teen wonder-girls. 
Morgan and Mason (pictured above, left and right) live in northern California. A lot of people know them as "2Girls Hunting," a Facebook fan page title they give themselves a few years ago, when they decided to share their lifestyle with the whole world. Other people may know them from being recently featured in Field & Stream's lineup of female "gamechangers" in the outdoors.
Throughout the years, the twins have played volleyball, basketball and softball. Now they focus on cross-country and track, hoping to earn scholarships in running in the future. They also love to snow ski.
When in the classroom, Morgan likes her Ag Mechanics class this semester. "I am fulfilling my Ag requirement for FFA [Future Farmers of America] and also learning a lot about general equipment and agricultural related maintenance. I really like welding." Mason, on the other hand, can be found in the kitchen: "One of my electives this year is culinary arts. I am really looking forward to learning how to NOT burn my food, since Morgan is the cook most of the time."
The evolution of 2Girls Hunting
When they think back to their earliest recollections of hunting, Morgan remembers duck hunting with her father and grandfather at about 5 years old. "I remember being pretty cold, so I was sitting in the boat bundled up, examining a mallard drake that my dad got earlier in the morning. I remember the green head and how pretty he looked."
"Growing up on a duck hunting club, we spent many cold winter weekends in the tules. I remember hearing the birds and watching the dog work. Also, I remember dove hunting with my dad and both grandpas … we made pretty good retrievers!" added Mason.
Not only do the girls participate in several sports at school, but they also enjoy shooting. Mason competes in a summer trap league at a local range and feels it gets her prepared for duck season. Morgan prefers spring archery leagues. "An evening shooting 3D targets and walking the range with good friends makes for an enjoyable time," she said.
The girls have hunted for turkeys, dove, duck, pheasant, squirrels and blacktail deer in their home state. They have also ventured to Texas to hunt for pigs, and to Virginia for whitetail deer. "We hope to hunt moose in Canada, elk in Colorado, stag in Ireland and dove in Argentina. These of course are on our bucket list," said Mason.
The girls credit their father and grandfathers for interesting them in hunting. They also give a shout-out to their mom, for teaching them how to prepare wild game using family recipes.
2Girls Hunting – Now and When
Now in its third year as a Facebook fan page, the girls' only social media outlet (monitored by their parents), the girls continue to strive to show others their passion for the outdoors. "Now that we are older, we have gotten used to some cyber-bullying about hunting, but we feel we are more mature and able to handle those issues. Our parents give us advice and suggestions as to what to post at times," said Mason. "Our parents also are very involved with our scheduling. We are pretty busy with school and sports and FFA (they are raising pigs), along with our 2girls hunting stuff."
The girls are honing their writing skills by contributing to a blog at the Sportsmen's Alliance and penning a sponsored column at Women's Outdoor News.
"These publications give us a platform to have our voices heard," said Mason. "Our sponsor, Girls with Guns Clothing, is probably our most supportive with helping us become a more household name, plus it doesn't hurt that they hook us up with all kinds of awesome hunting clothes. Camo Ammo Jewelry and Jefferson State Laser-Redding are local small businesses in Northern California that sponsor us, so we enjoy pairing off with them and working together," added Morgan.
When asked for advice about how to get into the shooting sports, Morgan said, "Don't be afraid to ask questions. Talk to your friends or their families that are involved in hunting or shooting and see if you can tag along. We are always more than happy to take a friend to the gun range and start with helping them get comfortable around guns."
"Get ahold of your local gun range and see if they offer classes. A hunter's safety class will teach you a lot of basics," added Mason.
When asked where they envisioned 2Girls Hunting in five years, the sisters allowed for change. "I am not really sure. You never know where this might take us. We graduate high school in 3 years and hope to be off in college. Who knows what lies ahead?" stated Mason.
"Of course, we would like to use this as a platform to hunt as a profession and continue to stand up for our hunting and shooting rights, but honestly you never know," added Morgan.
It's probably best to keep their options open while they explore opportunities. We hope they will continue to inspire and educate in whatever capacity they can in the future.

Photo by Greg Barnette