by
posted on August 16, 2017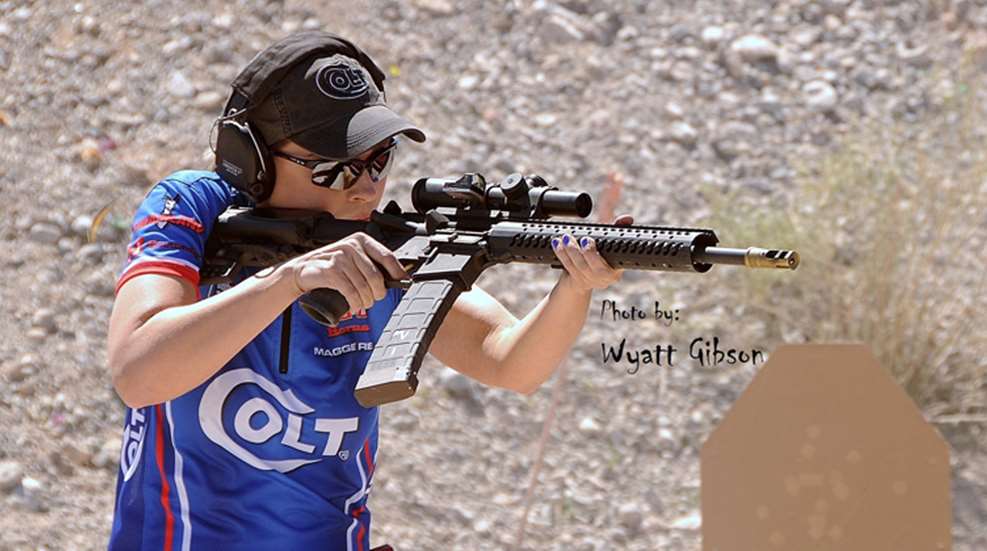 Maggie Reese's star has risen and continues to shine in the sky of competition shooting. We caught up with her after her recent trip to Russia, and discovered some interesting things about her and some of her philosophies on competition shooting.
NRA Family: When people ask you what you do, what do you say?
Reese: It usually starts out with "Weeeeeell … I kinda do something a little bit different." But, I've been pleasantly surprised over the years at the positive response I get. Most people have a lot of questions and I take the opportunity to talk about why gun ownership is important to me.
NRA Family: Did you want to be a pro competition shooter as a young girl? How did that come about?  
Reese: I didn't even know there was such a thing as a 'Professional Competition Shooter.'  I wanted to be an archeologist, maybe a female "Indiana Jones," who traveled the world having one adventure after another. Shooting was just a hobby my dad introduced me to; I never dreamed it could be a career path. Then … something piqued my interest and while I was in between jobs I decided to attend some national-level competitions. Fate stepped in and I met the right people at the right time in my life. I kept pushing, going to the next competition and taking every opportunity that came my way.
NRA Family: What is your advice to other young people who want to follow in your footsteps?  
Reese: If you want to make to a career out of shooting, then treat it like you would any other job. Think about the different sections of a resume: training, experience, qualifications and skills. It might take years of commitment on your part to develop these areas, just as it would with any other field. But if you want shooting to be your job and not just a hobby, you have to be willing to work.  
NRA Family: You recently returned from a World Shoot in Russia? What are a few of the highlights of that trip? 
Reese: Never in my wildest dreams did I ever think I would travel to Russia! I love historical fiction, so I've read several novels about Catherine the Great, Peter the Great and all the Russian Tsars. When we were in Moscow, we visited the Red Square and toured the Kremlin. In St. Petersburg, we went to the Hermitage Museum and Peter and Paul Fortress. We went out for traditional Russian food almost every night. I may not be Indiana Jones, but I found another way to have adventures and travel the world!
NRA Family: You are shooting for Colt … which models do you shoot? Why do they work so well for you?  
Reese: My handgun of choice is a Government Model in .38 super and for rifle I love the 6920. I shoot Colts for their reliability. I put so much time and effort into shooting. So, whether I'm traveling all the way to Russia for a World Championship or just across town to my local match, I want a gun I can depend on. I know I can trust my Colts.
NRA Family: Where will you be competing this summer?
Reese: I'll be traveling to France for the IPSC World Handgun Championship in August. It's pretty unusual to have two IPSC championships in one year, so 2017 has definitely been hectic … but I wouldn't have it any other way!  
NRA Family: Which other companies sponsor you?  
Reese: Bushnell, Hornady, Safariland, Surefire, Hoppes and Clever Shotshells. I've listed my favorite products from each company on my website www.maggiereeseshooting.com. You can also message me there if you have any shooting or competition related questions!
NRA Family: How would you describe a typical practice day — rounds, drills, etc. — for something like a USPSA competition?  
Reese: It really depends. Sometimes it's 100 rounds while I work on my draw. Other times, it's 500 rounds while I practice speed and transitions. I might put up a single target or set up a whole USPSA stage. The important part is to set goals for your training. I always know what I want to work on before I get to the range.
NRA Family: Do you train outdoors or indoors?  
Reese: I train exclusively at outdoor ranges. That's what I love about shooting – getting to be outside all day long.
NRA Family: How long can you let time lapse between training and feeling like you're getting rusty?  
Reese: Ha, about a day! When I have a major competition coming up, I try to put my hands on a gun every single day in one way or another. If I can't get to the range, I dry-fire at home.

NRA Family: In your spare time, do you have any hobbies or pastimes that you'd like to tell us about?
Reese: I love spicy food and am always up for trying a new restaurant! And I have a miniature Australian Shepherd. He's my little buddy and we go hiking almost every single day.
NRA Family: We know you're an avid reader … what book are you reading right now?
Reese: The Passage, by Justin Cronin – an apocalyptic /end-of-the-word /deadly-virus novel. I'm totally hooked. I'm reading it on my Kindle app and my husband has to keep telling me to take a break and put my phone down.