by
posted on October 12, 2017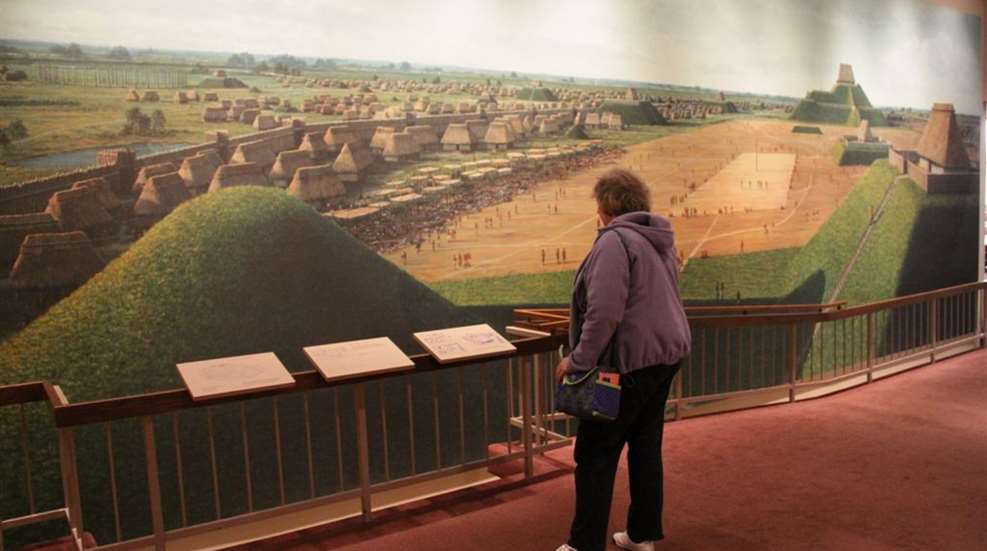 Archaeologists call them Mississippians, but they were not an Indian tribe. Rather, they were an entire native culture, one that flourished in North America's heartland a thousand years ago.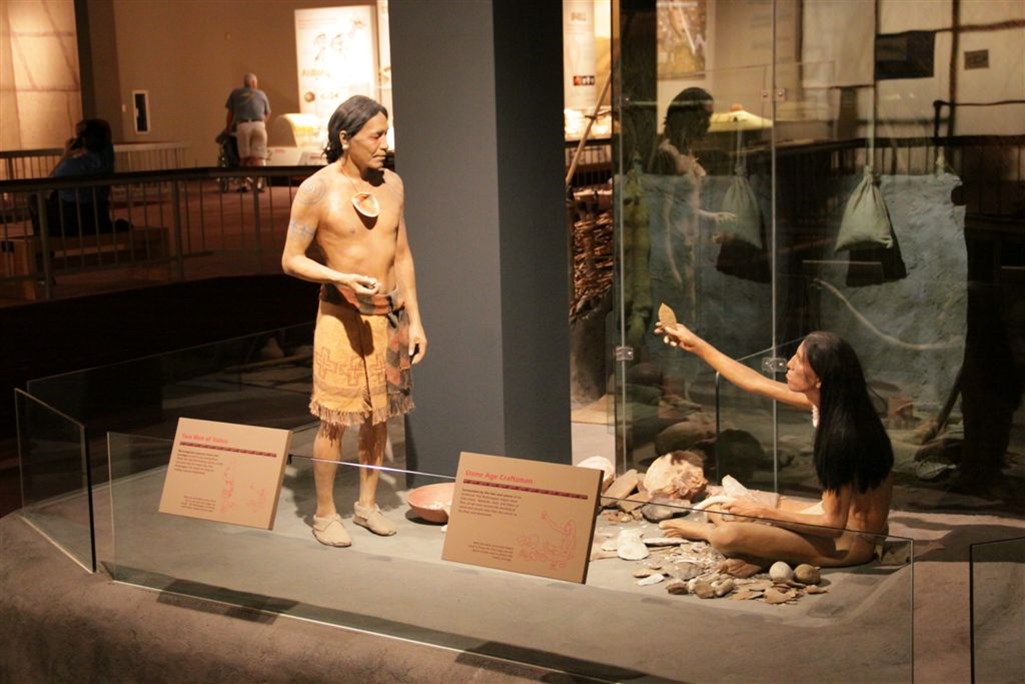 What is left of that culture today, near St. Louis, Missouri, is truly astonishing: 72 earthen mounds of various shapes and sizes, some as massive as 14 acres in size and 100 feet high.  Their location is known as the American Bottom, the confluence of the Mississippi and Missouri rivers.  It is within this prolific floodplain that the prehistoric Mississippian Culture built its greatest city: Cahokia.
"Originally, the Cahokia earthworks consisted of some 120 mounds," said Keith Lynn, a spokesman for Cahokia Mounds State Historic Site. "The mounds that have been lost since then were destroyed mostly by farming, as Europeans moved into the area during the 1800s.  But even so, Cahokia remains the largest concentration of prehistoric Indian mounds north of Mexico."   
Three types of mounds exist at the site. Flat-topped pyramids, known as temple mounds, make up the majority of the earthworks and once supported huge ceremonial buildings. Conical mounds were sometimes used for human burials, and ridge-top mounds marked the boundaries of the ancient city.
Monks Mound—containing 22 million cubic feet of earth—is the largest mound at Cahokia and the largest single prehistoric earthen structure in the Western Hemisphere. The soil for the mound, dug with stone and wooden tools from nearby pits, was carried on workers' backs to the construction site in woven baskets. Each full basket weighed 50 to 60 pounds, and an estimated 15 million trips over a 300-year period were required to complete the mound.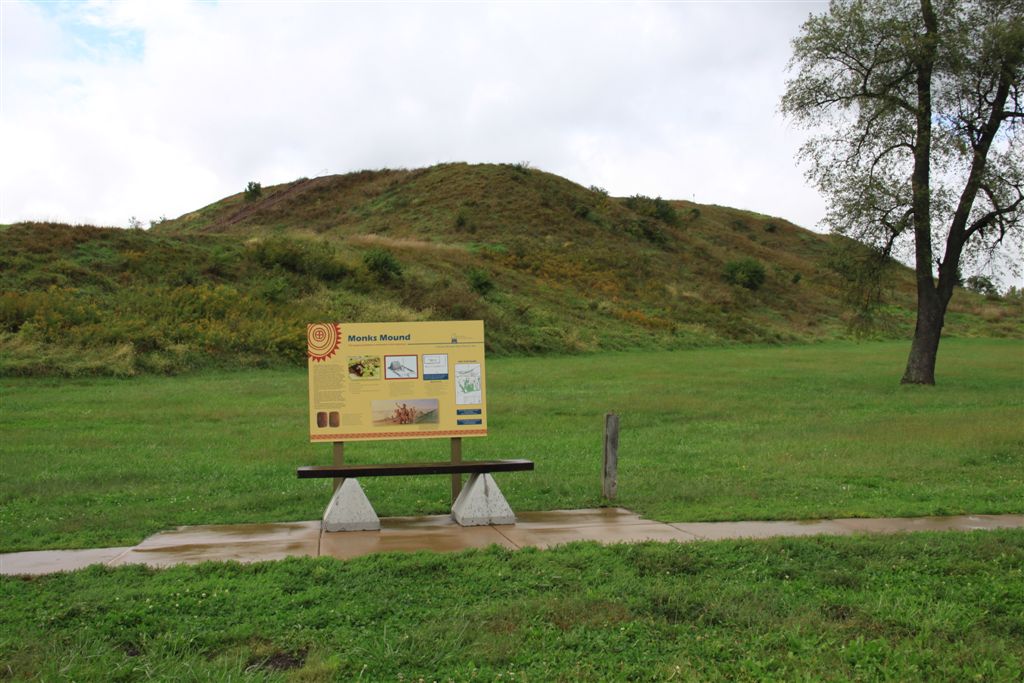 Cahokia was inhabited for some 500 years, from about 900 to 1400 A.D. The Mississippian Culture peoples that lived there were different from other peoples of the time in that they were sedentary, not nomadic. What allowed them to remain in one location for so long was the efficient, productive system of agriculture they developed, raising mainly corn. 
They also shared their specialized skills with one another. For instance, knappers made the flint projectile points needed for hunting, potters made pottery for cooking and food storage, and carpenters made the tools required for building houses and other structures. An extensive trade network was also maintained. Copper from the Upper Great Lakes Region, mica from the southern Appalachians, and seashells from the Gulf of Mexico all found their way to Cahokia.
The city itself was immense, sprawling three miles east to west and 2.25 miles north to south. A two-mile-long wooden stockade enclosed the center of Cahokia, constructed of 15,000 to 20,000 logs measuring one foot in diameter and 15 feet tall. Other large wooden posts sunk into the ground created a circular sun calendar, known as a woodhenge.
Many open plazas were also incorporated into the city's design, where people would gather for religious ceremonies or games. One of the most popular games was "chunkey," a contest where a concave stone disk was rolled along the ground and players each threw a javelin, attempting to mark the spot where the stone would come to a stop.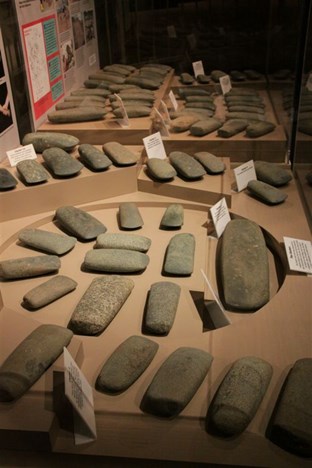 But one of the most intriguing aspects of Cahokia is what was found buried in Mound 72.  A small, ridge-top mound (shaped like a pup tent), Mound 72 was so insignificant that it was overlooked until 1967. The next five years of excavation by archaeologists, however, uncovered nearly 300 human burials, many of which appeared to have been young men and women killed as human sacrifices.
"The people of Cahokia believed in an afterlife, and buried their leaders accordingly," said Keith Lynn. He went on to say that Mound 72 contains the skeleton of at least one prominent leader, the remains resting on a blanket of 20,000 shell beads. Placed around him were the bodies of six attendants and 800 flint projectile points. In another grave within the mound are the skeletons of four men, without heads or hands, their arms intertwined. In a deeper pit are the remains of 53 young women, arranged in two rows and buried three deep.       
Cahokia's population reached its zenith—15,000 to 20,000—sometime between 1050 and 1150 A.D., making it one of the great urban centers of the entire world at the time. But during the 1300s people began drifting away from the city. Archaeologists don't know why they left or where they went, but by the 1400s the site was essentially abandoned. Speculation is that a combination of factors led to Cahokia's demise: depletion of natural resources, environmental degradation, political turmoil, warfare, disease, and crop failure are all possibilities. 
It is also not known what the people who once lived at Cahokia called themselves.  Cahokia is the name of the Native-American Indian tribe that moved into the area during the 1600s, about the same time Europeans began arriving. Seeing the Cahokia tribe living near the mounds, the Europeans mistakenly began calling the earthworks Cahokia Mounds, and the name stuck. Ironically, the Cahokia tribe is not even descendants of the Mississippian mound builders who created these massive earthworks a millennium ago. 
-End- 

If You Go… 
Cahokia Mounds State Historic Site is located just eight miles east of St. Louis, Missouri, so close you can see the city's skyline and famous Gateway Arch from atop Monks Mound.  Cahokia is such a unique and valuable prehistoric resource that it has been designated both a National Historic Landmark and World Heritage Site. A 33,000 square-foot, state-of-the-art Interpretive Center on the grounds is open to the public. For more information about visiting, call 618-346-5160 or go online to www.cahokiamounds.com.