by
posted on January 3, 2019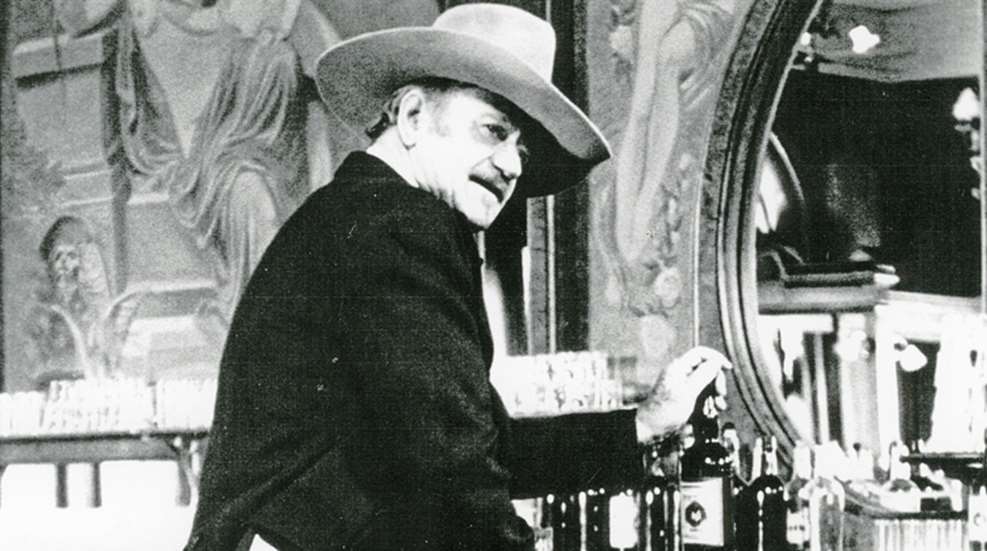 During the mid-20th Century, the actor John Wayne (1907-1979) was the icon of American movies and American values for more than 30 years. Appearing in 142 films, mainly westerns, he won an Academy Award late in his career (1969) for his performance in True Grit, portraying the aging and cantankerous U.S. Marshal, Rooster Cogburn.
But was Wayne actually as tough as the many tough-guy characters he played on screen in real life? You bet. The following story not only confirms that fact, but is also one of the most bizarre true tales ever to come out of old Hollywood.
It was 1952, and even though the United States and Soviet Union had been allies as recently as World War II (1939-1945), they were now enemies in a Cold War. Surprisingly, the Soviet dictator Joseph Stalin was a big fan of American movies, particularly John Wayne films. He was not pleased, however, with Wayne's continuing off-screen, outspoken criticism of communism.
It seems Wayne had even gone so far as to join the anti-communist group known as the Motion Picture Alliance for the Preservation of American Ideals. And he was not alone; other Hollywood celebrities in the group included Clark Gable, Gary Cooper, John Ford, Cecil DeMille and Walt Disney. Stalin eventually became so aggravated by the group—and Wayne in particular—that he actually ordered John Wayne's assassination, dispatching two KGB agents to America to do the deed.  
American FBI field agents in Los Angeles were tipped to the plot and immediately notified Wayne, offering him around-the-clock protection. But Wayne was more angered than concerned by the revelation, telling the FBI that he would handle the situation himself, if and when it actually occurred.
He didn't have long to wait. In August of that same year FBI agents again came to Wayne, explaining that two KGB operatives—disguised as American FBI agents—were at that very moment on their way to Wayne's office to kill him. In fact, as Wayne and the men were still talking, the phone rang. The guard at the front gate of the movie studio said that two men, claiming to be FBI agents, had arrived and wanted to speak with Wayne.
"Send them right on up to my office," drawled Wayne. He then had the two real FBI agents hide in an adjoining room.
When the two assassins arrived, Wayne greeted them, offered them each a chair, and asked what they wanted. The pair said they wanted Wayne to accompany them off the studio lot so they could talk privately with him at length, and Wayne agreed. But when the two KGB agents stood up and headed for the door expecting Wayne to follow, he turned the table. Wayne pulled a concealed handgun, pointed it at them, and ordered the would-be assassins onto their knees, facing away from him.
"Now, you SOBs," Wayne said. "I'm going to kill you both…"
The KGB operatives began begging for their lives, but Wayne had no mercy. He coolly took a step back, aimed at the head of one of the agents, counted out loud to three, then pulled the trigger, doing so a second time with the other agent. The handgun went off twice with a loud bang each time—but nothing more happened. John Wayne had intentionally loaded his handgun with blanks.
It was at that moment a grinning John Wayne called for the real FBI agents hiding in the adjoining room, who burst through the door and arrested the two KGB operatives. The Russians, feeling very fortunate to be alive but having failed in their mission, did not want to return home, knowing Stalin would have them killed. Instead, they chose to defect to the U. S., providing intelligence to the American government. In a stunning end to the story, in 1959 Nikita Khrushchev, who had replaced Stalin as Russia's leader, met personally with John Wayne and apologized for the attempt on his life.
Following the foiled assassination John Wayne went on to make many more films, not only acting but directing and producing, as well. Two of his best, in my opinion, were The Cowboys (1972), co-starring Roscoe Lee Browne and Bruce Dern; and Wayne's final movie, The Shootist (1976), co-starring Lauren Bacall, Ron Howard, James Stewart, and Harry Morgan.
Summing up his 50-year Hollywood film career, Wayne said humbly, "I've played the kind of man I'd like to have been."