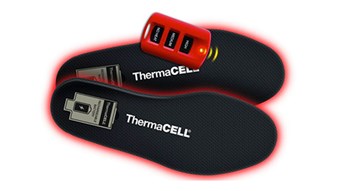 For cold-weather activities, nothing is more miserable than having cold feet. When your extremities are cold it's hard to stay focused on your child's football game, the hunt, shoveling snow or whatever may have you outside. Using a foot warmer is a great option, but many of them don't get or stay warm enough and leave you out of control of the heat.
With ThermaCELL's ProFLEX Heated Insoles, you are the master of your foot-warmth destiny. The ProFLEX features temperature control settings utilizing a wireless remote that gives you the ability to adjust the temperature to your liking without removing your shoe. The wireless control is designed to hang from a belt, keychain or zipper. It is small enough to fit easily in a pocket, and can control the insoles from a distance of up to 7 feet away.
The remote includes a medium or high setting along with no heat. Sizes range from a women's 4.5 to a men's 14, and are also available in sizes small to XXL.
✔  Regulated Heat
✔  Wireless Remote Contro
l✔  Three Temperature Settings
✔  Battery Lasts Five Hours Per Charge
✔  Rechargeable
✔  Water Resistant
✔  Quality Tested by SATRA
✔  Uniquely Coded
✔  Trimmable for Custom Fit
✔  Removable, Rechargeable Battery
✔  Ultra Flex Material
✔  USB Charging
For more information about both Heated Insoles products, visit www.thermacell.com or call (866) 753-3837.