by
posted on January 2, 2014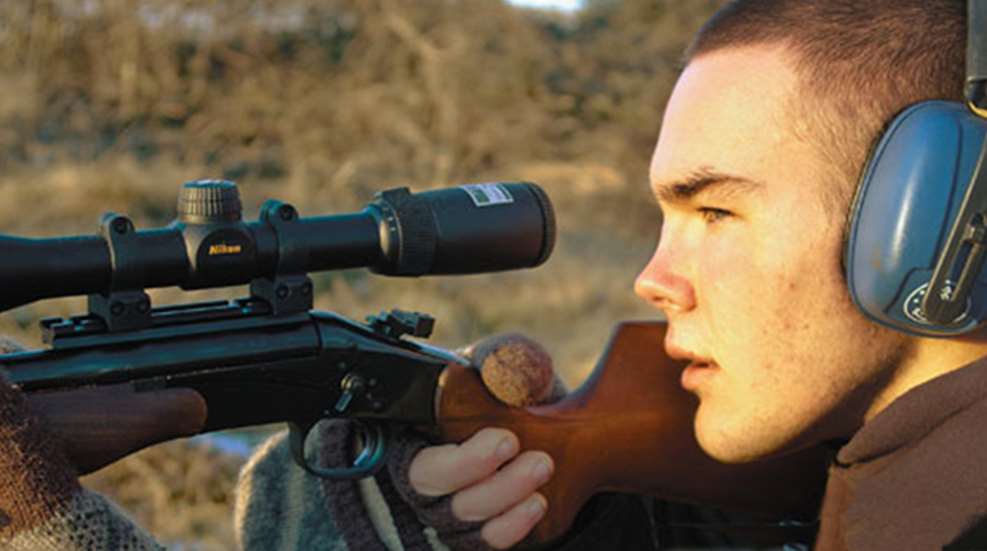 We're off to see the wizard... the Rossi Wizard, that is. And, like the Wizard of Oz, the Rossi Wizard is able to take on different forms. The Wizard is made to be easily converted into any one of 23 rimfire rifle, centerfire rifle, muzzleloader or shotgun ammunition options. The Wizard was one of several new Rossi models that debuted in 2010, all of them reflecting the innovation and affordability for which Rossi is so well known.
The Wizard has a removable fore-end, held in by the front sling swivel, which can be screwed out by hand. From there, the barrel is held in by a hook formed into the breech block, which can be easily exchanged for a new barrel. Once the exchange is made with the fore-end screwed back in place, you're ready to resume shooting. This creative approach in effect allows the customer to own multiple guns for the modest price of the Wizard body and whichever barrels one chooses. Add-on barrels are sold separately from the main package; however, this is still less expensive than buying all of these guns of various calibers individually. The Wizard's pricing is pleasingly inexpensive, a mere $336 for a hardwood stock, or $391 for the Realtree camo print version.
Safety is at the forefront of the Wizard's design, with three separate safety mechanisms.The Wizard has other advantages that make it attractive to potential buyers. It is lightweight, weighing only 7 pounds; its size is appropriate for both youth and adult shooters, between 38.5 inches and 43.5 inches depending on the barrel; it can come in either a Realtree APG HD camouflage print stock or a stock of Brazilian hardwood; it has fiber-optic iron sights and most barrels are drilled and tapped for scope mounting.
Break-open single-shot actions are easy for new shooters to operate and inherently safe. The Wizard leverages that by employing the use of three safeties: one is a transfer-bar mechanism, another is a manual safety that makes it impossible to open or close the action with a cocked hammer, and the last is the renowned Taurus security system, with which one can lock the gun's firing capabilities with a key. The Wizard's single-shot action, because of its uncomplicated nature, is one of the safest loading mechanisms on the market today and so it makes a perfect starter gun. That said, a shooter still needs to remember to follow all of the NRA gun safety rules while using any gun, the Wizard included. If these rules are followed, they will ensure a good, safe, fun time shooting and hunting.
When I got a chance to use the Wizard, I was amazed by the ease with which I could switch a .22-250 rifle barrel, which I was using to shoot at targets, for the .410-bore shotgun barrel, which I subsequently used on a family squirrel-hunting excursion. No screwdrivers, clamps or any other kind of tools were required. All a person needs in order to change barrels is his or her hands, and to change barrels takes just a minute or two.
During our outing the gun was affected by extreme temperatures-it was a very frigid 10 degrees Fahrenheit!-and what happened served to teach me a lesson about gun care in extreme cold temperatures. While shooting the .22-250 barrel on targets, the extractor mechanism failed a few times to eject the empty cartridge. What likely happened is that the oil used to treat the barrel became congealed by the extreme cold and that prevented the extractor from working as it would normally. In such conditions, a shooter would be best served to clean all the oil from his or her gun and to switch to a dry lube like powdered graphite. Fortunately most of us aren't going to shoot in such low temperatures, but it does pay to know how to keep your rifle operating if you do. It should be noted, too, that when using the .410 shotshell barrel, I had no such issues.
The Rossi Wizard can easily fulfill all of a person's needs for a gun. It can be used turkey hunting, deer hunting, competitive target shooting, varmint hunting or simply to shoot .22s with friends. This is innovation at its best.
By Jacob Zent