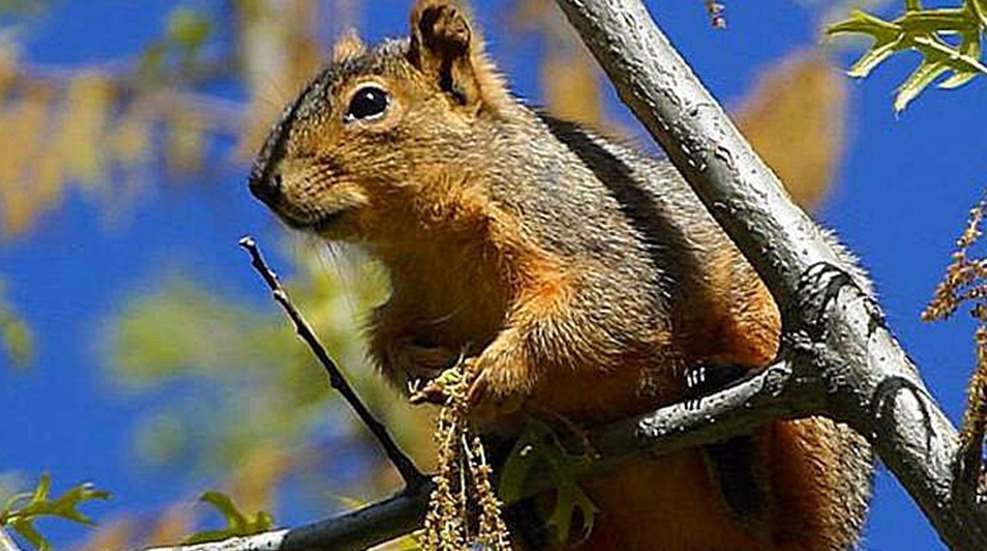 Of all the animals that can be hunted or trapped in North America, the one that many people would most like to see eradicated from yards and gardens is the Eastern gray squirrel (Latin name Sciurus carolinensis). Formerly unwilling to leave the safety of the distant tree line, they now blatantly raid bird feeders and destroy plantings and porches. Like other members of the order Rodentia, they have four long front teeth (incisors) for grinding and causing damage. The U.S. has many different types of squirrels, which include the Western gray, flying, ground, fox, black and red varieties.
Squirrels hoard or "cache" foodstuffs for later. While mostly vegetarian, squirrels will raid a bird's nest for eggs. Other favorites include nuts, seeds, fruit, buds, roots, flower bulbs, lichens, mushrooms, bark and dried corn. Squirrels use their fluffy tails for balance, as well as warmth, and their antics rival any circus performer. While you may need to harvest more than one tasty squirrel to make a meal (check local hunting regulations), you can always de-bone the meat and freeze it until you have a sufficient quantity-or you can add it to other meat in a recipe. Squirrel can be braised, baked, fried, stewed, used for gravy and dumplings, cooked in a pressure cooker or made into a pot pie.
Squirrel Pot Pie
1 onion, chopped
½ cup chopped celery
1 large clove garlic
4 cups beef broth
Freshly ground black pepper
1 squirrel, cleaned (depending on size, you may need three or four)
Pastry for 2-crust pie (Pillsbury's All-Ready Pie Crust saves time)
2 teaspoons flour
1 (12-ounce) can Mexican-style or other mixed vegetables
1 Tablespoon cornstarch
Combine: onion, garlic, celery, broth, pepper and squirrel in a large pot and bring to a boil. Reduce heat and simmer until meat is tender/easily removed from the bones. Save 1 cup of cooking broth. Mix in a large bowl: broth, cornstarch, vegetables, meat. Preheat oven to 350 degrees F.
Sprinkle flour in the bottom of a pie pan and place crust in pan. Spoon in mixture. Top with second crust joining the top and bottom crusts by folding over and "crimp" by pressing down with the tines of a fork. Use the fork to pierce the top crust so steam can escape.
Bake until the crust is brown, about 1 hour. Serve hot.