by
posted on May 31, 2022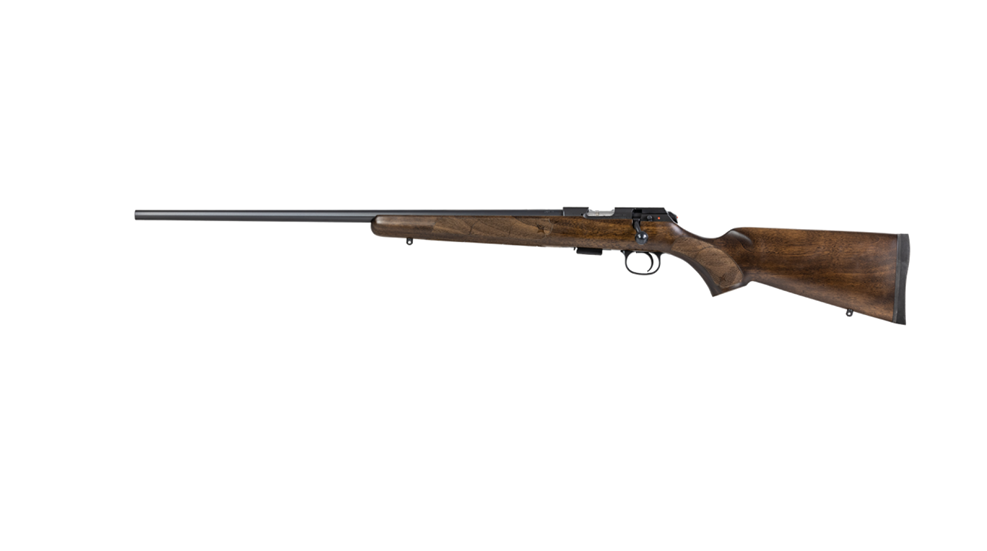 Ten percent of all humans are left-handed, but only a tiny fraction of the rifles released each year cater to that 10%. The engineers at CZ-USA have set out to change that integer with the release of two new bolt-action rimfires just for southpaws. Dubbed the Varmint and the American, these new models showcase the same precision and advanced safety features as the right-handed models of same, and are chambered in .22 LR for the Varmint, and .22 LR or .22 WMR for the American.
The bolt, push-to-fire safety and a separate bolt extractor control mirror right-hand CZ 457 design, only swapped for left-hand comfort. The striker status indicator located at the rear of the bolt provides a quick visual check while hunting or competition shooting. A shortened 60° bolt throw allows rapid and convenient reloading, and increases clearance between the bolt and mounted optics.
As CZ enthusiasts expect, the barrels are cold hammer-forged, producing constancy from breech to muzzle and exceptional accuracy. Of course, each uses the industry-standard 1:16 twist and includes a threaded muzzle for those who would like to attach a muzzle device. The Varmint model has a shorter barrel with a heavier profile than the American's, but each features the same reliable five-shot detachable polymer magazines (they're compatible with past generations of CZ rimfire rifles as well).
Just like the right-handed versions of these guns, the rifles come from the factory with adjustable triggers that boast low trigger pull weight, creep and customizable travel. Turkish walnut stocks with checkering on the grip and forend maintain the CZ-USA tradition of quality, and you can expect it to last. The rifles are finished with an exceptionally durable anti-corrosion finish for moisture and protection, and the external metal parts hold up great in the field and make maintenance a breeze. For more, visit CZ-USA.com
Technical Specifications: 
CZ 457 (Varmint & American) Left-hand
Bolt handle is located on the left side
Push-to-fire Safety on the left side
Bolt opens with safety on
Adjustable (weight and travel) trigger mechanism
Turkish walnut stock
Cold hammer-forged barrel; threaded muzzle
60° bolt throw allows quick and convenient reloading
Detachable, Polymer magazine
CZ 457 American Left-hand\
SKU: 02390, 02391
Caliber: .22 LR; .22 WMR
Magazine Capacity: 5
Sights: None; Integrated 11 mm dovetail
Barrel: Cold hammer-forged; 24-inch, light profile
Stock: Turkish walnut; American-style
Twist Rate: 1:16
Trigger Mech: Fully adjustable
Trigger Pull Weight: 2.25 lbs – 4 lbs
Magazine: Detachable
Length of Pull: 13.75-inches
Weight: 6.17-Lbs
Safety: Two-position; Push-to-fire safety
MSRP: $589.00
CZ 457 Varmint Left-hand Specifications:
SKU: 02392
Caliber: .22 LR
Magazine Capacity: 5
Sights: None; Integrated 11 mm dovetail
Barrel: Cold hammer-forged; 20-inch, heavy profile
Stock: Turkish walnut; Varmint-style
Twist Rate: 1:16
Trigger Mech: Fully adjustable
Trigger Pull Weight: 2.25 lbs – 4 lbs
Magazine: Detachable
Length of Pull: 13.75-inches
Weight: 7.08-Lbs
Safety: Two-position; Push-to-fire safety
MSRP: $625.00