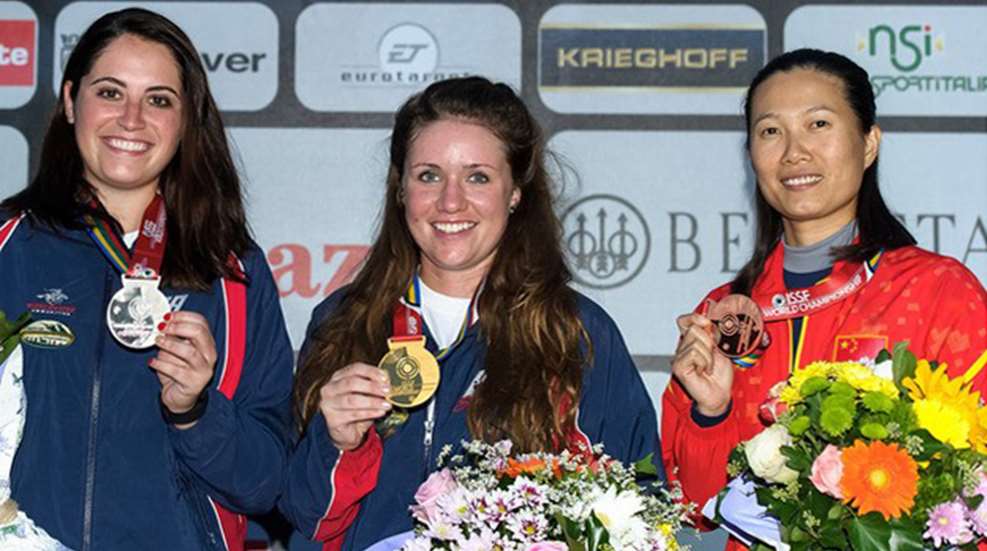 This year, the International Shooting Sport Federation (ISSF) Shotgun World Championship was held in Lonato, Italy, about five hours north of the historic city of Rome. Although the intensity of the matches made it seem like competitors were dead center, fighting for their medals, in the Roman Coliseum.
The Open division had three competitors yearning for gold: Morgan Craft (Muncy Valley, Pennsylvania), Caitlin Connor (Winnfield, Louisiana) and Ning Wei (China). Wei's score earned her the bronze medal, leaving the two Americans to compete for silver and gold. They were tied until the second-to-last pair of targets when, unfortunately, Connor missed the final two. Conversely, Craft hit them both with perfection, scored a 15-13, won the gold medal and claimed her spot on the USA Shooting Team for the 2016 Olympic Games to be held in Rio de Janerio, Brazil, in August.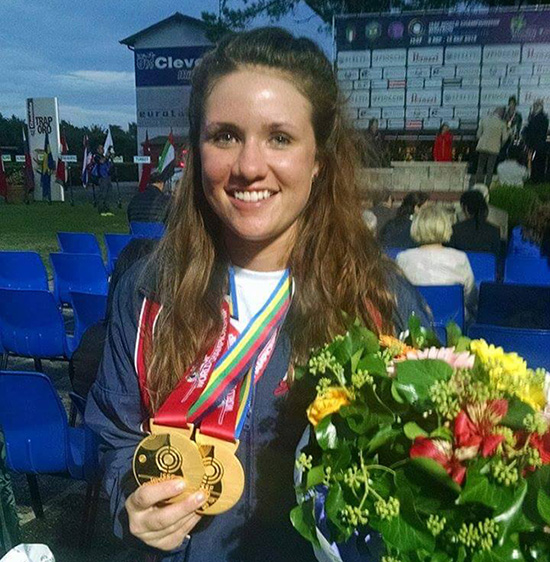 "Eight years ago I never thought I would be at this spot. This is what I worked for, what I believed I can do for the last couple of years. I'm exactly where I want to be now—I just achieved my lifetime goal…I love Caitlin and I'm so happy that we got gold and silver, I couldn't be happier to share the podium with my teammate." Morgan Craft said after accepting her hard-earned gold medal

But Connor didn't go home empty gold-handed. In the team division, Craft, Connor and Kim Rhode (El Monte, California) claimed gold and equaled the world record of 215 targets.
As for a remaining seat on the USA Women's Skeet team, Connor, Rhode and other Olympic hopefuls, have another opportunity to prove themselves Olympic-level athletes at the Fall Selection Match this October in Tucson, Arizona.
The Junior Women's Skeet Final Katharina Jacob (Rochester, Michigan) took home sixth with a score of 9/16. Dania Vizzi (Odessa, Florida) and Sydney Carson (Liberty, Indiana) advanced to the bronze-medal and gold-medal matches respectively.
Vizzi snatched the bronze medal by trumping Francesca Del Prete of Italy by five targets. However, the gold-medal match wasn't so cut-and-dried. Carson faltered at first, missing five targets in the first eight, but made a comeback and hit all eight targets in her final four pairs, tying with Yufei Che (China). Carson and Che moved on to a shootoff to find out the gold medal champion of this match, and one target proved to be the deciding factor. Carson did an amazing job, but Che's four targets won over her three.
Carson was happy with the silver medal, a prestigious title no doubt, and sent out a gracious and positive Tweet, "Couldn't have asked for a better trip here in Italy, thank you to everyone who was supporting me the whole time!" And we couldn't think of a better way to use those 140 available characters. Follow her @SydCarsonUSA.
It seems Americans work well in teams. Carson, Vizzi and Jacob won team gold with a combined 206 targets; a Junior world record for Women's Skeet!
Be sure to follow all of our shooting athletes at USAShooting.org. Send support and positivity their way!

Photos courtesy of ISSF and USA Shooting.