by
posted on September 12, 2019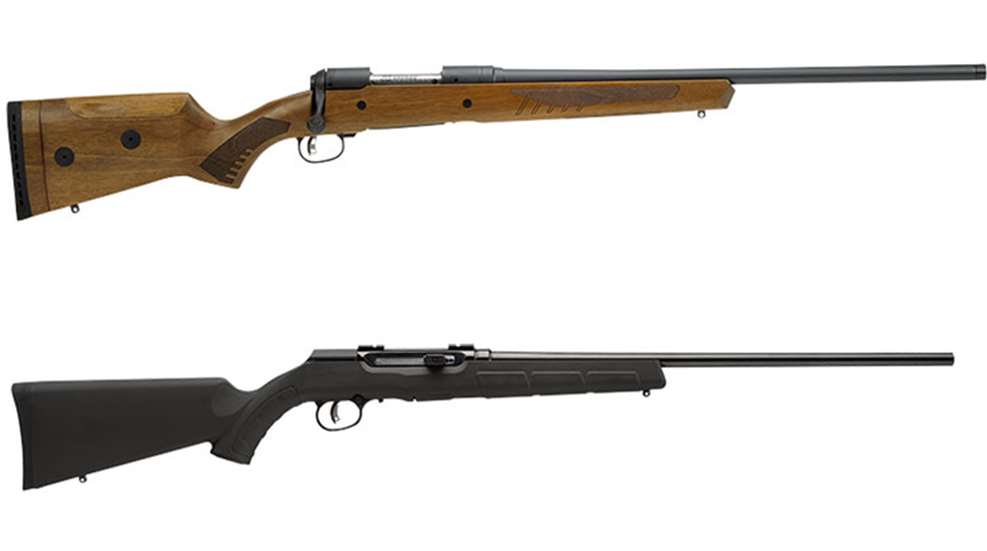 The famed gun manufacturer
Savage Arms
has just introduced two new extensions to their proven, tried-and-true 110 and A17 rifles, both of which are going to make your shooting experience a Savage joy. That's not hyperbole; Savage Arms rifles--especially those equipped with the AccuTrigger--are a real joy to shoot, offering top-of-the-line features and performance at a fifth of the price you might expect to pay for this kind of quality. Whether you're a big fan of the semi-automatic platform or a bolt-action person through and through; whether you're a dedicated varmint hunter or someone who just enjoys sending rounds downrange into sub-MOA groups, Savage has you covered this fall. 
First up is Savage's expansion of their A series with the introduction of A17 17 HM2 (pictured at bottom of the above photo). The 17 HM2 is a semi-automatic tack driver with achievable velocities of 2,100 feet per second (fps). The proven delayed-blowback-action used in the A17 17 HMR is replicated in the new offering to support the high pressures of the Mach 2 caliber. Sporting a free-floating, button-rifled barrel, corrosion-resistant chrome-plated bolt, bolt release and removable dust cover for improved functionality, this gun is designed to produce consistent accuracy and reliability under the ugliest conditions. It comes with two-piece Weaver-style bases and a 10-round magazine, but the feature that will really make you smile is the user-adjustable AccuTrigger, which is quite possibly the best trigger you can find for the money (or even a lot more money). The MSRP is $379, and Savage reports that it's shipping to dealers now. Click here for more details.
Next up Savage's latest enhancement to their 110 line with the 110 Classic, a rifle that combines timeless looks of a walnut stock, complete with user adjustability and superior accuracy. The new bolt-action rifle is available in eight of the most popular hunting calibers. The gun wears a quality walnut stock with modern ergonomics. The stock's fully adjustable length-of-pull and comb height make this a gun that can be quickly modified to fit any member of your family, or to grow with a junior shooter. Naturally, the 110 Classic also features that AccuTrigger and a carbon-steel barrel with a threaded muzzle, should you elect to equip it with a suppressor. At $999, it's one of Savage's pricier offerings, but it's still well below what you would expect to pay for a firearm of this quality and with these features. Click here for more details.