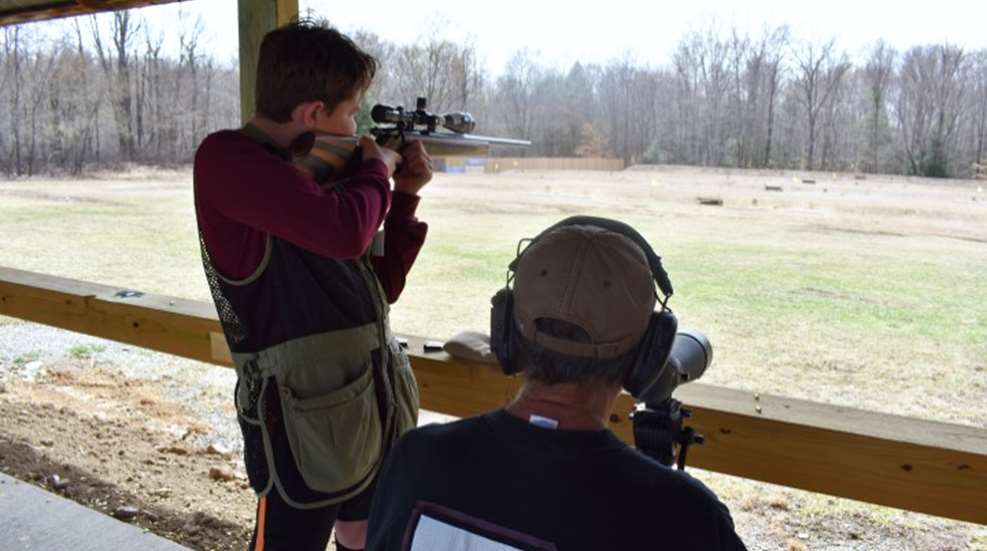 Not every rising shooting star is internet famous, you just have to find them. Brothers Kaleb (16) and Hunter (12) Santiso frequent Ridgway Rifle Club in Ridgway, Pennsylvania, excelling in an underappreciated discipline: Silhouette.
Silhouette is a humbling and challenging discipline. All targets must be shot from the standing position with no shooting coat or extra supports. The Santiso brothers compete primarily in smallbore Silhouette, although both also shoot lever action Silhouette. Kaleb shoots high power Silhouette as well. They started in air rifle, but both prefer the challenge of outdoor-air Silhouette. They are fortunate to be close to what most consider the top Silhouette range in the United States, and have made the most of that advantage.
Kaleb began shooting in third grade, when his dad discovered a local sporter air rifle shooting team. Kaleb enjoyed the program and excelled, becoming one of the team's top shooters in just a couple years. In 2018, PJ Soloman, a club member supervising the air rifle practice, introduced the team to smallbore Silhouette. Kaleb began practicing and competing that summer with a Ruger 10/22. He later moved to a Kleinguenther, then finally to an Anschutz 1712.
Hunter became involved in the shooting sports before he could even participate himself, going with his dad to the range and to watch his brother. At age eight he began shooting air rifle, and at age 10 began competing in Silhouette. Pursuing marksmanship was an easy choice for Hunter, who is passionate about both guns and shooting. "I love the challenges and the ability to see how practice makes you better," he says. "It is one of the few sports I do that is self-driven."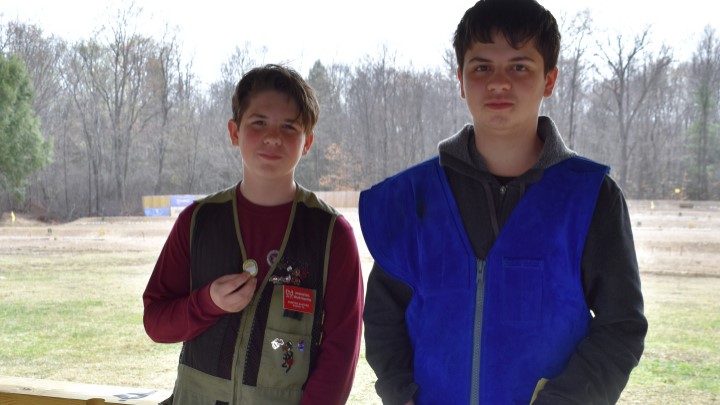 All shooting disciplines also double as educators. Kaleb notes that he's learned dedication and precision from his shooting career thus far and greatly appreciates both the opportunities the shooting sports provide, and the community. When asked his favorite thing about marksmanship, Kaleb responded, "That your performance dictates how you do and that you try to improve your scores on a daily basis. You are competing against yourself constantly looking to improve. You do not have to rely on a team, it's all about you."

This doesn't mean that it's a lonely sport. "The people involved in the shooting sports are some of the best people around [and are] always willing to help me," Kaleb noted. "The willingness to share their equipment, ammo and knowledge even if it means you could beat them someday."
Better scores are not the only positive takeaways. "It's taught me how to calm myself down and enjoy," Hunter says. "Not to get frustrated as everyone has good and bad days." Encouraging others to find their potential is one of Hunter's strengths. He enjoys welcoming new shooters to the range and making sure they are comfortable. "I have met some of the nicest and kindest people through shooting," Hunter says. "They are like a second family."
Both Kaleb and Hunter compete in smallbore Silhouette with Anschutz 1712 rifles, SK Standard Plus and Lapua Center X ammunition. Kaleb uses a custom leather vest, while Hunter chooses to decorate his more traditional vest with the pins he earns. Depending upon classification, pins are awarded for shooting five or 10 targets in a row of a specific animal target (chickens, pigs, turkeys or rams). Kaleb is currently in pursuit of a Grand Slam, which is shooting 10 in a row of each animal. This is far more difficult than it may sound to the uninitiated!

In fact, Kaleb cites his greatest accomplishments as shooting 10 turkey targets in a row, claiming first AA in Hunter and Standard gun in the 2019 Nationals. It has become a significant part of his life, and he aspires to earn a shooting scholarship for college, as well as place in the top three in the 2021 smallbore Silhouette National Championship. Shooting is not the only place Kaleb expends great effort, maintaining a 96% average across his classes.
Twelve-year-old Hunter also has collegiate shooting dreams and a desire to shoot in Alaska, though he has never been there. "What attracted me to Alaska was that when I was shooting at the Camp Perry Open I listened to a seminar from the Army Marksmanship Unit," he said. "Some of the members shot in Alaska when they were in college and loved it. That's where Luke Johnson shot in college and talks about how nice it is there and that has made me fall in fall in love with Alaska." (Luke Johnson practically grew up at Ridgway, and is a mentor and inspiration to juniors like Hunter and Kaleb, having claimed several National Championships in smallbore Silhouette.)
In 2019, Hunter won first in all of his classes during the Lapua Super Shoot and is hoping to repeat or improve his performance this year. He spends time dry-firing when he can't make it to the range, but also reminds people to have fun and to learn from bad scores, not to beat themselves up over them.
The Santiso family is a true example of how the shooting sports can provide quality time for a family. Kaleb and Hunter have not only the support of their father, but also their mother and grandparents. Coaching, spotting and making meals for competitors are only some of the responsibilities they have taken on. While both Kaleb and Hunter have interests outside of shooting, they both have a love for the under-appreciated sport of silhouette as well as plans to continue becoming better shooters over the course of their lives.