by
posted on December 1, 2020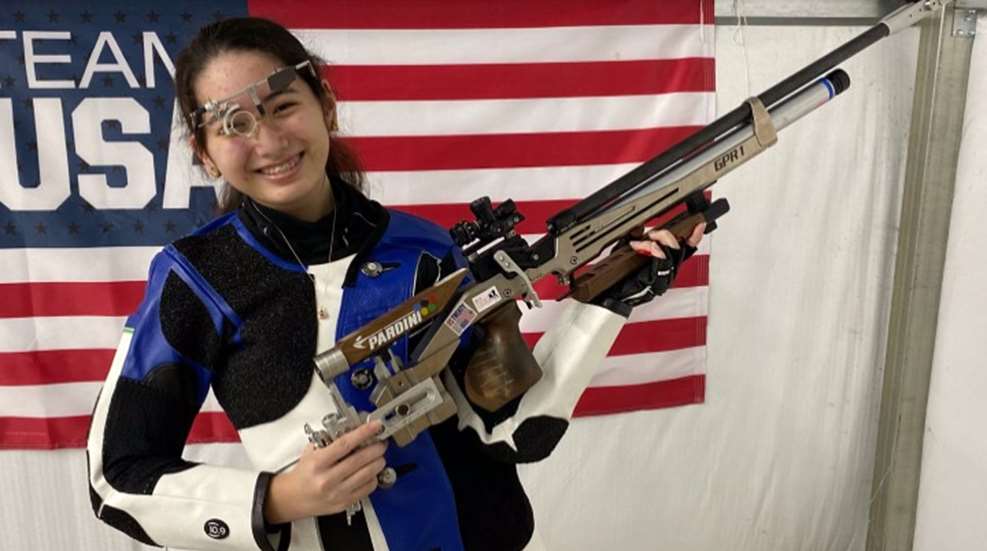 They say the quiet ones are the ones to watch. In the case of rising shooting star Adrienne "Andi" Hanson of Millwood, Georgia, this is undoubtedly true. Quiet but determined, shy around new people but unafraid of the pressure on the firing line—15-year-old Andi competes in both precision air rifle and smallbore.
Dave Hanson, Adrienne's father, remembers her introduction to the shooting sports. Adrienne and her brother Tyler started out in archery. When Tyler joined the local Ware County Rifle Team and began to travel for competitions, it was not long before Adrienne wanted to be just like her brother.
"After watching Tyler for a couple of years, Adrienne, 11 at the time and very small and petite, asked me if she could try shooting," her father said. "I let her know that I would gladly support her in the sport if she was able to hold and steady an air rifle. With a big smile and eager to start, Adrienne let me know that she could. I took out the smallest and lightest air rifle from the club safe so she could try to steady the rifle. Mimicking Tyler's stance, Adrienne got into position, shouldered the rifle and shouted, 'See Daddy I can do it!' as the muzzle slowly dropped to the ground."    
At age 12, after doing exercises to increase her strength over the previous year, Adrienne officially started shooting. She needed a custom Hi-Tex shooting suit and a rifle that fit her small frame, an Anschutz 9015 Junior. She recalls doing holding drills in her living room and practicing her form at home before her first competition, 2017 Winter Airgun in Colorado Springs. At that match Adrienne realized that precision rifle was her passion, and she wanted more than her local club could offer. She wanted to travel and focused her energy on training for larger competitions.
Andi competed for a year alongside her brother as a member of the Ware County High School Rifle Team. With her dad as her coach, she also gained experience shooting smallbore. Though Adrienne ended up really liking smallbore, she admits that she spends more time with air rifle. "I don't have a lot of physical strength to continuously practice with smallbore because the smallbore gun is a few pounds heavier than the air rifle."
She first qualified for the air rifle Junior Olympics in 2018, and began competing at matches at Ole Mill Rangers club as well. She moved from practicing in her living room to an indoor range the Hanson family made in her dad's workshop. She uses SCATT, an electronic training system, to analyze her hold and trigger pull. Her air rifle training sessions last two to three hours, four times a week. She is doing everything she can to meet her goals of shooting on a collegiate team and of one day going to the Olympics, including learning from the best.
Andi is a member of Team Winning Solutions, coached by U.S. Olympian Lucas Kozeniesky. She joined the team in 2020 after she met Kozeniesky at a week-long rifle camp. "At the 2020 U.S. Army Junior Rifle Championship, I had recognized Adrienne's performance had exceeded my abilities as a coach," Dave Hanson admitted. He organized a youth rifle camp with Lucas Kozeniesky as the primary presenter for July 2020, and unwittingly found the person who could take his daughter to the next level. "After observing Lucas on the line with the kids, and I saw how Adrienne responded to his coaching style, I realized he was most likely the one who could get Adrienne over the hurdle and advance further in the sport."
Members of Team Winning Solutions (TWS) must communicate constantly, training and meeting three nights a week via Zoom calls. Kozeniesky said of the team, "Team Winning Solutions develops athletes across the country to pursue their goals. Many of them end up at NCAA Programs across the nation. We work remotely individually and as a collective group. The team, which is made up by over a dozen individuals, compete directly against one another weekly to simulate matches."
Adrienne recognizes the dedication one must have to the sport and admits that it is very mentally exhausting. She once reached a point where she very seriously considered quitting, but realized that if she did so, she would be giving up on her dreams. She reminds others to keep learning and progressing, even when it gets tough. Three years after her first match, Adrienne realizes how far she has come, shooting with athletes she has looked up to all of her shooting career, including her coach.
While keeping good grades in school, Adrienne has traveled the country competing and winning awards. She placed second in the 2019 USA Shooting 3P Junior Olympics in her age group, and earned the Georgia State Governor's 20 Air Rifle and Smallbore Award in 2019 and 2020. These are only a few of her many accolades. Her most recent accomplishments include earning her Junior Distinguished Air Rifle Badge from the Civilian Marksmanship Program, placing first in day two of the open class Dixie Double finals, and third place in the junior class for the aggregate of the 2020 Dixie Double.
Though she may not fully realize it, there are many who recognize her talent, including someone she greatly admires, her coach. "Andi Hanson is a very skilled, young talent," Kozeniesky says. "She has most recently started to establish herself on the National stage, but in her home state of Georgia she is well known. She has a keen ability to analyze her performance and separate the different compartments of her training to be very effective in her craft. With her being so young and having such success so far, there are plenty of opportunities that await her in the future! She's smart, she makes good decisions on the firing line, and she is patient. I think her shyness is something she will grow out of, but there is definitely an athlete there, one who is cunning and is focused on her goals."