by
posted on November 2, 2020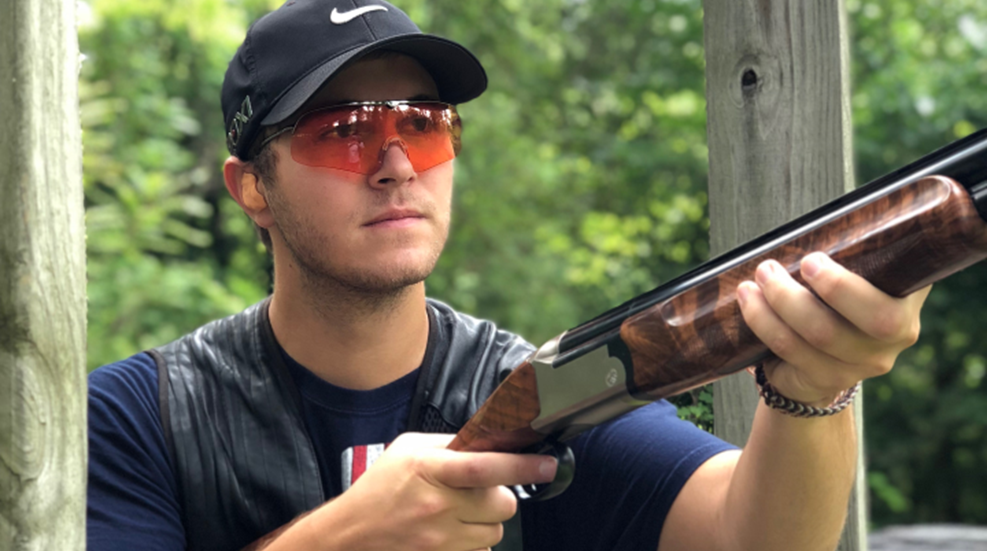 "I don't have too many accomplishments yet as I am still establishing myself in the sport." Humility and an insatiable thirst for improvement are the driving forces that have brought 20-year-old rising shooting star Christian Seybert this far, and what will lead him to accomplish the rest of his goals.
Seybert is a sporting clays competitor from Cleveland, Ohio. Though he may not consider himself incredibly accomplished, he has certainly made waves across the Ohio sporting clays scene. Seybert is a two-time Ohio Junior State Champion (2019 and 2020), is on the 2020 Northeast Regional Junior Team, and was on the 2019 Briley 20 Gauge All American Junior Third Team. Within his first year of registered shooting, he moved from E class (the lowest) to Master, the highest classification.
Much of this success is due to Seybert's commitment to the sport. "I found a great coach named Bill Elliott based out of my local club and started working with him in my early years of shooting," says Seybert. He first started competing in 2018 at the Hill'n Dale Club in Medina, Ohio. Once Seybert fired a shotgun for the first time, he knew he would never go back to rifles. Since those early moments, Seybert has taken to training with a professional coach regularly, as well as giving back to the community by volunteering to coach a local Scholastic Clay Target Program (SCTP) team.
He acknowledges that hiring a coach is expensive, but for him, it is worth it. "It may seem like a lot of money just starting out but the money you spend on a good coach will save you tons of money down the road," Seybert says. "A good coach will give you the proper foundation you need in this sport. Whether you want to compete for a national championship, or just have fun on the weekend, a good coach can help get you accomplish whatever goal you have."
While Seybert started shooting for fun, he has bigger dreams, aspiring to be the Ohio State Sporting Clays Champion by the time he turns 25. To accomplish this, he plans to attend as many shoots as possible across the United States. "I ultimately would love to one day be an All-American and compete at all the big shoots with the best of the best," he says. Right now, his main priority is his studies at Ohio State University in Columbus, Ohio. While pursuing a degree in Finance he is also working towards starting a sporting clays team on campus.
Seybert competes with a Perazzi MXS using B&P F2 Mach 1300 fps shells. He considers his eyes his most important asset, wearing Pilla Outlaw X6 glasses to protect them and carrying between five and six extra contact lenses to the range. He also pays extra attention to hydration. Though not incredibly superstitious, Seybert admits that he tries to wear the same hat for every competition once he finds one that he seems to perform well while wearing.
Though one of his favorite things is having fun with his closest shooting friends, introducing others to the sport and helping them to improve is also high on his list. The SCTP team he coaches consists of mostly trap shooters. "Trap is a very different game than sporting clays. It is so fun to help the kids on the team start hitting more sporting clays targets and having them feel more comfortable in a foreign discipline. It's a great feeling offering a new technique to use and seeing the 'light bulb go off' and really have the shooter understand. Seeing it click for them is one of the best feelings as a coach."
Shooting has been one of Seybert's greatest teachers. It started with self-discipline and responsibility and branched into respect for the sport as well as for fellow competitors. Competing in shotgun sports gave Seybert an opportunity to talk to and learn from those older than him, instilling in him a respect for his elders many modern youth lack.
Outside of shooting Seybert enjoys fishing, hunting and golf as well as time with family and friends. Though he does play the occasional video game, Seybert revealed that his time generally goes towards his studies or into improving his shotgun skills. Shotgun shooting is his passion, and there is no place he would rather be than on the range.