by
posted on January 31, 2020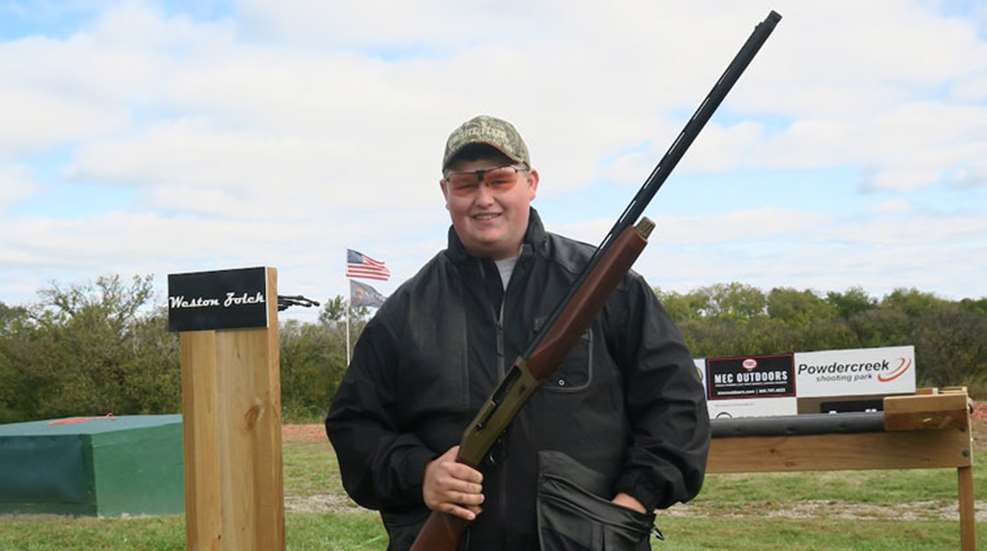 Nineteen-year-old Weston Zolck recently broke the Guinness World Record for most clays shot in 12 hours by a five-person team. For the qualifying course to apply for the CZ-sponsored team, Weston shot 50 out of 50 – which is not unusual for him. He looks back at his rise to shooting success, and says, "When I was younger, I played every contact sport there was … that's why I like shooting the most. I've never been an aggressive person, so being out there on a football field and trying to push someone over is something I didn't like, and being able to be competitive without being aggressive is what I really like about the shooting sports." We think you'll be impressed by this young rising shooting star.  
NRA Family: When people ask you what you do, what do you say? Elevator-speech length.
Weston Zolck: I am a college student/athlete who is majoring in business and competes in shotgun shooting sports. I advise them that I am an avid outdoorsman that loves to hunt, bowfish and trap. When I'm not going to school, I work laying commercial flooring. [Editor's note: Weston may be too modest to tell us, but we have it on very good authority that he is on a full-ride scholarship, majoring in business, at Iowa Western Community College, with a 4.0 GPA. He competes on the shotgun team, and also helps with the coaching.]
NRA Family: What's your history in the shooting sports, and how did you get to where you are today? 
Weston Zolck: I grew up in a family that enjoyed hunting. I started going deer hunting with my father and sitting in his deer blind when I was six years old. I first started with a Daisy Red Ryder and got pretty good with it. I amazed my father and friends when I could pick off flying grasshoppers with the BB gun. When I was in the sixth grade, I signed up for youth trap shooting and this is when I started shooting shotguns. Prior to this, I shot rifles and bows. I first started shooting with a youth-model, 20-gauge shotgun and quickly learned that I needed a better gun to shoot trap. I then went to my grandfather's Remington 1100 and became pretty good with it. Eventually, I would transition to an over/under CZ, then to a Beretta DT10 Combo that I have used for several years.
My parents and friends have helped me to be able to compete all over the Midwest in shotgun shooting sports. I have received more than 200 awards from numerous different events in trap, skeet and sporting clays. Some of my biggest accomplishments include the following:
Winning the Junior Division Skeet Title at the Nebraska State Skeet Shoot in 2016
Winning the 2017 U.S. Open Junior Division Championship in the Doubles and Singles Championship events
Winning the 2017 event championship in the Kolar Doubles at the Grand American at the World Shooting Complex
Making ATA All American Team honors in the Junior Division (2018)
Making the Nebraska State Sporting Clays All State Team honors (2018) 
NRA Family: Do you consider yourself to be an ambassador for the shooting sports? Why?
Weston Zolck: I don't think of myself as an ambassador of shotgun shooting sports, but I am probably perceived by many in my local community as one. I love to compete and teach others about the sport. I feel that there is always more to learn and a person should always want to get better. I always try to represent the sport, my school and my family in a positive manner. I know that when I'm competing, there are a lot of people watching and that I want to present a good image for the sport.
NRA Family: Have you encouraged or inspired others whom you know to try shooting?
Weston Zolck: I enjoy helping coach youth shooters, teammates and other competitors. I think that kids have watched me compete and it inspires them to know that hard work and dedication can bring you some great rewards. Since getting into shotgun shooting sports, I have been able to get family and friends involved in the sport. Since I started shotgun-shooting sports, my family has taken an active role in it; they have created a local youth shotgun shooting sports team. My family, along with many generous people in our community, have built a local shotgun shooting range that allows more people to get involved in shotgun shooting sports.
NRA Family: What does the future hold for you?
Weston Zolck: I don't know what my future may hold; I hope it revolves around hunting and shotgun shooting sports. My focus right now is competing at the college level and obtaining my business degree. 
NRA Family: Is there a particular discipline in shooting sports that you'd like to improve in? 
Weston Zolck: I love all shooting sports, but the one that takes the most time to learn and I'm always trying to improve on is sporting clays.
NRA Family: Usually, young people get tremendous support from family members … what's your story?
Weston Zolck: If it wasn't for the support of my family, I wouldn't be where I am today. As a youth shooter, you're completely dependent on your parents to allow you to compete. Youth competitors can't just go out and buy a shotgun or the shotgun shells. I am very grateful to have the family that would allow me to compete and chase my dreams.
NRA Family: What else do you like to do when you're not training or shooting?
Weston Zolck: I love the outdoors, hunting and bowfishing. I also enjoy welding and working my 1965 Ford F-100 that I have been restoring.
NRA Family: How can people follow you through social media?
Weston Zolck: I'm not a big social media person, but I do have an Instagram account and my username is @wzolck.